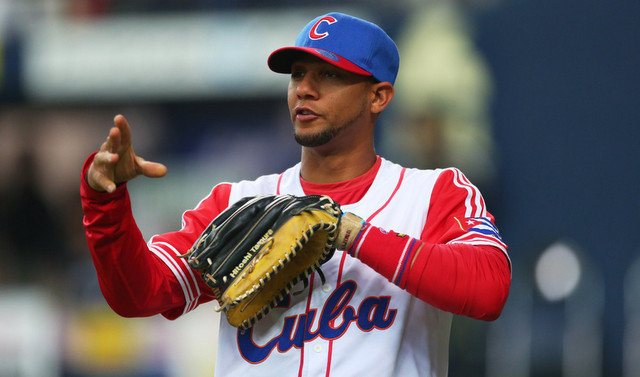 Yesterday morning, Jesse Sanchez reported Cuban infielder Yulieski Gurriel has been declared a free agent by MLB and is now able to sign with any team. Yulieski and his younger brother Lourdes Jr. defected back in December. Sanchez says Lourdes is still waiting to be declared a free agent, though he's going to wait until his 23rd birthday in October to sign anyway. That way he won't be eligible for the international spending restrictions.
Gurriel, 32, is a longtime Cuban star who is widely considered the best position player in the world not under contract with an MLB team. His numbers in Cuba last season are straight out of a video game: .500/.589/.874 with 20 doubles, 15 homers, 38 walks, and three strikeouts in 49 games and 224 plate appearances. Gurriel played the 2014 season in Japan, during which he hit .305/.349/.536 with eleven homers in 62 games. He's been a monster his entire career.
Last year we heard Gurriel wants to play for the Yankees, partly because his favorite player is Alex Rodriguez. How about that? Gurriel is also close friends with Aroldis Chapman dating back to their time on the Cuban National Team, and Gurriel recent told Chapman he would be "super happy" to sign with the Yankees. Now that Yulieski is free to actually sign with a team, I have some thoughts on this.
1. Where would the Yankees play him? Gurriel has primarily been a second and third baseman in his career, and while the Yankees are contractually locked into Starlin Castro and Chase Headley at those positions, they shouldn't stand in the way of signing him. The Yankees would be able to carve out regular playing time for Yulieski at both positions, and he could even fill-in some in the outfield. He has experience there.
Also, the Yankees have a need at first base, both immediate and long-term. They could try Gurriel at first, and if that doesn't work, they could always fall back on playing him at third and Headley at first. It's not ideal, but it could work. Point is, the Yankees can find ways to get Gurriel into the lineup rather easily. It's not like he's a catcher who would have to share time with Brian McCann or something. The Yankees have a collectively below-average infield and Gurriel would help correct that.
2. Forget about his position, they need his bat. Whoever signs Gurriel is not buying his glove (not that he's a bad defender). He's a legitimate middle of the order hitter. Here's a piece of Baseball America's latest scouting report, which does not seem to be behind the paywall:
Gourriel has all the attributes to be an above-average offensive player. He has plus bat speed and squares up all types of pitches with good hand-eye coordination and barrel control. He wraps his barrel behind his head, angling the bat toward the pitcher, but he gets the barrel into the hitting zone quickly and has good plate coverage. He stays within the strike zone and uses the whole field, and with plus raw power on the 20-80 scale, he offers a balance of being able to hit for average, get on base and hit for power.
The scouting report goes on to compare Gurriel to Hanley Ramirez and David Wright, and while that doesn't sound too exciting these days, it was referring to peak Hanley and Wright. Yulieski is not someone you bring in to hit seventh or eighth. He has the ability to be a third or fourth place hitter.
The Yankees need offense. Very desperately, in fact. Both right now and going forward. They're 24th in runs per game this season (3.92) and their best hitter is a 39-year-old impending free agent. Even if the Yankees were to re-sign Carlos Beltran — I think the odds of that are extremely small — how could you expect him to hit like this next year? And who knows what the young replacements (Greg Bird, Aaron Judge, Ben Gamel, etc.) can do?
Ken Rosenthal says Gurriel is going to need a few weeks in the minors to get ready, but he should be able to help a team in the second half. It's not like he's going to sign and be in the lineup tomorrow. He needs a Spring Training, basically. Gurriel can still help this year though. Simply put, he's someone you can build their lineup around going forward. The Yankees don't have another player like that right now.
3. What will it cost to sign him?
This is the big question. I assume Gurriel won't come cheap. These are the last three big name Cuban position players to sign with MLB clubs:
3B Hector Olivera, Dodgers: Six years, $62.5M.
OF Yasmany Tomas, Diamondbacks: Six years, $68.5M
OF Rusney Castillo, Red Sox: Six years, $72M.
Gurriel is better than every one of those guys, and in the case of Olivera, he doesn't have the same scary injury history either. Between general inflation and the fact he's a better player than that trio, I can't help but wonder if Gurriel is going to push for a $100M deal. Why not ask? It's not like this upcoming free agent class is loaded with good hitters.
I suppose an opt-out could be a factor here. There seems to be some evidence opt-out clauses save teams a little bit of money. Perhaps Gurriel could sign for, say, Castillo money ($12M per season) with an opt-out after the second year. If he's an impact hitter, that's a bargain. With so much money coming off the books the next two years, the Yankees could afford Gurriel at $12M per year without blowing up their plan to get under the luxury tax.
For what it's worth, Joel Sherman says Yankees international scouting director Donny Rowland has long held Gurriel in high regard, so if nothing else, Rowland figures to give his bosses the hard sell. The Yankees bid for Cuban players like Chapman, Yoenis Cespedes, Yoan Moncada, Jorge Soler, and Aledmys Diaz in recent years and fell short each time, and surely there is some level of regret. They don't want to fall short again.
4. Is his age a problem? This is an interesting question and it makes me wonder if Gurriel is the right player at the wrong time for the Yankees. He's 32 — he just turned 32 last week — which means he fits best for a team ready to win right now. You don't sign Gurriel if you're a rebuilding team looking ahead to the future. You sign him because you're a contender looking for the final piece to put you over the top this year and next year and the year after.
The Yankees say they're trying to win and that's all well and good, but the team on the field suggests it might not be in the cards this year. They're not a game under .500 in mid-June by accident, you know? Does it make sense to add Gurriel when winning this season is a long shot? He's already at the age where his game might begin to slip as it is. So you're talking about adding a player nearing the end of his prime to a team that might not be a true contender until he's 33 or 34. That is sort of tricky.
At the same time, you could argue the Yankees shouldn't need two or three years to turn things around because of their resources. They have a bunch of prospects at Double-A and Triple-A and all that money is coming off the books. The 2003 Tigers were the worst team I've ever seen and the 2006 Tigers won the pennant, so it's certainly possible for the Yankees to turn things around in a hurry, while Gurriel is still producing big time.
There's also the contract length angle. He's 32 now, so a six-year deal takes him to age 38, and signing a guy deep into his 30s is always risky. Sometimes it works out, like the Beltran deal. Most of the time it doesn't though. It's impossible to project how Gurriel will age, so in addition to the question of whether the Yankees will be ready to win during whatever is left of his prime years, there's also the risk of signing him beyond the age of 35.
5. Don't forget, Lourdes Jr. is the real prize. Yulieski is unquestionably the better player right now and that figures to be the case for the next few years, but Lourdes is the Gurriel brother teams are going to fall all over themselves to sign. He's another potential middle of the diamond impact hitter, except he'll be only 23 when he signs, so you're getting him for his entire prime. That's pretty huge.
I've seen folks talk about the possibility of a package deal, though who knows if that's possible. Both Gurriels may take the highest offer no matter what. Assuming Lourdes is declared a free agent soon, he could work out a deal and simply hold off on signing until October. That would allow teams to negotiate with Yulieski and Lourdes at the same time, which is certainly better than trying to work out a package deal when you have to negotiate weeks or months apart.
* * *
I'm of the belief that impact bats are very hard to find, especially those capable of playing the middle infield. Because of that, I think the Yankees should be in on Gurriel even though he is 32 and even though he might cost them $12M+ a year. The future of the offense is very much a question and this is a chance to add a cornerstone type hitter for nothing but money. No draft pick. Nothing. There's never a "wrong" time to add good players.
Of course, it's easy to say that when it's not my money. I wouldn't be assuming the risk. I definitely understand why someone would be hesitant to sign Gurriel deep into his 30s, especially with no MLB track record. Pretty much everyone agrees this guy can be an offensive force though, including the Yankees' international scouting director. If Gurriel is as good as advertised, or is even 75% of what is advertised, he could end up a real bargain.