Now that the All-Star break has arrived, it's time to look back and review the first half of the season. We've already looked at the catchers, infielders, and outfielders. Now it's time to cover the bench.
Despite their efforts to get younger, the Yankees still have a very veteran roster. In fact, they have only two regulars under the age of 31, and they're the double play combination. Everyone else is on the wrong side of 30, which means the Yankees need a quality bench to give those players extra rest throughout the season.
As always, the Yankees started the season with three non-catchers on their bench: Aaron Hicks, Dustin Ackley, and Ronald Torreyes. Torreyes beat out Rob Refsnyder for the final bench spot in Spring Training — he not only out-hit him, but his ability to play short and third worked in his favor too — though a few weeks later both guys ended up on the bench anyway. Funny how that works. Times to review the bench.
Alex Rodriguez: The Designated Hitter Bench Player
A-Rod was not supposed to be a bench player. He opened the season as the team's regular DH for the second straight season, though the combination of a hamstring injury and unproductive at-bats have limited him to only 47 starts in the team's 88 first half games. The hamstring injury sidelined him for close to three weeks in May. More recently, the Yankees have benched A-Rod against righties.
Overall this season Rodriguez is hitting .220/.260/.382 (65 wRC+) with eight homers in exactly 200 plate appearances. That's broken down into .198/.237/.333 (46 wRC+) with six homers and a 29.6% strikeout rate in 135 plate appearances against righties, and .267/.308/.483 (105 wRC+) with two homers and a 24.6% strikeout rate in 65 plate appearances against lefties. It's easy to understand why they've decided to sit him against righties, right? Right.
A-Rod will turn 41 later this month, and really, it's not much of a surprise when player in his 40s doesn't hit, even one as talented as Alex. His 2015 season was marvelous. He was so good last year. Now he looks close to done, so much so that the Yankees have cut into his playing time. As with Mark Teixeira, it was probably foolish to expect him to repeat his 2015 effort. At the same time, no one expected him to be this bad. At least we still get to see this once in a while:
Second Half Out Look
: Gosh, I wish I knew. There's no reason to think A-Rod won't be benched against righties to open the second half,
though he is working out at first base
, which could mean more at-bats. There's a Catch-22 here. A-Rod's not playing because he hasn't hit but he probably needs more at-bats to get his bat going. The more interesting question will come after the season. If Rodriguez struggles all year, would the Yankees really cut ties and release him, and or will they handicap the roster for another year with a righty platoon DH? That's another question for another time.
Aaron Hicks: The Fourth Turned Fifth Outfielder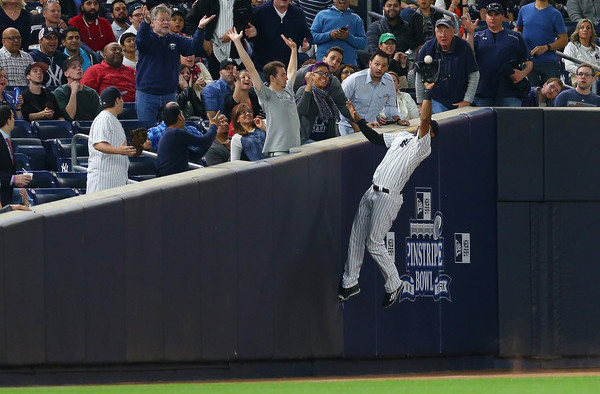 When the Yankees acquired Hicks over the winter, they did so with the expectation he would play fairly regularly by rotating around the outfield and resting the regulars. At worst, he would platoon against lefties, against whom he'd hit .272/.360/.447 (125 wRC+) prior to 2016. The Yankees had a spare catcher in John Ryan Murphy and wanted an athletic, switch-hitting outfielder, so the trade was made.
Hicks fell well short of expectations in his first half-season as a Yankee. On both sides of the ball, really. He's hitting .197/.261/.301 (46 wRC+) with three homers in 204 plate appearances overall — yes, he has more plate appearances than A-Rod — including .155/.218/.225 (15 wRC+) against lefties. The Yankees have given him regular at-bats at times, most notably when Alex was on the DL, but it hasn't come together.
In the field, Hicks seems to have a knack for breaking the wrong way when the ball comes off the bat. He has good speed and often that bad first step doesn't matter, but it has definitely come back to bite him and the Yankees at times. The one thing Hicks does insanely well is throw. Gee willikers does he have a strong arm. Needless to say, the start of Hicks' first season with the Yankees has been a huge disappointment.
Second Half Outlook: Hicks doesn't have any minor league options remaining, otherwise the Yankees would have sent him to Triple-A already. They're not going to expose him to waivers — he'd get claimed in a heartbeat — or release him even though Joe Girardi's patience seems to have run out. (Refsnyder has seen more time in right lately as A-Rod rides the bench.) I could see the Yankees flipping Hicks as part of a deadline deal, but, mostly likely, he'll remain on the roster in the second half and continue to get playing time as the Yankees try to get him going.
Ronald Torreyes: The Necessary Backup Infielder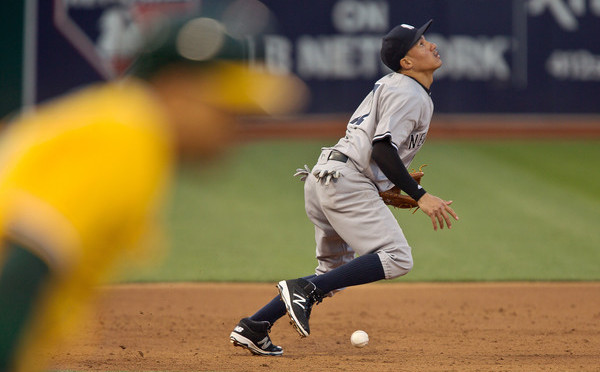 Usually when a player changes organizations five times in the span of nine months, he doesn't make an Opening Day roster. And yet, Torreyes did indeed change teams five times last season and over the winter, and there he was on the Opening Day roster as the backup infielder. He won the job by having a good spring and showing he was capable defensively all over the infield.
Torreyes, who is only 23, started the season with an insane 8-for-17 (.471) hot streak that had people calling for him to start at third base. I get it, Chase Headley was off to a terrible start, but it was only a matter of time until Torreyes came back to Earth. Sure enough, he's gone 6-for-48 (.125) since, and is hitting .219/.286/.297 (55 wRC+) overall. His walk (8.6%) and strikeout (14.3%) rates are good, so yay?
Not surprisingly, Torreyes has started only two of the team's last 29 games. Gregorius has been awesome of late and Headley has been very good since May, plus Castro seems to have a very long leash, so there's no real way to get Torreyes in the lineup. He's been solid defensively wherever he's played — second, short, third, even some right field — and that's his primary value. Torreyes is a sound gloveman who will put the ball in that play. He's the quintessential utility infielder.
Second Half Outlook: The Yankees do not seem to want to use Castro as their full-time backup shortstop — they'll use him there now and then, but I don't think they want him to be the guy — which means Torreyes will stick around through the second half. He's essentially a replacement level backup infielder. He won't kill them in spot start duty, but he's not someone you want to run out there on an everyday basis either.
Dustin Ackley: The Perfectly Imperfect Role Player
For the second straight year, the Yankees opened the season with a player capable of filling in at first base, right field, and DH, three positions with starters who carry perpetual injury concerns. Last year Garrett Jones filled that role. This year it was Dustin Ackley. Jones played his way off the roster. Ackley got hurt before he had a chance to do the same.
That little dive back into first base resulted in a torn labrum that required season-ending surgery. It's the same exact thing that happened to Mason Williams a year ago. Freaky, right? We see players dive back into first base a million times each year. The Yankees managed to have players suffer season-ending shoulder injuries in back-to-back years on pickoff plays.
Prior to the injury, Ackley hit .148/.243/.148 (9 wRC+) in 70 plate appearances spread across 49 team games. Not much playing time at all. At least his walk (11.4%) and strikeout (12.9%) rates were good, I guess. Ackley wasn't good defensively anywhere (first, second, or right), which was to be expected. In theory, the Jones/Ackley slot is a good idea. Someone who can fill in at right, first, and DH, and maybe sock the occasional dinger into the short porch sounds like a useful bench piece. But, for the second straight year, it hasn't worked out.
Second Half Outlook: There is none because of the injury. The surgery almost certainly ends Ackley's time with the Yankees. He was going to be a non-tender candidate after the season to start with, and the injury all but clinches it.
Rob Refsnyder: Forcing The Issue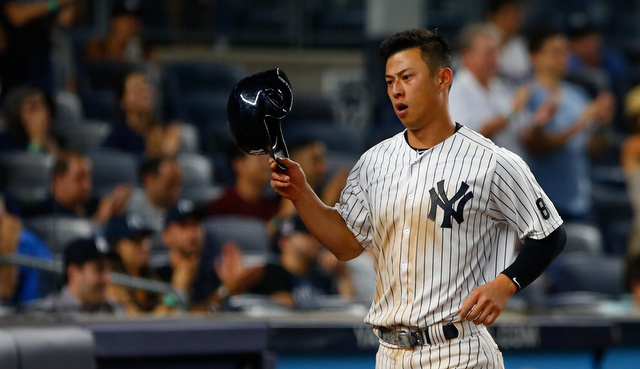 The Yankees tried to find a way to get Refsnyder on their Opening Day roster. They had him work out at third base in Spring Training in an effort to increase his versatility, but the four-week crash course didn't work out too well. Refsnyder took two grounders to the face right at the end of camp that all but assured Torreyes would be the backup infielder to start the regular season.
To Triple-A Refsnyder went, where he remained until A-Rod landed on the DL in May. He was on the roster for only a few days before being sent back down, though the Ackley injury got him back to MLB a few days later, and Refsnyder has been with the Yankees since. After teaching him third in Spring Training, the Yankees stuck Refsnyder at first base — he played there after literally one day of taking grounders at the position — when Teixeira was on the DL. Once Teixeira returned, the team started using Refsnyder all over the field.
All told, Refsnyder has played 19 games at first, ten games in right, five in second, and one at third. He's looked fine at first base all things considered, though his inexperience has been painfully obvious at times. That was to be expected. Refsnyder is a bat first player though, and his numbers probably aren't as good as you may think: .276/.337/.368 (86 wRC+) with no homers in 99 plate appearances.
Now, that said, Refsnyder has looked like he belongs. He takes quality at-bats (9.1 BB% and 16.1 K%) and he consistently hits the ball hard (only a 12.3% soft contact rate), so it's only a matter of time until the results match the process. Eventually he's going to hit a dinger, you know? With Hicks struggling and A-Rod benched, Refsnyder has seen more and more time in right field of late, so Girardi's giving him a chance.
Second Half Outlook: I get the feeling we're going to see a lot of Refsnyder in the second half, especially if the Yankees trade Beltran at the deadline and A-Rod remains glued to the bench against righties. The Yankees have asked a lot of Refsnyder — learn third, learn first, play second and right too, hit your way into the lineup, etc. — and he's handled it well. He's the only guy in this post who has earned more playing time.