Now that the All-Star break has arrived, it's time to look back and review the first half of the season. We've already looked at the catchers. Now it's time to tackle the infielders.

For years and years, the infield was the backbone of the Yankees. The 2009 infield was one of the greatest in history — the 2009 Yankees are one of only four teams in history with four +4 WAR infielders — but age and free agency has slowly chipped away at the greatness of the team's infield the last few years. Over the last 20 months or so the club has had to rebuild three-fourths of that infield.
Only Mark Teixeira remains from that 2009 infield unit. Robinson Cano has been replaced by Starlin Castro at second base. Didi Gregorius took over at shortstop after Derek Jeter retired. Alex Rodriguez has given way to Chase Headley. There have been others along the way, but that's where the Yankees are now. Headley, Gregorius, Castro, and Teixeira going around the horn. It's an, uh, interesting group. Interesting is a good word. Let's review the infield's first half.
Mark Teixeira: What's The Opposite of a Contract Push?
Holy moly, what a disastrous half-season for Teixeira. Not only has he missed time with injury — ongoing neck problems and cartilage damage in his knee, specifically — but he's also not hitting. Teixeira went into the All-Star break with a .193/.272/.317 (57 wRC+) batting line and only seven homers in 243 plate appearances. Woof. Last year Teixeira hit .240/.350/.526 (133 wRC+) with 22 homers in the first half.
The drop off in production from Teixeira is a huge reason why the Yankees are only a .500 club and not a true contender at the All-Star break. He was expected to again put up big time power numbers and anchor the middle of the lineup. Maybe it was foolish to think Teixeira could approximate last year's pace, especially after he spent the offseason rehabbing his shin fracture and not going through his usual routine.
Given the lack of home runs, it's no surprise to see Teixeira has a (by far) career high 48.1% ground ball rate. His previous career high was 42.8% back in 2008. You're not going to hit for power if you're beating the ball into the ground, which Teixeira is doing often from both sides of the plate. He's hitting .169/.248/.324 (51 wRC+) against righties and .237/.314/.303 (67 wRC+) against lefties.
The good news is Teixeira is still a shutdown defender in the field, which has been made all the more obvious by the parade of bad glovemen the Yankees have used to back him up this season. But when you're a first baseman whose only redeeming quality is your defense, you're a net negative. No amount of defense can make up for the offense Teixeira provided in the first half. He was so, so good last year. Now? Now I dread his at-bats.
This is the final season of Teixeira's original eight-year, $180M contract, and even though Greg Bird's shoulder surgery has thrown a wrench into the long-term first base picture, it's hard to see the Yankees bringing Teixeira back. He's no longer a qualified offer candidate, and heck, he's not even a trade candidate. The hope was Teixeira would mash some taters and be a decent trade chip should the Yankees not contend. Now they're not contending and he's not a trade chip. The worst of both worlds.
Second Half Outlook: You know, I have a hard time believing Teixeira will be this bad all season, but the guy is 36 and he does have a nagging neck problem and a compromised knee, so … maybe? I'm feeling optimistic and think Teixeira will be better in the second half, mostly by hitting more homers. He almost can't be worse at this point. Either way, Teixeira is almost certainly entering his final half-season as a Yankees, and that's kinda weird.
Starlin Castro: Testing The Limits of First Impressions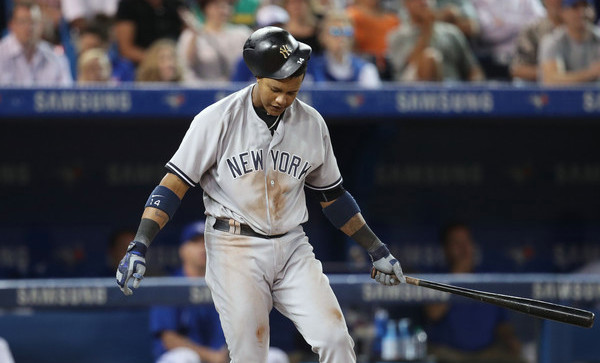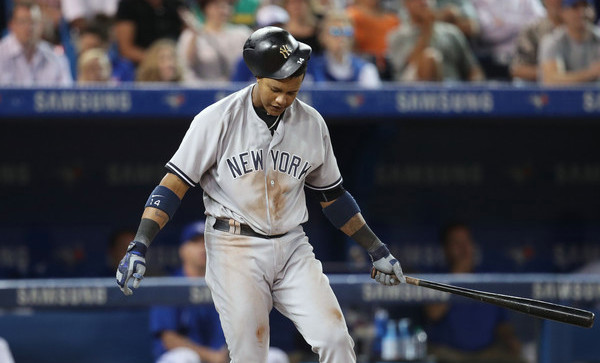 Boy, Castro made a really great first impression, didn't he? He went 7-for-12 with two home runs and eight runs driven in during the opening series of the season, and he looked like someone who could hold down a middle of the lineup spot going forward. The Yankees had cycled through a lot of veteran mediocrity in the two years since Robinson Cano left. Castro appeared to be a long-term solution.
Instead, Starlin has hit .244/.283/.363 (69 wRC+) since that opening series, lowering his season batting line to .256/.293/.395 (81 wRC+) overall. That looks mighty similar to the .265/.296/.388 (80 wRC+) line he put up last season, doesn't it? That's not good! Castro is still only 26 years old, but his offensive production plateaued a few years ago, and there's no real indication he'll make the necessary adjustments to take a step forward. He'll chase out of the zone at-bat after at-bat, game after game.
Castro's glove has been solid at second, especially considering he's been playing the position less than a full year. Yes, his double play pivot can be slow at times, though I'm hopeful that'll improve with experience. Still though, the Yankees didn't go out and get Starlin for his glove. They got him because of the belief he has untapped offensive potential. I mean, we've seen it. Castro hit .292/.339/.438 (117 wRC+) just two years ago. It's in there. We just don't see it often enough.
The first half-season of the Starlin Castro era has been underwhelming. He's had his fair share of big games and important hits …
… but there are just too many empty at-bats to ignore. There are 167 hitters with enough plate appearances to qualify for the batting title right now. Castro ranks 148th in walk rate (4.5%) and 146th in chase rate (36.0%). (He's 150th in wRC+). He has the exact opposite approach the Yankees are known for, that patient, wear-you-down approach. Starlin makes himself an easy out far too often, and after more than 4,000 big league plate appearances, it's fair to wonder if he'll ever improve his approach.
Second Half Outlook: Something tells me Castro will continue to be the same frustrating — yet so obviously talented — player who does just enough to justify his lineup spot. He's the type of player who leaves you wanting more. No doubt about it. Starlin's contract runs through 2019, so unless the Yankees trade him (I don't see that happening anytime soon), he's not going anywhere for a while.
Didi Gregorius: The Emerging Cornerstone
Gregorius has not been the Yankees' best hitter this season — that's Carlos Beltran — but he has been their best all-around player, and I'm not even sure it's close. The last month or so has been particularly impressive. Didi has hit .346/.379/.594 (157 wRC+) with seven homers in his last 34 games while playing his typically strong defense. (We'll get back to the defense in a bit.)
Overall, Gregorius has authored a .298/.328/.468 (109 wRC+) batting line with a career-high eleven homers through 88 teams games. No, he doesn't walk (3.5%), but he also never strikes out. His 11.0% strikeout rate is ninth lowest among those 167 qualified hitters. Two things have impressed me the most about Gregorius in the first half. First, his ability to spray the ball to all fields:
Source: FanGraphs
Gregorius does all his home run hittin' to the pull side, which is understandable. He's hardly the only guy who does that. Otherwise Didi sprays the ball all over the field. Singles and doubles to all fields. He's shift-proof. It's really impressive. It's amazing to see how far Gregorius has come since early last season, when he looked like a deer in the headlights.
Secondly, Didi is suddenly a real threat against left-handed pitchers. He came to the Yankees as a career .184/.257/.233 (33 wRC+) hitter against southpaws, and last year those numbers "improved" to .247/.311/.315 (73 wRC+). Not so great. This year? This year Gregorius is hitting .360/.400/.440 (129 wRC+) in the admittedly tiny sample of 82 plate appearances against lefties.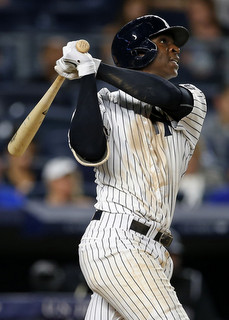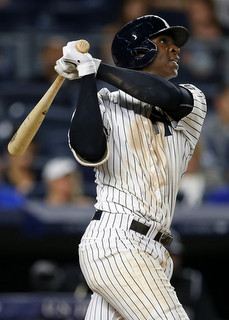 No, the .371 BABIP won't last forever, but I think we've seen legitimate improvement from Didi against southpaws. He hangs in better, he does a better job laying off breaking balls away, and he generally seems more comfortable. That applies to his entire game, really. Gregorius looks so much more comfortable in pinstripes this year. He's playing with confidence. He really has come a long way in a short period of time.
Now, about his defense. Gregorius has all the tools to be a standout gloveman. We see them every single game. His hands are soft, he has big time range, and oh baby, that arm. Didi's throws are so fun. At the same time, Gregorius has been more error prone this year. Specifically, it seems he's bobbling more grounders than he did a year ago. I don't think this is a long-term concern. Guys have defensive slumps the same way they have offensive slumps. We know Gregorius can play the hell out of shortstop because we've seen it.
Even with those errors, Gregorius is turning himself into a cornerstone type of player, someone who can handle the shortstop position for the next few years and be a real asset to the Yankees. Before I think the belief was Gregorius would catch everything at short and hit eighth or ninth. Now he looks like someone capable of hitting higher in the order and producing runs. Who would have guessed that last year? Didi's development has been one of the best parts of this season, hands down.
Second Half Outlook: My guess is Gregorius' numbers against lefties will come back to Earth a bit while his numbers against righties — he's hitting .277/.303/.478 (102 wRC+) against northpaws — tick up a tad. Maybe not in terms of power, but the average and on-base ability. Remember, Gregorius really hit his stride in the second half last season. This is a guy who's hit .294/.334/.441 (107 wRC+) over the last calendar year. This isn't a small sample. This is who he has become. Keep building on that, Didi.
Chase Headley: The April That Can't Be Forgotten
Chase Headley was so unbelievably bad in April that it doesn't matter what he does the rest of the season. Everyone's going to think he stunk this year. Headley hit .150/.268/.150 (21 wRC+) in the season's first month. No extra-base hits! It was one of the worst months at the plate ever. In fact, in terms of OPS+, Headley had the second worst April in franchise history by a player with at least 50 plate appearances. He had a 21 OPS+ and Roger Peckinpaugh had 16 OPS+ in April 1918. So yeah.
And yet, almost as soon as the calendar flipped to May, Headley began hitting to his career averages. Look at his monthly splits:
| | PA | AVG/OBP/SLG | wRC+ | 2B | HR | BB% | K% |
| --- | --- | --- | --- | --- | --- | --- | --- |
| April | 71 | .150/.268/.150 | 21 | 0! | 0! | 14.1% | 19.7% |
| May | 93 | .298/.355/.440 | 113 | 3 | 3 | 7.5% | 18.3% |
| June | 102 | .275/.343/.418 | 103 | 5 | 2 | 8.8% | 24.5% |
| July | 35 | .281/.343/.531 | 131 | 2 | 2 | 8.6% | 37.1% |
I guess the Yankees finally replaced the guy wearing No. 12 with the real Chase Headley on May 1st. April Headley stinks. Get that guy outta here. May through July Headley has been pretty damn cool though. He's hit .285/.348/.444 (111 wRC+) in 230 plate appearances from May 1st onward, and currently owns a .255/.329/.378 (90 wRC+) line overall. Considering where he started, that's pretty freakin' good.
Of course, April happened and we can't just ignore it. It cost the Yankees games in the standings. How many? That's up for debate. There's no debate he was a major drag on the offense that first month. The good news is Headley has turned it around and he did it relatively quickly. He had the one bad month and that was it. It's not like he's Teixeira, who's still looking to get on track offensively heading into the All-Star break.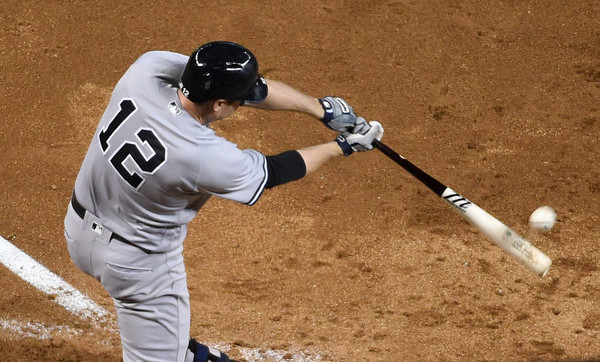 Speaking of turning things around, how about Headley in the field? He was not good defensively at all last season. He basically forgot how to throw. It was hard to watch. Headley seemed to be developing the yips, and in year one of a four-year contract, that's scary as hell. Thankfully, after an offseason of work, Headley's defense has bounced back in a big way this summer. He throws with conviction, and he's also sure-handed at the hot corner.
Given Gregorius' bobble issues and Teixeira's in-and-out-of-the-lineup-ness, Headley has probably been the Yankees' best and most reliable defender this season. Certainly on the infield, anyway. That's pretty amazing, isn't it? Props to Headley for climbing out of that defensive rut. He worked hard at it and is back to being an above-average gloveman at third base. Between the defense and his offense since May 1st, Headley's been solid this year.
Second Half Outlook: I'm a Headley believer, have been for years, and I think the guy we've seen since May 1st is the real him. Maybe not 111 wRC+ good offensively, but close. I think he'll settle in around a 100 wRC+ and continue to be an asset in the field. That said, the Yankees are probably going to need more from Headley in the second half to get back into the race. No matter what he does, his performance in April will ensure he's viewed as having had a bad year come the end of the season.