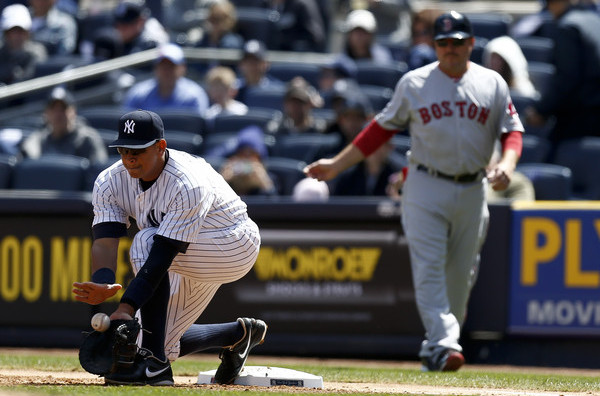 According to Mark Feinsand, Alex Rodriguez is planning to take ground balls at first base during the All-Star break in an effort to improve his versatility and get into the lineup a little more often. Brian Cashman told George King it was Rodriguez's idea to work out at first base, not the team's. "I wouldn't say he was encouraged. I was told he was more open to playing the field. Last year he was opposed to it," said the GM.
A-Rod, who turns 41 in two weeks, is hitting .220/.260/.382 (65 wRC+) with eight homers in 200 plate appearances on the nose this year. That includes a .198/.237/.333 (46 wRC+) line against right-handers. The Yankees are now benching Alex against righties — he's started only one of their last ten games — so he's not playing much at all. He's been a forgotten man. Anyway, I have some thoughts on this.
1. It's about time! I've been beating the "give A-Rod a first base glove" drum since the offseason. I'm not saying he should play there every single day. Just having the option to put him there increases his versatility a bit. A right-handed platoon DH is the least flexible player possible. Getting Rodriguez comfortable at first gives Joe Girardi some more options. It's not much, but it's something.
2. There figures to be a decent amount of playing time at first. Mark Teixeira is now getting regular days off to rest his ailing knee — he hasn't started more than four straight days since coming off the DL — so that clears some playing time for A-Rod, who probably needs to play more than once every ten days to get his bat going. Those spare starts at first could add up to another 100 plate appearances the rest of the season.
3. Rest won't be a problem. One of the reasons the Yankees have been hesitant to play A-Rod in the field is fatigue. They don't want him to get worn down throughout the season. That's understandable, especially last year when he was playing so well. Nowadays the Yankees are straight up benching Rodriguez against righties, so they can schedule the starts at first in such a way that he'll get the next day or two off because righties are on the mound. Fatigue isn't much of a concern when you're sitting three out of every four games anyway.
* * *
I'm glad A-Rod will spend the break getting work in at first base. That the Yankees didn't ask him to do it tells you Alex is motivated and looking to get back into the lineup however possible. I can't say I'm optimistic this will lead to anything, but you never know. With Teixeira's knee acting up, Rodriguez could be forced into first base duty at a moment's notice in the second half. At least now playing him in the field might be an option rather than off the table completely.