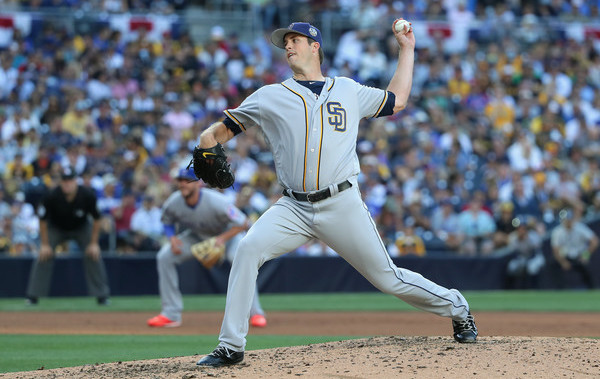 The news broke yesterday afternoon and it was made official last night: the Red Sox traded top pitching prospect Anderson Espinoza to the Padres for All-Star lefty Drew Pomeranz. Pomeranz shut the Yankees down when they were in San Diego earlier this month. The BoSox are getting a 27-year-old southpaw who seems to be coming into his own with two and a half years of control left. Nice pickup.
I know there's always a rush to judge trades and declare a winner, but this trade makes perfect sense to me for both teams. Sorry if that's boring. The Padres are rebuilding and they turned a good pitcher with a limited track record into an excellent prospect. (Baseball America has Espinosa 15th in their midseason top 100.) The Red Sox are clearly all-in this season, and when you're all-in, you trade the 18-year-old Single-A pitcher for the guy pitching at a high-level in the show. Anyway, I have some thoughts on this trade and what it means for the Yankees.
1. Holy cow is this a seller's market. Drew Pomeranz is a very good pitcher. He was the fifth overall pick in 2010 and the center piece of the package that sent Ubaldo Jimenez to the Indians. Once he got out of Coors Field, he had a 3.08 ERA (3.69 FIP) in 155 innings with the A's. The talent has always been there. Pomeranz was held back by injuries and being juggled between the rotation and bullpen.
That all said, Pomeranz has a limited track record pitching at an All-Star level and he has a bit of an injury history. As good as he's been this season, he's not someone who changes the balance of power within a division like, say, Jose Fernandez. And yet, the Padres were still able to get an elite pitching prospect in return, albeit one far away from MLB. That's because the upcoming free agent pitching market is so bad that anyone pitching decently with a few years of control remaining will be in demand. Prices are sky high right now.
Think about it. If two and a half years of Pomeranz fetch a top 15 prospect in baseball, what would two and a half years of Andrew Miller bring back? What about a year and a half of Michael Pineda or Nathan Eovaldi? The demand for power arms always exists. I'm not saying the Yankees can trade those guys for top 15 prospect, but clearly pitching help comes at a high price this year. The Pomeranz trade sets a high benchmark, and the Yankees should look to take advantage.
2. It pays to make moves early. The Padres are far out of the race and already in the middle of a rebuild, so trading Pomeranz was a matter of "when," not "if." Rather than wait until the deadline because that's what teams usually do, they got out ahead of the market and made Pomeranz available when there weren't many other pitchers out there being dangled in trades.
"(There were only) a couple pitchers available. I'm not sure you don't take a greater risk by waiting (to make a trade)," said Red Sox president of baseball operations Dave Dombrowski during the trade conference call. It's supply and demand, folks. The Red Sox had the demand for pitching and, at the time, the Padres were the only real team offering supply. They were able to get a big return because the BoSox didn't have many alternatives.
The Yankees are still trying to get back into the race, which means no trades will happen anytime soon. (For what it's worth, Wally Matthews reports the front office is ready to sell now, but ownership wants to hold off.) They're going to wait instead. That's a mistake in my opinion. The Yankees have given us no reason to think they'll go on the kind of run necessary to get back into the race. The sooner they sell, the less competition they'll have and the more they can seek in return.
3. The AL East is going to be that much tougher now. The Yankees are still trying to get back into the race, right? Well things just got a little tougher. One of the teams they're chasing — not just in the AL East, but in the wildcard race — is the Red Sox, and the Red Sox just got better with Pomeranz. Pomeranz means fewer Clay Buchholz and Joe Kelly and Henry Owens starts in the second half.
Our in-house projections at CBS say Pomeranz adds almost three wins to the BoSox the rest of the season over the crap they've been running out there every fifth day. That's huge! (For what it's worth, I feel our projections tend to be optimistic. Three wins in a half-season is a ton.) Point is, one of the Yankees' direct competitors just got better, and that's going to make life that much tougher for the Yankees. That's even more reason to sell.
* * *
This is a seller's market. We didn't need the Pomeranz trade to tell us that. You could argue as many as 19 teams are in the race right now, including the Yankees, which means few sellers. The Yankees have some premium trade chips (Miller, Carlos Beltran, Aroldis Chapman) and high-end players are netting huge returns. They'd be foolish to keep them because of some long shot odds at contention.