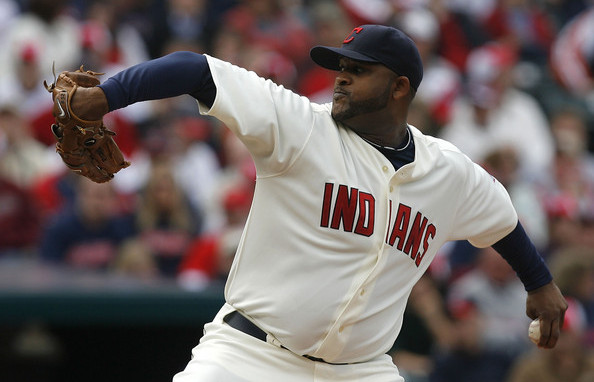 CC Sabathia spent the first seven and a half seasons of his career with the Indians. He won his Cy Young in Cleveland, went to three All-Star Games as an Indian, and led the club to two postseason appearances. And, when they traded him, Sabathia netted the Indians their best all-around hitter, Michael Brantley. The Sabathia era in Cleveland was a rousing success.
Sabathia has now spent the last seven and a half seasons of his career with the Yankees. He hasn't won a Cy Young award in pinstripes, but he's finished in the top four of the voting three times, plus he has a World Series ring and three more All-Star selections. The last few years haven't been pretty. Overall though, Sabathia's stint in New York has been a huge success. He's been one of the best free agent signings in team history.
Sabathia returns to Cleveland to start against his former team this afternoon, something he's done a bunch of times over the years. Since joining the Yankees, CC has started five games at Progressive Field, and in those starts he has a 2.10 ERA in 33.1 innings. Of course, four of those five starts came from 2009-12, back when he was still an ace. Despite his overall strong performance this year, Sabathia is long removed from his days as a No. 1 guy. Anyway, here is the Indians' lineup and here is the Yankees' lineup:
LF Brett Gardner
CF Jacoby Ellsbury
DH Carlos Beltran
C Brian McCann
SS Didi Gregorius
2B Starlin Castro
3B Chase Headley
1B Rob Refsnyder
RF Aaron Hicks
LHP CC Sabathia
Pretty nice weather day in Cleveland, according to the internet. It's sunny with temperatures in the upper-70s. Good afternoon for a game. This afternoon's game will begin at 4:10pm ET and you can watch on FOX Sports 1. Yes, FOX Sports 1. Enjoy the game.
Roster Move: As expected, Chad Green was send down and Nick Goody was called up, the Yankees announced. Green told Chad Jennings he will start the first game after the All-Star break for Triple-A Scranton next Thursday. That means a) he won't pitch in the Triple-A All-Star Game next Wednesday, and b) he'll still be in line to start the fifth game of the second half for the big league team.
Rotation Update: Michael Pineda, Sabathia, and Masahiro Tanaka will start the first three games after the All-Star break in that order. They'll face the Red Sox in a three-game series at home.