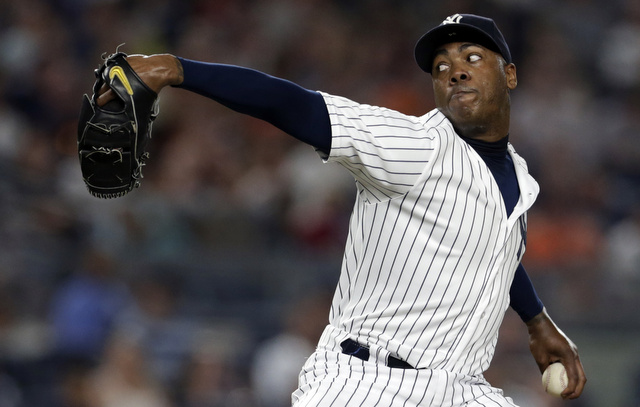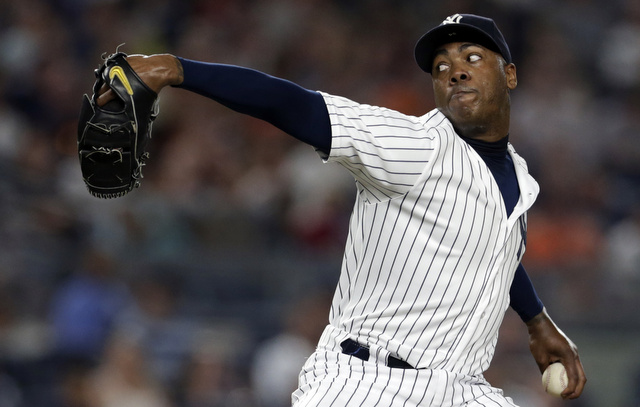 4:10pm: Both teams have announced the trade, so it's official. Officially official. The trade is as reported: Chapman for Torres, Warren, McKinney, and Crawford. Torres and Crawford are going to High-A Tampa and McKinney is going to Double-A Trenton. Warren is going to join the Yankees in Houston.
"I want to thank the New York Yankees for trusting and supporting me, and I wish nothing but the best for the Yankees organization and my former teammates," said Chapman in a statement. "I am excited about today's trade and look forward to joining the Chicago Cubs and meeting my new teammates. It is a privilege to wear the Cubs uniform and to play for the fans of Chicago."
12:13pm: For the first time in a long time, the Yankees have made a true "sellers" trade. The Yankees and Cubs have an Aroldis Chapman deal in place, reports Jon Heyman. Shortstop prospect Gleyber Torres, outfield prospect Billy McKinney, right-hander Adam Warren, and a fourth player are coming back to New York. Patrick Mooney identifies the fourth player as outfield prospect Rashad Crawford. We're still waiting for an official announcement from the team, just FYI.
Trading Chapman before the deadline was close to a no-brainer. The Yankees acquired him from the Reds in the offseason for pennies on the dollar because of his pending suspension under the league's domestic violence policy. Once the suspension was served, they could market him for what he is: an elite rental reliever. Generally speaking, this all boils down too:
Rookie Davis
Eric Jagielo
Caleb Cotham
Tony Renda
35 innings of Adam Warren
Brendan Ryan
a few months of bad PR stemming from Chapman's domestic violence incident
for
31.1 innings of Aroldis Chapman
Starlin Castro
Gleyber Torres
Billy McKinney
Rashad Crawford
That is a pretty incredible. The Yankees did not surrender any of their top prospects to acquire Chapman and now they're netting Torres, who Keith Law (subs. req'd) and Baseball America respectively ranked as the 26th and 27th prospect in baseball in their midseason updates, plus some decent secondary pieces. That's pretty great.
Using Andrew Miller as a benchmark, the going rate for an elite rental reliever was one top 50-ish prospect just two years ago. The Yankees got a top 25-ish prospect and more for Chapman. That's a function of a) Chapman having a much longer track record than Miller, and b) the market for bullpen help being insane right now. The Yankees would be wise to gauge the market for Miller and Dellin Betances next. It doesn't hurt to listen, after all.
Torres, 19, is obviously the center piece of the deal. He's hitting .275/.359/.433 (122 wRC+) with nine homers, 19 steals, a 21.3% strikeout rate, and a 10.3% walk rate in 94 High-A games. Torres is doing that despite being nearly four years younger than the average Carolina League player. He's outperforming Jorge Mateo, who is an excellent prospect himself, at the same level while being a year younger. Here's a piece of MLB.com's free scouting report:
Torres signed for $1.7 million out of Venezuela on the strength of his advanced bat and potential for solid tools across the board. He has a quick right-handed swing and a mature approach, recognizing pitches well and using the entire field. Once Torres gets stronger and learns to pull pitches more often, he could produce 15 or more homers per season … While Torres' range may be just average, his instincts and strong arm allow him to make plays. If he has to change positions, he'd profile well offensively and defensively at either second or third base.
It wouldn't be crazy to consider Torres the Yankees' top prospect now. I haven't thought enough about it to have a firm opinion, but he's definitely in the conversation along with Mateo, Aaron Judge, and Gary Sanchez. For what it's worth, Law ranked Judge higher than Torres in his midseason top 50 while Baseball America ranked Mateo higher than Torres in their midseason top 100. So yeah. This is a bit up in the air.
The other big name in the trade is McKinney, who went to the Cubs in the Jeff Samardzija/Addison Russell trade two years ago. The Yankees were connected to him prior to the 2013 draft — I even wrote up a draft profile on him — and last year McKinney ranked 83rd on Baseball America's top 100 list. He's had a rough 2016 though, hitting .252/.355/.322 (101 wRC+) with one homer, a 19.5% strikeout rate, and a 13.5% walk rate in 88 Double-A games.
The good news is McKinney is still only 21 — he's three years younger than the average Southern League player — and just last year he was a top 100 guy who hit .300/.371/.454 (135 wRC+) between High-A and Double-A. The bad news is McKinney's 2015 season ended in August when he fouled a pitch off his knee and suffered a hairline fracture. His bad 2016 season may be the result of the injury. Here's a piece of MLB.com's free scouting report:
McKinney has hit everywhere he has gone, the result of his quick left-handed swing, tremendous hand-eye coordination and mature approach. He also draws enough walks to record healthy on-base percentages, though some evaluators question how much over-the-fence power he'll develop. He has bat speed and makes hard contact easily, so he should produce plenty of doubles with 15 or more homers per season … He's a decent athlete with average speed and fringy arm strength, which doesn't make him much of a factor on the bases or in the outfield.
The knee injury and down 2016 season stink, but without them the Yankees wouldn't be able to get McKinney as part of this trade. They're buying low on a good pure hitter who was a top 100 prospect just last season. Considering McKinney is not the center piece of the package that's coming to the Yankees, he's a pretty nice little lottery ticket. Shrewd pickup.
Crawford, 22, is currently hitting .255/.327/.386 (99 wRC+) with three homers, 22 steals, a 19.8% strikeout rate, and an 8.9% walk rate in 83 High-A games. He is not a top prospect in any way. In fact, neither MLB.com nor Baseball America ranked Crawford among the Cubs' top 30 prospects coming into the season. He's a fringe prospect, though J.J. Cooper calls him a "perfect" fourth piece for the Yankees because of his tools, specifically above-average speed and center field defense.
I assume the Yankees will send Torres and Crawford to High-A while McKinney goes to Double-A. That's where they were playing with the Cubs. The Torres-Mateo dynamic will be interesting in Tampa. Will Mateo finally get the promotion he reportedly complained about, or will Torres get the promotion because he's had a better year? Perhaps they'll both stay in High-A and split time at second and short. Intrigue!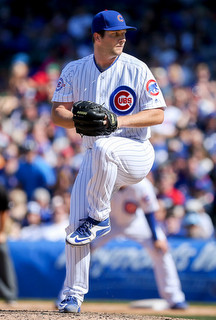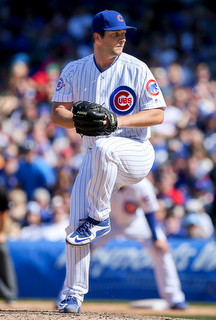 As for Warren, well, we're all familiar with him. He pitched well for the Yankees in a variety of roles from 2013-15 before being traded for Castro this offseason. Warren, 29 next month, has not had a good season with the Cubs, pitching to a 5.91 ERA (5.83 FIP) in 35 innings. His walk (12.5%) and homer (1.80 HR/9) rates are far higher than they ever were in New York. He's even had to spend some time in Triple-A.
My guess is Warren will step right into Chapman's roster spot and reclaim his old jack of all trades bullpen role, which might make him the seventh inning guy right off the bat. Basically, he's in the Circle of Trust™ until he pitches himself out of it, which just might happen based on the way he's pitching with the Cubs this year. We'll see what happens. I'm pretty stoked to have Warren back. He's always been a personal fave.
There was talk the Cubs would not do the trade without signing Chapman to an extension first, and who knows if that happened. As far as the Yankees are concerned, who cares? They didn't have to do any of the legwork (negotiate the extension, etc.) and apparently the Cubs were compelled to give them some extra players anyway. Hey, I'm not complaining. Whatever it took to get done. For what it's worth, Joel Sherman says the Yankees did talk to Chapman about an extension at one point, and when he wasn't interested, it swayed ownership to trade him.
The Yankees haven't made a move like this — a big leaguer for prospects trade designed to improve the long-term future of the franchise — in a very long time. Since trading Rickey Henderson and Mike Pagliarulo in 1989, basically. The trade hurts in the short-term, there's no doubt about that. We've all seen the impact Chapman can have. The Yankees will miss that in their bullpen even with Miller and Betances still around.
This trade helps improve the 2017 and beyond Yankees though, and considering the team's current place in the standings, it was time to prioritize the future. Based on everything we know right now, this trade looks like a major coup for New York. They capitalized on Chapman's stock being down over the winter and flipped him for a 25-ish prospect plus other stuff. Pretty cool.