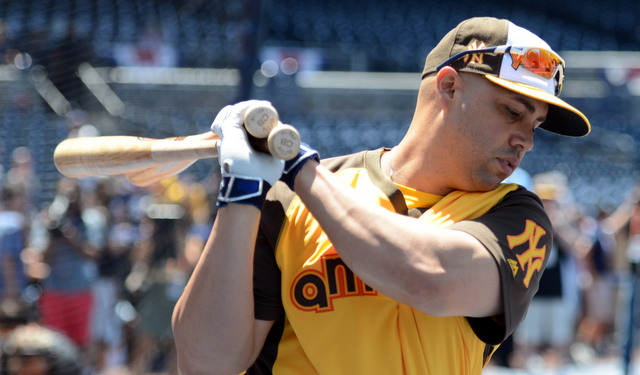 Today is the final day off the All-Star break. The Yankees open the second half with the first of three against the Red Sox tomorrow night. Their next 13 games are against contending teams (Red Sox, Orioles, Giants, Astros), so that's going to be pretty fun. Here are some miscellaneous injury updates.
Beltran's hamstring is 100%
Two nights ago, when Carlos Beltran played two innings in right field during the All-Star Game, it was his first appearance in the outfield in exactly a week. He served as the DH in the final five games of the first half because of a balky hamstring. After the game, Beltran told Joel Sherman he is 100%. "I want to give (Joe Girardi) the ability to be flexible with the DH role," he said.
Beltran, 39, has had minor knee and hamstring problems this year. He did not have to be placed on the DL either time, but the knee had to be drained and the hamstring meant no outfield for a week. Beltran's importance to the Yankees in the second half can't be overstated. If they're going to contend, they need him in the lineup because he's their best hitter. If they're going to sell, they want him healthy to get the maximum return.
Teixeira receives another knee injection
Following Sunday's first half finale, Mark Teixeira received another lubrication in his right knee, reports Mark Feinsand. It was a scheduled injection and he'll get a few more in the second half. "It's important that we have him," said Girardi. "If it's four out of five days, five out of six, that's pretty good. I have to check with him all the time."
The 36-year-old Teixeira sat out Saturday's game as the Yankees work to keep the knee in check and keep Teixeira on the field. He's yet to play more than four games in a row since coming off the DL, and I don't think Girardi will push him much more than that. Teixeira will need surgery at some point. He's hoping the regular lubrication injections will allow him to push the surgery back until the offseason.
Mitchell resumes running and throwing
Bryan Mitchell, who managed to break his toe covering first base in Spring Training, has starting running and throwing, Girardi told George King. "He has been throwing and he has started to run a little bit so I think it's possible we get him back, but (I'm) not necessarily counting on it," said Girardi. "His rehab has gone really well."
Mitchell, 25, had surgery on the toe in early-April, and the original timetable put his return at four months. That would put him on target to be back sometime in August. The Yankees are not going to push Mitchell hard. I know a toe injury sounds silly, but the last thing they want him to do is change his mechanics to compensate for the toe — that could happen subconsciously — and hurt his arm.