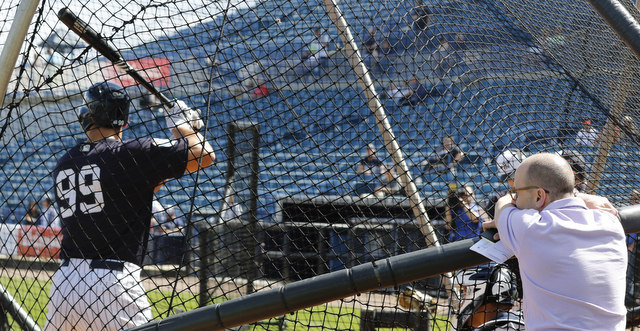 The Yankees and Indians continue their four-game series with the third game later this afternoon. Here are some links to help you pass the time until first pitch.
Four Yankees make BA's midseason top 100
The Baseball America crew released their midseason top 100 prospects list yesterday. The entire piece is free. You don't need a subscription to see the list or the write-ups. Red Sox 2B Yoan Moncada sits in the top spot (groan) and is followed by Cardinals RHP Alex Reyes and Phillies SS J.P. Crawford in the top three. The Yankees have four players on the list: SS Jorge Mateo (No. 19), C Gary Sanchez (No. 36), OF Aaron Judge (No. 42), and RHP James Kaprielian (No. 99).
Both Mateo and Judge have climbed the rankings since BA's preseason top 100 — Mateo was No. 26 and Judge was No. 76 coming into the season — though at least part of that is due to the graduation of prospects ahead of them. Still nice to see such a big jump for Judge. Sanchez stayed in the same spot (No. 36) and Kaprielian makes the midseason top 100 after not making the preseason top 100. He did that despite his elbow injury. It should be noted 2016 draftees were not eligible for the midseason top 100. OF Blake Rutherford will definitely be in the top 100 mix next spring.
Two Yankees make BP's midseason top 50
Baseball Prospectus released their midseason top 50 prospects list earlier this week as well, and again, it's free. It's not behind the paywall. That's always cool. Crawford, Moncada, and Dodgers LHP Julio Urias sit in the top three spots in that order. Players selected in the 2016 draft are not eligible for this list either.
The Yankees landed only two players on BP's midseason top 50: Judge (No. 25) and Mateo (No. 29). Judge dropped a few spots while Mateo climbed many spots from the preseason top 101. Judge was No. 18 before the season and Mateo was No. 65. Sanchez was No. 92 before the season, so the BP crew is lower on him than BA. Jumping from No. 92 before the season into the top 50 at midseason is tough to do.
Miller atop Cubs' wish list
According to Jon Heyman, Andrew Miller is believed to be atop the Cubs' wish list as they look for bullpen help. That's no surprise. Miller is awesome and signed to a favorable contract, plus Theo Epstein had him with the Red Sox too, so I assume there's still some affinity there. The Cubs also would like Dellin Betances but "wouldn't even ask," says Heyman. Why not ask? You're not doing your job if you don't ask.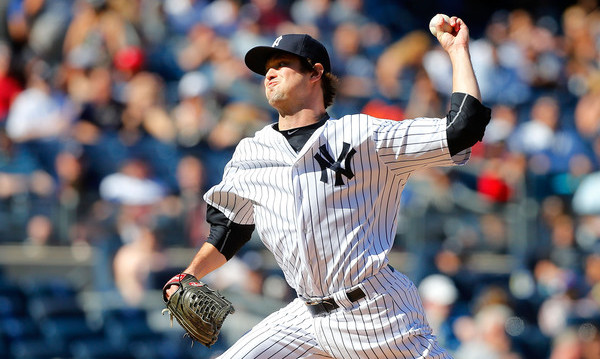 In a separate piece, Heyman says someone with the Yankees put the chances of a Miller trade at "less than one percent." That could just be posturing though. Also, apparently the Nationals made an offer for Miller over the winter. That makes sense, though we didn't hear about it in the offseason. The Dodgers and especially the Astros were the two clubs most connected to Miller over the winter. The Yankees wanted Lance McCullers Jr. from Houston, but no dice.
Gurriel done with private workouts
Free agent Cuban infielder Yulieski Gurriel finished his private workouts with teams this week, reports Jesse Sanchez. Gurriel did indeed work out with the Yankees at some point. I know this because he posted it on Instagram. (Journalism!) Sanchez says Gurriel worked out with the Astros, Dodgers, Giants, Mets, and Padres in addition to the Yankees. I'm surprised it wasn't more teams.
With the workouts over, I assume Gurriel and his agents will shift into contract negotiation mode. I really have no idea what to expect. I could see him getting big money (five or six years at $12M+ annually) or just a moderate short-term deal (three years at $10M per year). His age (32) and the usual concerns associated with the transition to MLB complicate things even though Gurriel has mashed everywhere he's played.
Red Sox get Ziegler
Late last night the Red Sox picked up reliever Brad Ziegler from the Diamondbacks for two low level prospects, both teams announced. This is good for the Yankees if you're on #TeamSell. It's simple supply and demand. The supply of available relievers has now shrunk by one while the demand, as far as the Yankees are concerned, is unchanged. They weren't going to trade with Boston anyway. The Red Sox took an available late-inning reliever away from the Cubs, Nationals, Rangers, Dodgers, Giants, and whoever else. Now the Yankees just have to, you know, sell.