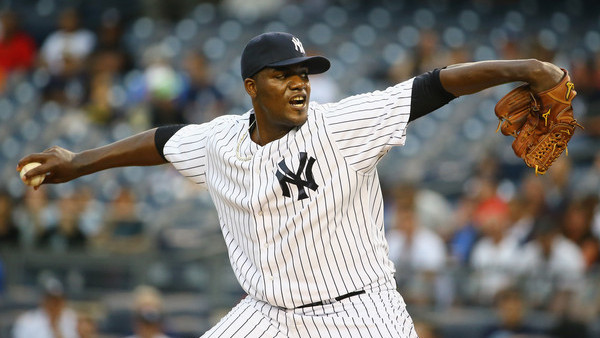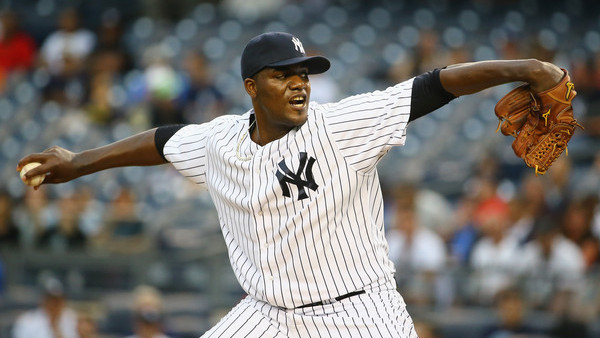 We are now 13 days away from the trade deadline, and while the Yankees have won two straight, their odds of playing in October are long. Buster Olney says they are going "full bore" in shaping possible trades, though ownership still needs to give the thumbs up. I wish they'd go ahead and sell now before someone gets hurt or other teams decide to drop out of the race and sell. There's a lot of demand and not much supply right now. That works in New York's favor. Alas. They're still not ready to move players. Anyway, here's the latest from the rumor mill.
Pineda among Marlins' targets
The Marlins are working to add a starter before the trade deadline and Michael Pineda is on their list of targets, reports Jon Morosi. Miami and the Yankees discussed Aroldis Chapman a few weeks back, so the two teams have been in contact. It's unclear if the Yankees and Marlins have actually talked about a Pineda deal, or if the Marlins simply admire him from afar.
Morosi says the Marlins are interested in Jeremy Hellickson and Andrew Cashner in addition to Pineda. All three of those guys kinda suck, but Hellickson and Cashner are rentals while Pineda has an extra year of control. That figures to play a role in Miami's decision making. As I've said though, the Marlins don't have many prospects to offer. Their system isn't very good. That's why the Yankees wanted big league players for Chapman.
Indians prefer Miller to Chapman
The Indians are in the hunt for a shutdown left-handed reliever, and Ken Rosenthal says Andrew Miller is "probably" their top target. Rosenthal says they prefer Miller to Chapman, presumably because he's willing to be a setup man and has two extra years of team control. Jerry Crasnick says the feeling within the game is the Indians are more inclined to make a blockbuster trade than they normally would because they're in first place and the club is already so well-rounded.
Not coincidentally, Keith Law says the Yankees had two scouts on hand to see left-hander and top Indians pitching prospect Justus Sheffield this afternoon. Other top prospects on the loaded High-A Lynchburg roster include first baseman Bobby Bradley, catcher Francisco Mejia, and shortstop Yu-Cheng Chang. Those guys are all far away from MLB and I imagine the Yankees want talent closer to the show for Miller, so perhaps these guys are being looked at as second and third pieces in a deal. Cleveland had seven (!) players on Baseball America's midseason top 100 prospects list. Here is MLB.com's top 30 Indians prospects list with free scouting reports and all that.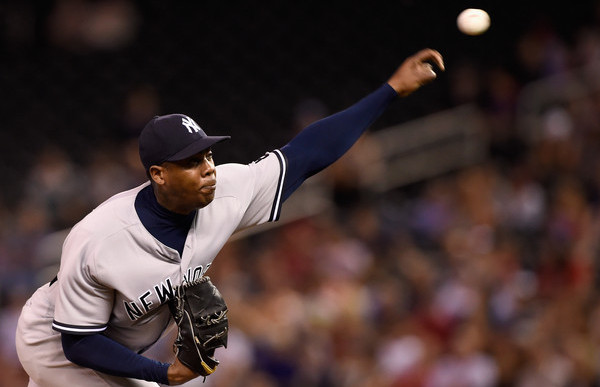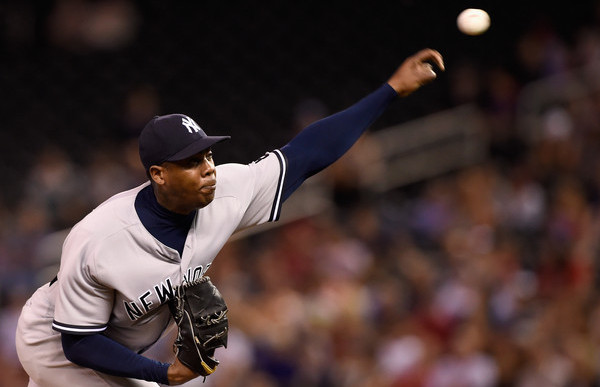 Chapman is Nats' most likely target
According to Rosenthal, Chapman is the Nationals' most likely target at the deadline. That makes sense. Dusty Baker had Chapman in Cincinnati and the Nats tried to get him from the Reds over the winter — even after the domestic violence incident — but the Yankees beat them to it. How would Chapman and Jonathan Papelbon co-exist? That ain't my problem. That's up to Washington to figure out.
Interestingly, Rosenthal says top pitching prospect Lucas Giolito is not as untouchable as he once was. I still highly doubt the Nationals would give him up for a reliever, even one as good as Chapman or Miller. Any trade sending Giolito to the Yankees — and let's be clear, that is an extreme long shot — would have to be a blockbuster with high-end talent going to Washington. Maybe something like Chapman, Masahiro Tanaka, and Brett Gardner for Giolito and stuff. I dunno, I'm just spitballing here. My trade proposal sucks.
Cubs haven't made best offer for Miller or Chapman
To date, the Cubs have not made the best trade offer for Miller or Chapman, reports Jon Heyman. To be perfectly honest, I read this report and assumed it was a leak from the Yankees intended to get Chicago to up their offer. The Cubbies have been scouting Miller and Chapman for weeks — they're said to prefer Miller to Chapman like pretty much everyone else (except the Nats, I guess) — and there's a definite need for a shutout lefty reliever in their bullpen.
Jeff Passan says the Yankees covet the injured Kyle Schwarber — "Cash thinks he can hit 50 home runs there," said one of Passan's sources — but the Cubs are not budging. They won't deal him for a reliever, not even Miller. The Cubs have lots of prospects to offer though, so being unable to get Schwarber shouldn't end trade talks. Assuming Heyman's report is a leak from the Yankees, I see nothing wrong with trying to squeeze a little more out of Chicago. The Yankees control the bullpen market right now.