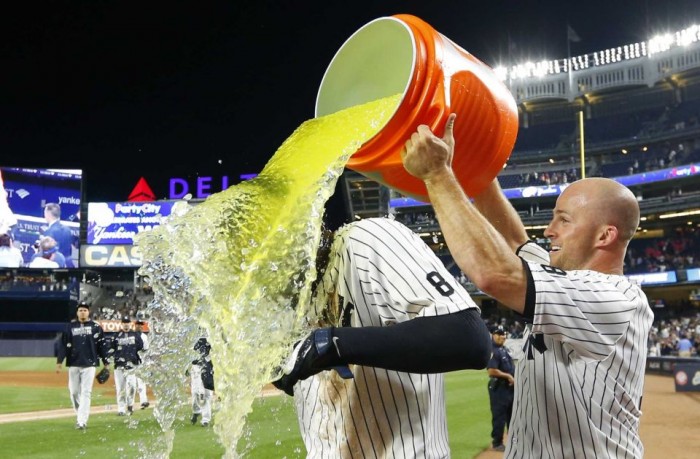 Mother Nature 1, Yankees 0
In a season filled with crushing losses, embarrassing performances, horrible blown leads and frustrating games, Monday's contest against the Rangers just might surpass them all. It will certainly go down in the record books as one of the most surreal games played at Yankee Stadium, and likely one of the most deflating defeats in recent years. Joe Girardi summed it in his postgame comments to reporters:
"It's hard for me to understand what happened tonight, how it got to this point. But it did, and we lost."
The two teams played through a rainstorm that got progressively worse during the night, until the umpires finally called for the tarp in the ninth inning with Aroldis Chapman on the mound to protect a 6-5 Yankees advantage.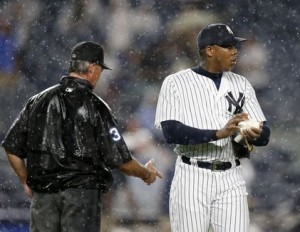 When the delay finally ended 3 hours and 35 minutes later, the closer was on the bench and Kirby Yates was in to save the game.
Instead, he suffered an unprecedented meltdown on the mound, coughing up the lead as he hit three batters and surrendered three runs before getting the final out of the ninth.
Yates became the first pitcher in more than 100 years to hit at least three batters, pitch no more than one inning and get tagged with the loss. The last guy to do it was Earl Moore of the Buffalo Buffeds in a Federal League game on June 17, 1914 against the Indianapolis Hoosiers.
As unwatchable as the Yankees middle relief has been in the past few years, they've still maintained a lockdown back of the bullpen to close out games. So what happens when you're forced to call upon that dicey non-Big 3 reliever to try and seal a win? You get an incredibly rare loss for the Yankees.
This was the first time the Yankees lost a game when taking a lead into the ninth inning since June 1, 2014 against the Twins. They had won 160 straight games in that situation, including a 34-0 mark this year and an 81-0 mark last season.
The Hangover
The best thing to be said about Tuesday's lifeless 7-1 defeat was that it only took 2 hours and 37 minutes. Alas, here's a few more words about the utterly forgettable loss.
CC Sabathia made one mistake in the first inning — a two-run homer to Adrian Beltre — but then retired 18 of 21 batters in the second through seventh innings. The large lefty unraveled in the eighth inning, however, as the first four guys reached base before he was pulled from the game.
It was the first time all season he threw a pitch in the eighth inning, and predictably, things didn't go well as Sabathia was ultimately charged with six runs in seven innings. He has allowed 11 earned runs in his last two starts (11 1/3 innings), compared four earned runs allowed in his previous seven starts (44 innings).
It appears that Sabathia is experiencing some regression in his fly ball luck. Through his first 11 starts of the season he allowed two homers and had an incredibly low homer-to-flyball ratio of 3.1 percent. He's now surrendered a homer in each of his last two starts, and while his fly ball rate remained unchanged, his homer-to-flyball ratio shot up to 14.3 percent in that span.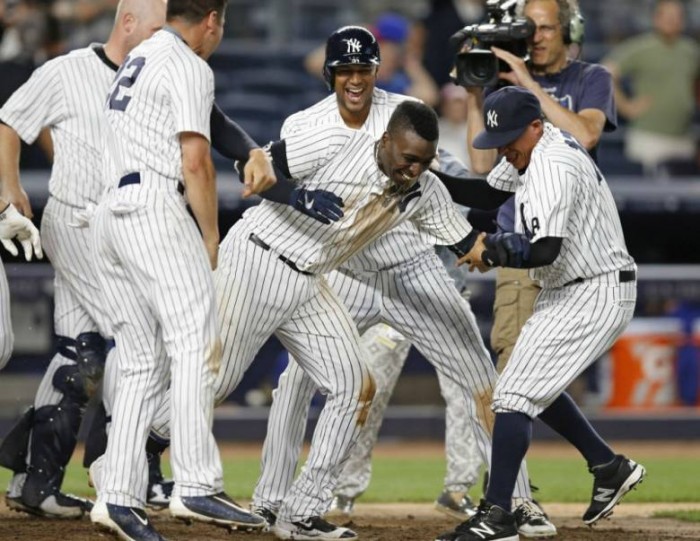 The Miracle on 161st Street and River Avenue
Buried in the standings and left for dead by much of the New York media, the Yankees pulled off arguably the most stunning win of the season — and perhaps its biggest so far — on Wednesday night, staging an epic comeback for the ages to beat the Rangers 9-7.
Trailing by five runs with five outs to go and three runs with two outs to go, the Yankees capped off a furious ninth inning rally with a pair of dramatic home runs, snatching victory from the jaws of defeat and breathing life into a team on the brink of irrelevance.
The win came with a few notable milestones:
it was their largest comeback win of the season
it was their first win this season when trailing entering the ninth inning (and it came less than 48 hours after they lost their first game in two years when leading entering the ninth inning!)
it was the first time they erased a deficit of at least four runs in the ninth inning or later since Sept. 22, 2012 against Oakland
it was their third win when trailing by four or more runs in the seventh inning or later in the past two weeks, after having only two such wins in the previous three seasons combined
The two biggest blows came from the bats of Brian McCann, who tied the game with a towering three-run homer in the final frame, and Didi Gregorius, who won the game with his first career walk-off shot. If that sounds like a rare type of rally … you'd be correct.
It was the first time since at least 1930 that the Yankees hit a game-tying homer when trailing by at least three runs in the ninth inning and then ended the game with a walk-off homer.
McCann became just the fourth Yankee in the past 70 seasons with a game-tying homer when facing a deficit of at least three runs at Yankee Stadium. He joins the illustrious group of Shelley Duncan (Aug. 15, 2007), Tino Martinez (July 2, 1998), and Joe DiMaggio (July 31, 1937 and Aug. 29, 1940).
Didi also put himself in some nice company with his historic blast. Only four other Yankee shortstops have hit a walk-off homer in the past 85 seasons: Derek Jeter (April 5, 2005 and Game 4 of the 2001 World Series), Gene Michael (June 23, 1971), Mickey Mantle (July 22, 1954 in a game he started in center field and then moved to shortstop in the ninth inning) and Phil Rizzuto (April 23, 1941).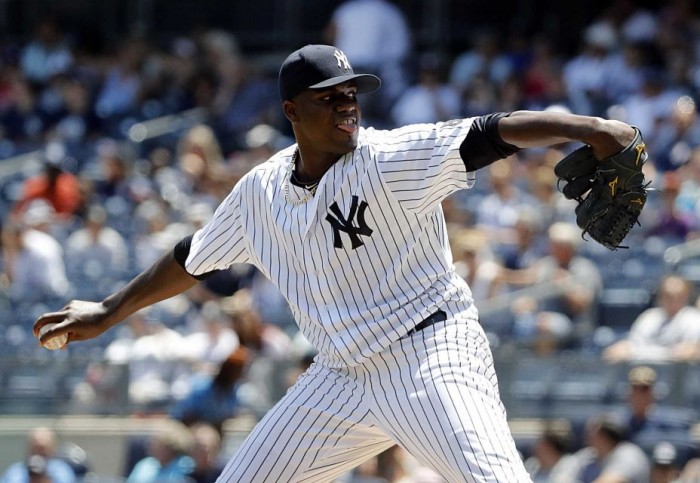 Be Like Mike
What's better than a walk-off win against the best team in the AL? How about two of them in a row. The Yankees beat the Rangers, 2-1, on Thursday afternoon thanks to a passed ball in the bottom of the ninth that scored Chase Headley from third base.
This was just the second time in the last 50 years that the Yankees enjoyed a walk-off win via a passed ball; the other game was April 27, 2012 versus the Tigers.
It was also their second straight victory in walk-off fashion (duh), third on this nine-game homestand (also June 22 vs. Rockies) and fourth of the season. The last time the Yankees had three walk-off wins in a span of fewer than 10 days was May 15-23, 2009, when they had back-to-back-to-back (!) walk-off wins against the Twins and one six days later against the Phillies.
The uplifting victory wouldn't have been possible without another stellar performance from Michael Pineda, who finished with 12 strikeouts and one run allowed on two hits. It was the 13th time in last 100 years that a Yankee pitcher struck out at least 12 batters while giving up no more than two hits and one run — but only once before had that pitcher also not been credited with the win, like Pineda. On April 11, 1997, David Cone tossed seven scoreless innings and had 12 strikeouts against the A's in a game the Yankees lost 3-1.
Pineda capped off an excellent June (2.75 ERA in six starts) with perhaps his two best outings of the season: a two-hit, one-run, eight-strikeout effort on June 25 against the Twins and Thursday's two-hit, one-run, 12-strikeout masterpiece. He's the third Yankee in the last century to strike out at least eight batters and allow no more than two hits in back-to-back starts, matching David Cone (1997) and Al Downing (1965).
His stuff was especially nasty when he got into two-strike counts, as he induced a swing-and-miss on strike three for all 12 of his punch outs. Pineda is just the fourth pitcher in baseball this season to record 12 swinging strikeouts in a game, along with Clayton Kershaw (12 on June 10), Vince Velasquez (13 on April 14) and Max Scherzer (14 on May 11). No other Yankee pitcher has done that in a game since at least 2008 (the Pitch f/x era).