Against all odds, the Yankees have now won three straight games and six of nine against the Indians, Red Sox, and Orioles. Those are arguably the three best teams in the AL. Tuesday's win was a 7-1 job over the O's. This is a suboptimal development for #TeamSell.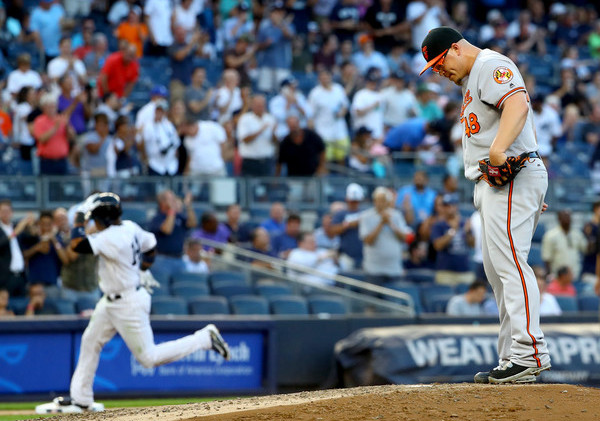 Build a Lead
It's been nearly a full calendar month since the Yankees last scored in the first inning. I wish I was joking. They last did it 23 games ago on June 21st, the day before Starlin Castro's walk-off homer against the Rockies. Geez. The Yankees they were able to score in the second inning Tuesday night, so that's cool. Didi Gregorius worked a hard-fought ten-pitch walk against Vance Worley with two outs, and Castro made it count with a two-run homer in the second deck in left. 'Twas a bomb.
The Yankees scored their third run in the fifth inning, and they manufactured that sucker. Rob Refsnyder drew a leadoff walk, stole second base, then Jacoby Ellsbury drove him in with a ground ball single back up the middle. Brett Gardner failed to get a sac bunt down before the single, otherwise it would have been the most manufacturey run that was ever manufactured. Ellsbury picked up Gardner and gave the Yankees a 3-0 lead.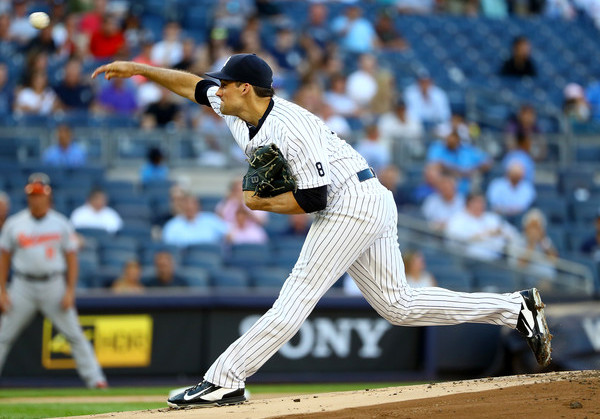 Five Innings of Nasty Nate
In his first start back in the rotation, Nathan Eovaldi was pretty excellent for the first five innings. He allowed harmless singles in the first and second innings, then retired ten straight batters on only 36 pitches. Eovaldi was effective and efficient, which is something we haven't seen out of him since May. His June was awful. The demotion to the bullpen was not undeserved. The first five innings were a nice rebound.
Then the sixth inning happened. Eovaldi got the first out easily, but then he walked No. 9 hitter Ryan Flaherty and allowed a ground ball single to Adam Jones. Joey Rickard (Joey Rickard!) pulled a double to left to score a run and put runners on second and third with one out. Eovaldi couldn't put him away in a two-strike count and missed over the plate with a fastball. Boom, double. A four-pitch walk to Manny Machado followed — it really looked like he pitched around him, which seems silly with Mark Trumbo on deck — ending Eovaldi's night. He allowed four hits and two walks in 5.1 innings and struck out one.
We've seen the "cruise through five innings then not get out of the sixth" act from Eovaldi before, so this was nothing new. What was new (new-ish, really) was the cut fastball he was throwing. I didn't count how many he threw, but it was quite a few. Eovaldi threw a cutter with the Marlins a few years back but we hadn't seen it with the Yankees. Seems like something he's trying to regain some effectiveness. We'll see if it sticks. The sixth inning stunk, but the first five innings were cool.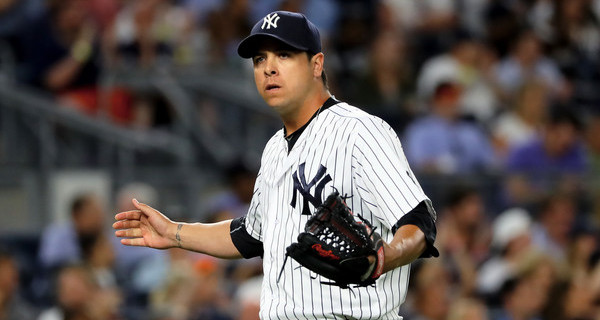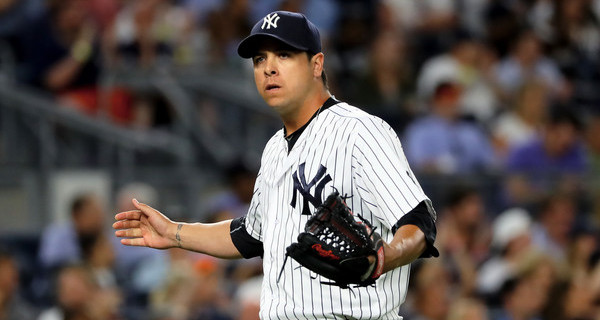 #SwarzakForSchwarber
The Cubs won't trade Kyle Schwarber for Andrew Miller, but do you think they'd trade him for Anthony Swarzak? Swarzak inherited the bases loaded with one out from Eovaldi, and he not only managed to escape without allowing a run, he did it on five pitches against Trumbo and Jonathan Schoop. Trumbo leads MLB in homers and Schoop has been crushing the Yankees for three years now.
Swarzak did have some help, of course. Refsnyder made a great running catch on Trumbo's pop-up in foul territory, then turned and threw home right away to prevent the runner from scoring from third. It was a really great heads up play by Refsnyder. Here's the video. You should watch it. Schoop's foul pop-up was much more routine. Gregorius reeled that one in along the third base line. Heck of a job by Swarzak there.
The Yankees tacked on two runs in the bottom of the sixth on Castro's two-run double, which gave them a 5-1 lead and allowed Joe Girardi to send Swarzak back out for the seventh. He retired the side on 15 pitches. Girardi sent Swarzak back out for the eighth, and he again retired the side, this time on seven pitches. Swarzak retired all eight guys he faced on a night Girardi wanted to stay away from the big three relievers because of their recent workloads. Heck of a job. Swarzak's ours and you can't have him, Cubs!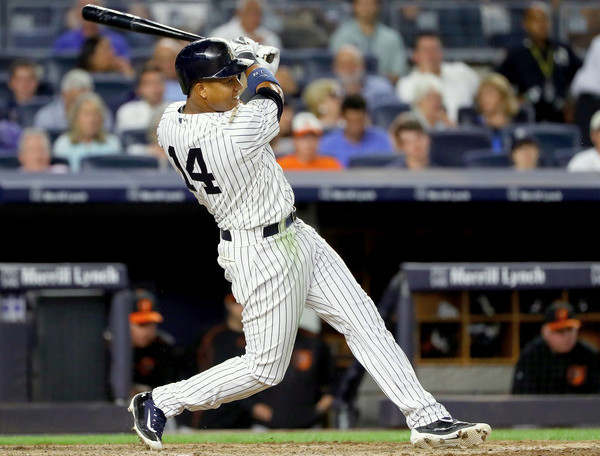 Leftovers
Chase Headley whacked a two-run insurance homer in the bottom of the eighth to give the Yankees their 7-1 lead. Nick Goody then struck out the side in the ninth, because hey, why not? Swarzak and Goody retired all eleven batters they faced and they didn't let a single ball out of the infield. Trumbo's pop-up to Refsnyder was the farthest hit ball against the bullpen. Go figure.
Castro was the offensive star, going 2-for-4 with the two-run homer and two-run double. Gregorius went 2-for-3 with a walk. The other seven hitters in the lineup went 3-for-20 (.150). Headley had the homer and both Gardner and Ellsbury singled. The Yankees drew a season-high tying seven walks: Carlos Beltran (two), Brian McCann, Alex Rodriguez, Gregorius, Headley, and Refsnyder had them. Three of the seven walks came around to score.
And finally, history was made! Ellsbury recorded his ninth catcher's interference of the season in the very first inning. Remember, he declined one a few weeks back because the swing resulted in a hit, so it's really ten catcher's interferences. The previous single-season record belonged to Roberto Kelly, who had eight for the 1992 Yankees. That's why they pay Ellsbury the big bucks, to make history.
Box Score, WPA Graph & Standings
For the box score and updated standings, go to ESPN. MLB.com has the video highlights. Here are our Bullpen Workload and Announcer Standings pages, and here's the win probability graph:

Source: FanGraphs
Up Next
The Yankees and Orioles continue this four-game series with the third game Wednesday night. Michael Pineda and Yovani Gallardo are the scheduled starting pitchers. There are five games remaining on the homestand and RAB Tickets can get you in the door to all five.