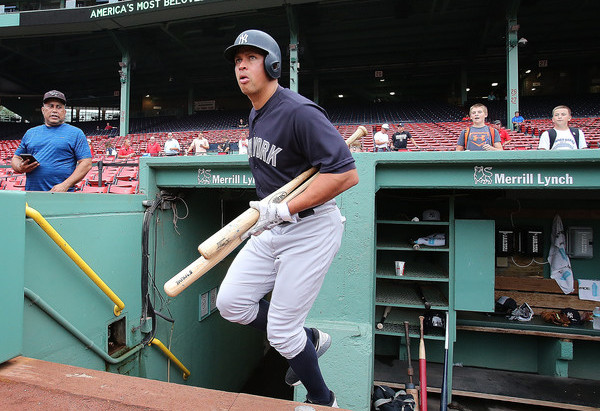 What's the opposite of a farewell tour? A good riddance tour? Whatever it is, Alex Rodriguez is going through it right now. He is playing the final road game of his career tonight — Alex played his first ever MLB game at Fenway Park, so everything is coming full circle — and he's in the lineup in a move that seething with obligation. A-Rod is also batting cleanup because the Yankees are #TryingToWin. Whatever. Here is the Red Sox's lineup and here is the Yankees' lineup:
LF Brett Gardner
CF Jacoby Ellsbury
3B Chase Headley
DH Alex Rodriguez
2B Starlin Castro
SS Didi Gregorius
C Gary Sanchez
1B Austin Romine
RF Aaron Hicks
RHP Michael Pineda
Not a bad night for baseball in Boston. A little cloudy, but there's no rain in the forecast. Nothing substantial, anyway. Tonight's game is going to begin at 7:10pm ET and you can watch on YES locally and MLB Network nationally. Enjoy hearing A-Rod booed by a road crowd for the final time.
Roster Moves: In case you missed it earlier, Luis Cessa and Ben Heller were called up and Nick Goody and Rob Refsnyder were sent down. The Yankees needed fresh arms after blowing through their bullpen last night.