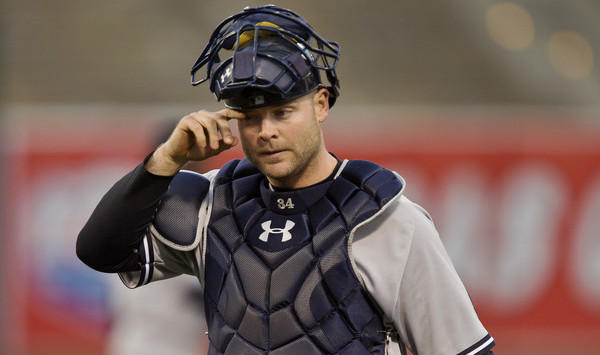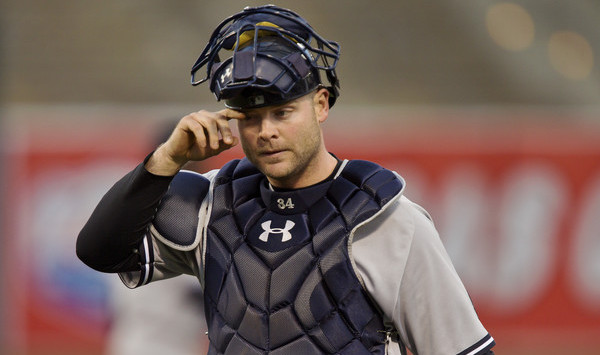 According to Jon Heyman, Brian McCann has cleared trade waivers. That means he can now be traded to any other team the rest of the season. Obligatory reminder: pretty much every player will be placed on trade waivers this month. Who clears is not terribly interesting. It's who doesn't clear that stands out.
Anyway, the Yankees reportedly listened to offers for McCann prior to the trade deadline, and supposedly the Braves showed interest. I guess they want a veteran catcher who can work with all those young pitchers they've acquired as part of their rebuild. McCann is hitting .231/.330/.413 (100 wRC+) with 15 homers this season and remains one of the most productive backstops in the game. I have some thoughts on this.
1. The Yankees will likely continue to explore trades. The Yankees solid at the trade deadline. Legitimately sold. They traded away three of their very best players (and Ivan Nova) for a boatload of prospects. It only makes sense to continue exploring trades involving veteran players in August, and not just McCann. Brett Gardner, Chase Headley, Michael Pineda, Nathan Eovaldi … pretty much everyone.
The Yankees called up Gary Sanchez this week and gave him two starts behind the plate within the last few days. In fact, McCann hasn't caught a game since Thursday. He's spent the last three games at DH. The Yankees seem committed to giving their young players a chance down the stretch, and that includes giving Sanchez plenty of starts behind the plate. Save McCann some wear and tear and get a look at Sanchez. It's a win-win.
Sanchez is, without question, the future behind the plate. At least that's the plan. Giving him a year as an apprentice under McCann a la Joe Girardi and Jorge Posada back in the day would make sense, though I don't think it's imperative. Austin Romine is a decent enough backup option, and Kyle Higashioka's emergence gives the team extra depth. Besides, the Yankees could always trade McCann and then sign a veteran free agent catcher to mentor Sanchez.
2. What's a fair price? This is the sticking point. Reportedly the Braves wanted the Yankees to eat a bunch of the $34M owed to McCann the next two years while giving up minimal prospects. I mean, that's what every teams wants to do with every trade. The Yankees held out for quality prospects and I don't blame them at all. McCann's a valuable player, and even with the Yankees in transition, keeping him makes sense, Sanchez or no Sanchez.
I thought the Yankees did really well with their deadline trades, though I'm not sure if that's because I have a poor read on the market, or because Brian Cashman is just that good. Probably a little of both. I'd want a package with at least one really good prospect for McCann, something along the lines of the Carlos Beltran trade. He's too productive to give away or salary dump. This isn't a "must trade" situation. The Yankees have plenty of leverage and can ask for a big return.
3. Eating money is on the table. Prior to the deadline all we heard was the Yankees were not willing to eat money to make trades, and then bam, they ate money to trade Beltran. I imagine eating money to move McCann — they ate some cash in the Martin Prado/Eovaldi deal too — is something they would consider as well. Assuming the other team gives them more in return, of course. That's how this works.
McCann is pretty expensive by catcher standards — only Buster Posey ($18.6M) has a contract with a higher average annual salary than McCann ($17M) among catchers — and I'm not sure how many teams are willing to commit big bucks to a 32-year-old catcher with all that mileage. Eating money may be the only way for the Yankees to get the kind of return they seek. After taking on salary to trade Beltran, I'm sure they'd be willing to do with McCann as well.