Got a dozen questions in the mailbag this week. This is the last mailbag of the regular season, you know. Crazy. Anyway, RABmailbag (at) gmail (dot) com is the place to send us anything.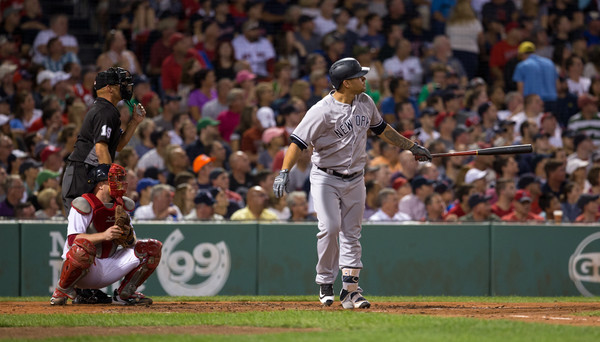 Pete asks: If Sanchez continues to rake and hits, say, 4 more HRs over the last 11 games and the team squeaks into the playoffs, does he get much MVP love? Should he?
Even without the extra homers and the postseason trip, I still think Sanchez is going to wind up with a tenth place MVP vote or two. Twenty-eight different players received an AL MVP vote last season, including guys like Kevin Kiermaier and injured Mark Teixeira. Sanchez getting a tenth place vote wouldn't surprise me at all. In fact, I kinda expect it to happen.
Now, should he get any MVP votes? Of course not. There is zero argument to be made that Sanchez is one of the ten most valuable players in the AL this season. Heck, you could argue he isn't even one of the ten most valuable players in the AL East. Sanchez is going to get a ton of Rookie of the Year support and he just might steal the award away from Michael Fulmer. Any MVP love will be the result of the silly down ballot shenanigans we see every year though.
Casey asks: Not that it will happen, and not that I want it to happen, but say the Yankees were to cash in on Sanchez's high stock right now. What would they get back for him? I know our trade proposals suck, and there probably aren't many good comparisons out there, but just looking for a rough ballpark.
Now that Buster Posey's power is slipping, you could argue Sanchez will be the best hitting catcher in baseball as soon as next season. Right? I don't think that's completely impossible. It's either Sanchez, Posey, Jonathan Lucroy, or Yasmani Grandal. Sanchez's trade value is astronomical because he's young, cheap, and provides big offense from a premium position. Plus he adds value defensively with his arm.
All of that makes Sanchez one of the most valuable commodities in the game. The list of players the Yankees should be willing to trade him for is short. Mike Trout, Francisco Lindor, Kris Bryant … we're talking those types of players. Sanchez plus stuff for Chris Sale has turned into Sanchez for Sale straight up. Quality catchers are insanely valuable. That's why they get huge free agent contracts and are drafted earlier than expected. Put Sanchez on the market and the Yankees could get almost anything they want.
Michael asks: If Mason Williams has no spot in the Bronx, what might his trade value be? Could he be worth somebody like, for one example, Shane Greene – a busted SP who might have a little untapped potential?
Ben Gamel. That's Williams' trade value. Gamel just showed us the trade value of a lefty hitting outfielder who may or may not be much more than a bench player. (Ramon Flores did the same last year.) Williams has far better tools than Gamel and more upside, but the shoulder surgery and relatively short track record of excellence kinda negates that. Generally speaking, there's not much separating players like this even though their tools may differ.
Using Williams in a busted prospect for busted prospect trade to get a pitcher is probably worthwhile since the Yankees do have outfield depth and need pitching. Trading him isn't imperative though. Williams could easily end up spending 100 days on the big league roster next season due to injuries, especially if the Yankees trade Brett Gardner. I think Williams is worth more to the Yankees as a depth piece than anything he could fetch in a trade.
Eric asks: Would it make sense to trade Severino for another struggling young starter? A starter like Jose Berrios or Archie Bradley?
This seems like making a move for the sake of making a move. Unless the Yankees are pretty sure Luis Severino is broken for good and will never be a successful starter, trading him for another struggling pitcher seems like more risk than reward. Berrios is talented but he's had an unbelievably terrible start to his career. I read an article not too long ago — I can't find it now, unfortunately — that showed almost every pitcher who got off to a start similar to Berrios' never recovered to have a productive career. Bradley? Eh. I'd take him, Berrios too, but giving up Severino for him is too much. I wouldn't make Severino untouchable. Not in anyway. But I'm not trading him for a broken pitcher. The Yankees aren't at that point with Severino yet. He's not a change of scenery guy.
Liam asks: Ken Rosenthal had an idea on twitter that there should be a Jose Fernandez spirit award where each team nominates a player who has played the game with most enthusiasm and spirit and then pick one of those 30 players for the main award. Hypothetically who would be the Yankees nominee this year?
It was actually Harry Pavlidis' idea, but more people follow Rosenthal on Twitter, so he got all the credit. Anyway, yeah some kind of award celebrating the spirit and joy in baseball would be a wonderful tribute to Fernandez. Nominating one player per team and then picking one winner, a la the Roberto Clemente Award, would be a great idea. This award has Adrian Beltre written all over it, doesn't it?
As for the Yankees, maybe it's just me, but Didi Gregorius seems like the obvious candidate for a hypothetical Jose Fernandez Award. Him or Ronald Torreyes. Didi picking up the 5-foot-6 Torreyes so he can high-five people after home runs …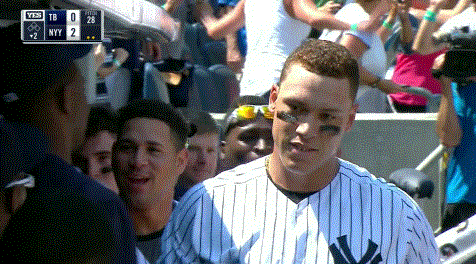 … is one of my favorite things about this season. I'm not even sure who else it would be aside from those two. The Yankees are getting younger, but they're still kinda boringly corporate, so we don't have much to pick from right now. Too bad Alex Rodriguez isn't around anymore.
Tom asks: Assuming McCann is traded and Encarnacion is too pricey, who do like best for primary DH/5th OF out of Beltran/Bautista/Trumbo/somebody else?
Spending big on a DH doesn't seem like a particularly great idea. Out of those options I'd take Carlos Beltran on a one-year deal, but I don't even love that plan all that much. The Yankees are going to need to give Sanchez some DH time, plus it wouldn't hurt to give Greg Bird and Aaron Judge time there too. A rotating DH spot wouldn't be the worst idea. That creates more playing time for guys like Aaron Hicks, Tyler Austin, Rob Refsnyder, whoever. This free agent class is so bad that guys like Jose Bautista and Mark Trumbo are going to get insane contracts simply because there's nowhere else to spend the money. Big money DHs is not a pool worth swimming in.
Michael asks: How do you think the Ramos injury affects the market for McCann this offseason? He is now better than all of the available free agents.
The Wilson Ramos injury is devastating in multiple ways. The Nationals just lost their starting catcher and best right-handed hitter before the postseason. Ramos was about to hit free agency coming off a monster season, and instead now he's having his second major knee surgery in four years. Brutal. He was, by far, the best available catcher this offseason.
With Ramos down, the best free agent catchers are Matt Wieters and Jason Castro. I feel like Wieters is going to wind up back with the Orioles — they seem to value him more than anyone else — and Castro … eh. The Ramos injury could definitely open up the trade market for McCann. Teams will no longer have the option to spend money on a superior player. Their options are either trade for McCann or hold your nose with Wieters and Castro. The Ramos injury sucks. In the big picture, it's good for the Yankees because there's one fewer alternative to McCann now.
Jackson asks: It seems that another potential landing spot for McCann would be in NY, with the Mets. They are disappointed in dArnaud and McCann would likely not object to a (non) move cross town. Other than the fact that it's the Mets, why wouldn't this work? Would a two player return headed by Ynoa and/or Smoker be reasonable?
In theory, yes. The Mets need a catcher because Travis d'Arnaud can't stay healthy and has gone backwards. Also, Kevin Plawecki kinda stinks. That said, I would be shocked if the Mets took on a $17M a year catcher. Even if the Yankees paid down, say, $7M a year, they still might not go for it. Their rotation is going to get mighty expensive this winter, and they need to figure out second base. d'Arnaud and Plawecki are young enough that sticking with them next season wouldn't be completely crazy. I think the Mets are too cash-strapped to take on McCann, even at a discounted rate.
Jonathan asks: If The Yankees were to trade Headley this offseason,who would play third?
That's kinda the problem. Moving Chase Headley in the offseason sounds great — similar to McCann and Ramos, the Martin Prado extension means there's one fewer third base alternative available — but the Yankees need competency at third base themselves, and I'm not sure who else can give that. I like Torreyes as a bench player. Give him 600 plate appearances as the everyday third baseman and you might get an AVG/OBP/SLG slash line that starts with .2s across the board.
The Yankees' best third base prospect is Miguel Andujar, and while he had a nice 2016, he's not someone who makes you say "let's trade Headley because Andujar will be ready in 18 months." There's always the Starlin Castro option, and I do think the Yankees will look to give him time at the hot corner next season. Maybe trade Headley, sign a backup plan like Kelly Johnson, and go with Castro and Refsnyder at third? Eh. That might not work out too well. Listen to offers for Headley. For sure. But trading him likely means a downgrade at the hot corner.
Eric asks: I must have missed something. Where did #YoSoyGary come from? Is there some sort of backstory?
I came from Sanchez himself. On Twitter he signs his tweets with #IamGary and #YoSoGary, and it kinda took on a life of its own. There are even t-shirts for sale now too: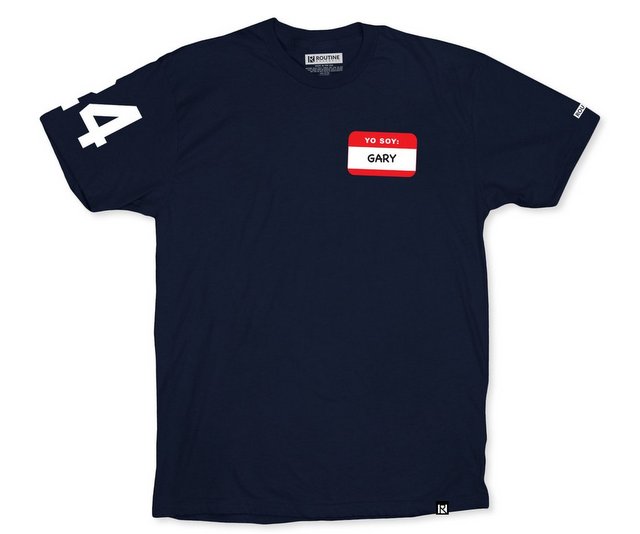 Take all of my money.
Michael asks: What's your opinion on giving Didi an extension? He's been such an important player for them and he's only 26, but they do have Mateo and Torres arriving possibly by 2018, not to mention Wade, Holder, Park, etc.
An extension for Gregorius shouldn't depend on other players in the system. Is he a quality player worth locking up? If the answer is yes, then do it, because at worst it makes him a more valuable trade chip. If down the road you have Gregorius signed affordably and both Gleyber Torres and Jorge Mateo knocking on the door, great. That's a wonderful "problem" to have.
Signing Gregorius to an extension now makes more sense than it did a year ago. Last year he had a fine overall season and a very good second half, but we still weren't sure exactly what he was as a player. Didi broke out this year, especially in the power department, and that's going to get him paid through arbitration. A 20-homer shortstop with his defense is worth signing long-term.
The only service time comparable I can find is Dee Gordon's five-year, $50M extension with the Marlins. Gordon had a batting title, two stolen base titles, and two All-Star Game selections to his credit at the time though. Gregorius has none of that. So would something like five years and, say, $40M to $45M work instead? Either way, I wouldn't let the team's shortstop prospect depth stand in the way of a Didi extension.
Anonymous asks: The Cubs gave Theo Epstein a 5 year/$50 million extension. What do you think Brian Cashman is worth? And do you think Theo was overpaid, underpaid, or paid the right amount?
Andrew Friedman broke the executive pay scale when he left the Rays for a five-year deal worth $35M with the Dodgers. That was two years ago now, and Epstein has a far more impressive resume, so it's no surprise he's getting $10M a year. (Fourth starter money!) I really have no idea whether he is underpaid or overpaid. A smart executive seems tremendously valuable, but there are lots of smart guys out there qualified to run a baseball team. And besides, at the end of the day, the players still have to perform. Executives only have so much control.
As best I can tell, Cashman's current contract is worth $3M annually, which made him one of the highest paid GMs in the game at the time it was signed. Using the Friedman-Epstein scale, Cashman probably falls into the $7.5M a year range? Maybe even a little higher. Friedman did well in Tampa, but running a big market team is a very different animal, and basically no one pumps out winning teams better than Cashman. The Phillies and Angels and Red Sox have all shown it takes more than money.