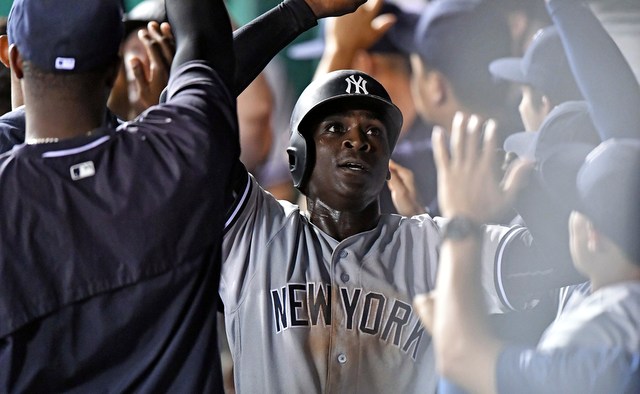 Tomorrow night the Yankees open a crucial three-game series with the Orioles in Baltimore. The O's sit in the second wildcard spot at the moment and the Yankees are 2.5 games back with both the Astros and Tigers ahead of them as well. Huge series. Huge. Here are some thoughts on the off-day.
1. I really don't like the decision to use Luis Severino out of the bullpen. I understand the middle relief is a disaster right now and the Yankees need help, but he's too important to the team long-term, and his development should be a priority. Severino clearly has work to do with his changeup and his secondary pitches in general, and the bullpen isn't a great place to work on that stuff. Not if the Yankees intend to use him in semi-important situations, which seems likely. I'd rather see Severino stay in Triple-A and remain a starter with the RailRiders through the end of the postseason, then rejoin the Yankees in whatever role later in the month. Hopefully he has enough of an impact in relief that putting the development of his changeup on hold is worth it.
2. Speaking of Severino, the Yankees could have called him up Tuesday instead of Chasen Shreve. They knew they were going to use Severino out of the bullpen that night ahead of time, it's not like they hatched that plan five minutes before first pitch, but they decided to keep him down there and call up Shreve. Giving him a tune-up bullpen appearance in Triple-A makes sense, no doubt about it, though I think service time may have been a factor too. Severino needed to spend 73 days in the minors this season to delay free agency. He was down 56 days earlier this summer when he came back from his injury, leaving another 17 days. The Yankees sent Severino down after his start on August 14th, so August 15th was day one of 17. Day 17 of 17 was yesterday. Calling him up instead of Shreve on Tuesday would have meant missing out an extra year of control by one stupid day. By waiting to call him up until rosters expand, the Yankees gained control of Severino's age 28 season in 2022. That had to factor into their decision to call up Shreve over Severino, right? Important disclaimer: my math is not official. There are some quirky service time rules that may render all this moot.
3. Rosters expand today, but since the Yankees are off, they probably won't announced their call-ups until tomorrow. My official guess for the first wave of call-ups, meaning the guys who will join the team tomorrow in Baltimore: Severino, Nick Goody, Kirby Yates, Richard Bleier, Rob Refsnyder, and the just acquired Eric Young Jr. Six guys right out of the chute. We know Severino is coming up because the Yankees have been preparing him for a relief role. Yates was sent to rookie Pulaski earlier this week specifically because their season ends today, allowing them to circumvent the ten-day rule and bring him back tomorrow. They wouldn't do that unless they were planning to bring him right back. Young was acquired yesterday to be the designated pinch-runner. Goody and Refsnyder have been up-and-down all year, and Bleier has been working as a starter in Triple-A, so he'll give them a much-needed long man. Others like Bryan Mitchell, Mason Williams, James Pazos, and Johnny Barbato have to wait a little longer for their call-ups, possibly until after the Triple-A postseason. (The Ben Gamel trade and Aaron Hicks' hamstring injury could force them to bring up Williams sooner, however.)
4. The pitching staff aside from Masahiro Tanaka and the big three relievers has mostly stunk this season, so I'm not surprised to see folks on Twitter and in our comments saying it's time for pitching coach Larry Rothschild to go. I get it. When part of the team underperforms, the first response is always fire the coach. I couldn't disagree more though. The fingers are being pointed in the wrong place. The Yankees have placed too much emphasis on size and velocity in recent years — I get it, those are unteachable skills, which put them in demand — and not nearly enough on command and pitchability in my opinion. You needn't look beyond Michael Pineda and Nathan Eovaldi to see you need more than big stuff to succeed in the big leagues. Rothschild is very highly regarded within the industry and as outsiders, it's really hard for us to evaluate a coach's performance. All their work happens behind the scenes. I thought the Yankees made a big mistake scapegoating hitting coach Kevin Long two years ago, and firing Rothschild would be more of the same. The big stuff/bad command approach ain't working. The players and the philosophy have to change more than anything. These guys are coaches, not miracle workers.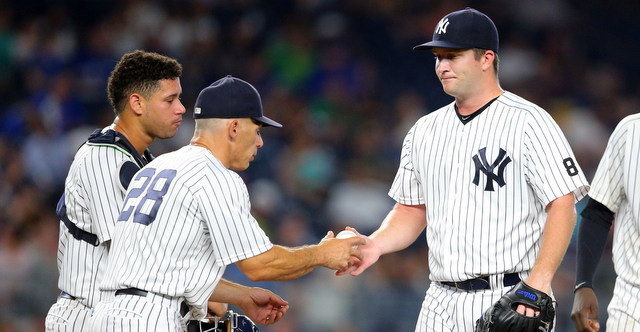 5. I think Adam Warren might be nursing some kind of minor injury. He hasn't look quite as crisp lately, and when the Yankees were on the West Coast last week, Joe Girardi seemed to indicate he didn't have Warren available for a few days. At one point he went six days between appearances, starting with the Mariners series. Then last night, in an obvious situation to use him for more than one inning, he faced two batters and threw seven pitches as the game went to extra innings Of course, Warren has made four appearances in the last five days, so chances are I'm dead wrong. And even if he is nursing something, it's obviously not bad enough to keep him from playing. Warren stunk with the Cubs, then came back to the Yankees and was pretty awesome for a few weeks, and now he kinda stinks again. It could be those few weeks of success were just a mirage. I just wonder if there's maybe a little something else going on, or was at some point recently.
6. We can finally close the book on all the deadline trades now that we know the return for Ivan Nova. The Yankees did really, really well. Far better than I thought they would, to be honest. They even managed to get two legitimate prospects back for Nova, a rental starter who hadn't pitched well since returning from Tommy John surgery last year. The Yankees landed 12 prospects plus Warren for three impending free agents and one reliever. One really great reliever, but still one reliever. I'm really pleased with the talent the deadline sale fetched. Who knows if these prospects will work out. They're all full of risk. But when you're trading impending free agents and a reliever, getting high-end talent like Clint Frazier and Gleyber Torres is the way to go. The 2016 trade deadline may prove to be the most important event in the team's history since the 2008-09 offseason.
7. The winner of yesterday's Gamel trade is Ben Gamel. I'm glad he's going somewhere he'll get an opportunity to play. The Mariners figure to have at least one outfield opening next year — they're going to decline Nori Aoki's option, maybe Seth Smith's too — and Gamel could get an extended look there. He was facing the very real possibility of spending a third straight year in Triple-A in 2017 had he remained with the Yankees. The team got two interesting lower level arms for an outfielder they don't really need. (They still have so much lefty hitting outfield depth.) It made sense to flip Gamel. Hopefully he gets a chance to stick in the big leagues with Seattle now.
8. I mentioned this the other day but it's worth repeating: I love that the kids are playing a role as the Yankees chase a postseason spot. Even if they fall short, this is a good experience. Remember, Derek Jeter and Jorge Posada were around as spare part players in September 1995. It was good to soak in all those meaningful games and see what it takes to win at this level. How could this not be good experience? Gary Sanchez is hitting in the middle of the lineup, Aaron Judge is playing everyday, Severino and Ben Heller are poised to be bullpen staples in September … this is all a wonderful experience for these kids. The Yankees want these players to grow into the core of their next championship team. Well, what better time to have them get their first taste of postseason race baseball than right now?