Less than a week after winning seven straight games to climb back in the postseason race, the Yankees have managed to erase most of that progress these last few days. They dropped Friday's game 7-4 to the Red Sox for their fifth loss in the last six games, and really, the game felt more lopsided than the score indicates. Those playoff dreams were fun, eh?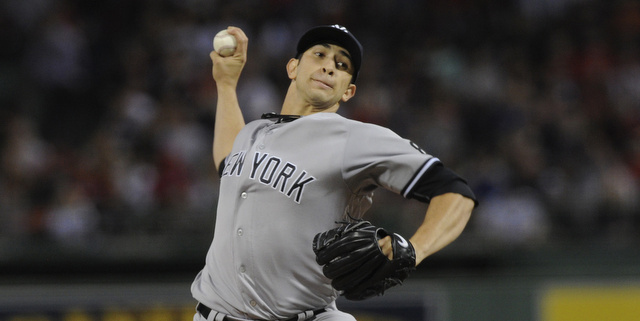 A Shaky Start
Oh boy, things did not look good for Luis Cessa and the Yankees early on. In fact, Cessa failed to retire any of the first five batters he faced, though two (Dustin Pedroia and David Ortiz) were thrown out trying to stretch singles into doubles. Base hits by Ortiz and Hanley Ramirez gave the Red Sox a quick 2-0 lead in the first inning. The Yankees were playing from behind all night.
To Cessa's credit, he settled down after that rough first inning, during which he seemed to have no idea where his fastball was going. He retired 12 of 14 batters faced from the second through fifth innings, allowing only a solo homer to Hanley and a ground-rule double to Travis Shaw. Cessa needed only nine pitches to retire the side in order in both the third and fifth innings. After that first inning, he was pretty great.
We've seen that out of Cessa a few times so far, haven't we? He had a rough first few innings in Kansas City before settling down. He also allowed a first inning run against the Blue Jays last time out before getting locked in. That's pretty impressive. Cessa doesn't let things snowball into a disaster outing. Three runs on six hits and no walks in five innings was the final damage. That'll do, kid. I like what I've seen so far.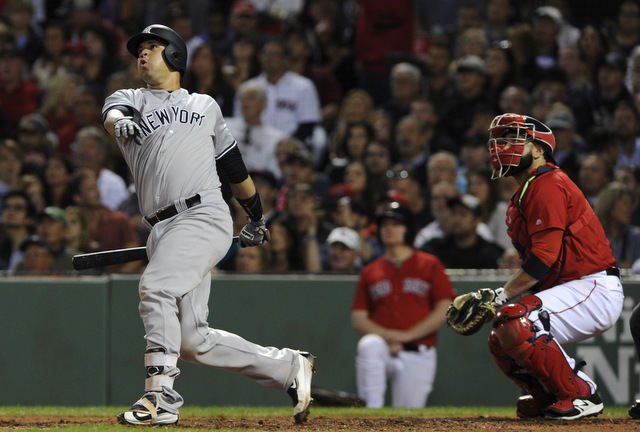 Off the Hook
For the second straight night, the Yankees had a bunch of chances to cash in runs, but were unable to take advantage. Right in the very first inning, Gary Sanchez smashed into a 5-4-3 double play after Jacoby Ellsbury drew a walk. Then, in the second, a Didi Gregorius single and a Chase Headley double put runners on second and third with one out. Brian McCann and Mark Teixeira both flew out harmlessly to strand the runners.
A Mason Williams single and a Gardner walk put the Yankees in business in the third before Ellsbury lined out and Sanchez hit into another 5-4-3 double play. Sigh. The Yankees finally got on the board in the fifth, but not before nearly blowing that rally too. Following back-to-back singles by Teixeira and Williams, Gardner struck out and Ellsbury flew out for two quick outs.
The Yankees were facing another blown opportunity, and once Clay Buchholz jumped ahead in the count 0-2 on Sanchez, it was easy to assume the rally was over. Instead, Sanchez worked it the count back full, then launched a two-run double high off the Green Monster to cut the deficit to 3-2. I thought it was gone off the bat, but alas. Sanchez put a charge into it but just didn't hit it high enough.
All told, the Yankees put ten runners on base in six innings against Buchholz, yet only plated the two runs. The only thing this team excels at is stranding runners, I swear. Early in the season I said not to worry about it, eventually the runs will come as long as the Yankees kept getting on base, but nope. They've been unable to hit with runners in scoring position or even get guys in with productive outs all year. Blah.
The Only When Losing Relievers
Joe Girardi went to his bullpen to start the sixth inning, and I assumed Cessa was nearing 90 pitches or so. That's what it felt like, anyway. Needless to say, I was surprised to see Cessa was lifted after only 64 (!) pitches. Girardi said his fastball was starting to "leak" and he didn't want him to face the middle of the order a third. Okay. I get that. Cessa's still a kid and sending him out to face Ortiz, Mookie Betts, and Hanley a third time could equal trouble.
The problem: Girardi went to James Pazos (James Pazos!) to face Ortiz in a one-run game. I mean, what? Predictably, Pazos tried to muscle up and throw a fastball by Ortiz, and Ortiz promptly smashed it off the center field wall for a double. Pazos is lucky it stayed in the park. Girardi went to Jonathan Holder after that, and … you know what? Here, just look at the pitching lines: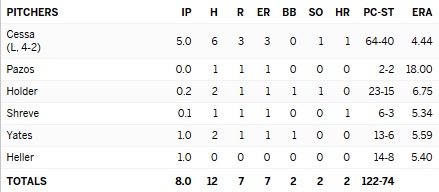 Ah yes, that's the good stuff. Four relievers to get six outs and allow four runs in the process. The game slipped away from the Yankees in the sixth and seventh innings. Pretty much every bullpen move Girardi makes these days backfires. Bringing in Pazos to face Ortiz with a one-run deficit was a really questionable decision though, especially since Chasen Shreve came in later in the inning with a three-run deficit.
This game shows how wholly unprepared the Yankees were for this late-season run at a playoff spot. It really did come out of nowhere. The Yankees traded away Aroldis Chapman and Andrew Miller at the deadline, and while they replaced them adequately with Tyler Clippard and Adam Warren, the middle innings were never addressed. Those were a problem back in April and May. It's not like this snuck up on anyone.
Leftovers
It's been a while since the Yankees slapped the pinstripes on a cadaver and got a miracle month out of him, and Billy Butler sure seems like a good candidate, huh? He came off the bench to hit a long two-run home run in the ninth inning to make things kinda sorta interesting. The Yankees were able to get the tying run on deck. Yay? They'll pay Butler about $50,000 this month and he's already been worth every penny.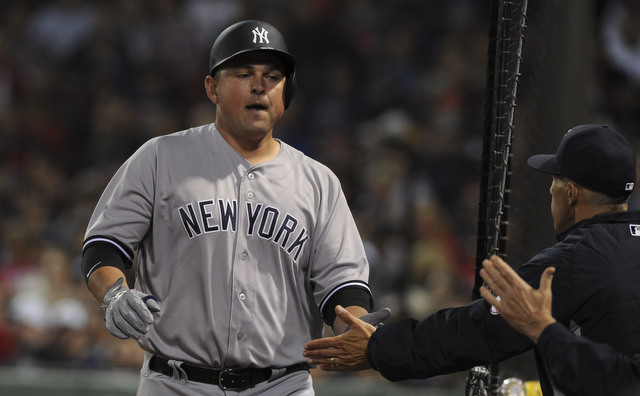 The Yankees had nine hits overall, including three out of the ninth spot in the lineup. Williams had two singles and Butler pinch-hit with the homer. Gardner, Sanchez, Gregorius, Headley, McCann, and Teixeira had the other hits. Gardner, Ellsbury, and Teixeira drew the walks. The Yankees went 1-for-11 (.091) with runners in scoring position. Life is pain.
And finally, the Orioles won and the Tigers lost, and the Mariners are getting hammered as I write this. I assume the Blue Jays will beat the lowly Angels. If they do, the Yankees and Tigers will be four games back of the O's and Blue Jays for the second wildcard spot. Seattle will be three back. FanGraphs puts New York's postseason odds at 3.8% at the moment. Yeah.
Box Score, WPA Graph & Standings
Head over to ESPN for the box score, MLB.com for the video highlights, and ESPN for the updated standings. Make sure you check out our Bullpen Workload and Announcer Standings pages too. Here's the all too familiar looking win probability graph:

Source: FanGraphs
Up Next
Unfortunately, the schedule says the Yankees and Red Sox have to play again Saturday afternoon. That's a normal 1pm ET start. Bryan Mitchell and David Price are the scheduled starts. This is fine.