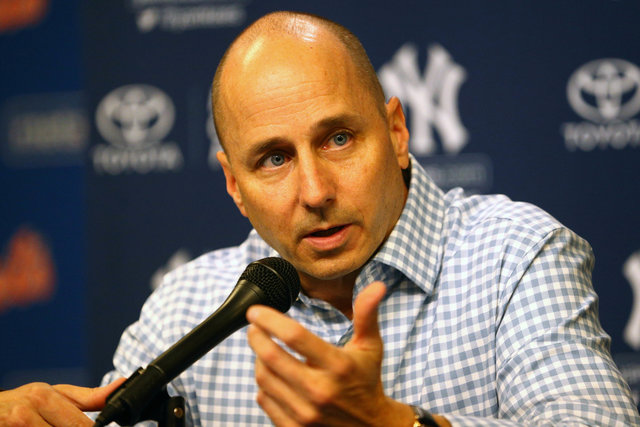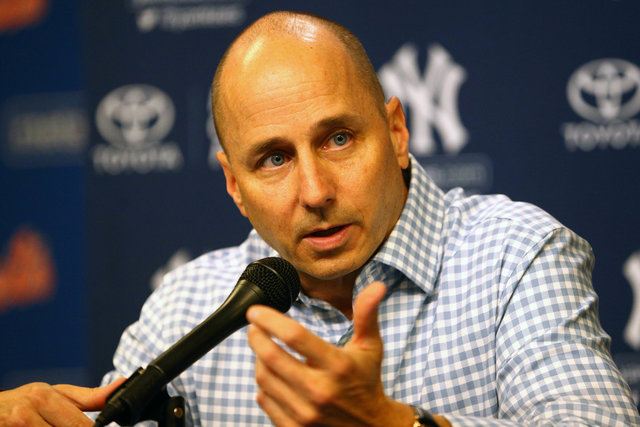 With the 2016 season now over, Brian Cashman held his annual State of the Yankees press conference at Yankee Stadium yesterday afternoon. Some actual news came out of it, though nothing major. You can watch the entire press conference in bits and pieces right here, if you're interested. As we did with Joe Girardi's end-of-season press conference the other day, here are the important points from Cashman's presser as well as some thoughts.
The Offense
On the 2016 offense: "We weren't very consistent with runs scored and (the offense was not) as dynamic as it was the previous year … I think a lot of the opportunities for better run production is going to come from improved results with runners in scoring position."
On improvement going forward: "It's going to be coming from improved play from the younger guys coming up through the system … Hopefully they solidify things moving forward and provide more consistent production than what we got in 2016. So lots of competitions taking place. Right field and first base."
On considering right field and first base settled for 2017: "I think there will be some hesitancy (to bring in outside help) … I would say that that would be the way that we would like to approach Spring Training next year. The kids get a shot at it. That doesn't (stop me from) being open-minded to the opportunities that present themselves."
On signing a big bat: "I can't really speak to the free agent market because some of these guys are still playing … My initial thought would be to allow us to go into the spring with competitions coming from the youth movement, which I admit is risky … I'm willing to be flexible, and those dialogues will be very important."
Cashman is very candid and at one point he said flatly "our offense was bad." No sugarcoating it. Now, that said, it doesn't sound as though the Yankees are planning to jump into anything big in an effort to score more runs going forward. Plan A is to stick with the kids and hope guys like Aaron Judge and Greg Bird and others contribute more next season than they did this season. That seems to be their perfect world scenario.
Will the Yankees close the door on signing a big name free agent? Never. It just doesn't seem like there's anything that makes sense right now. They could spend a ton of money on a DH like Edwin Encarnacion, and where does that get them? Back to where they were with Alex Rodriguez four years ago, basically. Something might fall into their lap that makes sense, but based on everything Cashman said, if the offense improves next year, it'll be because the young players come into their own.
The Pitching Staff
On trading for an ace (coughChrisSalecough): "I think that type of deal is a deal where you're that final piece away. I think we have an exciting young nucleus that's coming … But there are some flaws, honestly, in this roster still. That doesn't mean you can't compete for a postseason berth. That doesn't mean you can't play in October. But the type of concept that you're speaking of — I'm sure that everybody knows who you're talking about by asking that question — but that to me (is a trade you make if) you're an organization that's one piece away, you back up the truck (and trade) four and five players. You have to be one piece away, and I would not recommend that type of decision as we approach the 2017 season. I think that would be dangerous."
On adding an elite reliever: "My job is to get as much as we can find. In the front end of the season last year 7-8-9 was special … So my job is just to find as much quality arms, whether they're fireballers or sidewinders or soft-tossers. The only important thing is getting outs and we had trouble getting outs in the middle (innings) there and that's unacceptable. Continue to try to fortify. The more the merrier."
On non-tendering Nathan Eovaldi: "We'll just wait for that process play out. Clearly this is a Tommy John situation, and I know it's obvious (he's going to be non-tendered), but I'd rather not speak to any of it until the process plays out."
On pitching help from within: "We're still young but we have other guys pushing their way into the mix, and we'll see what they look like in Spring Training."
As with the offense, Cashman doesn't sound eager to spend huge dollars — there's no one to spend it on anyway this offseason — or gut his prized farm system to add an impact pitcher. I'd argue Sale is a piece you go get no matter what because he's so good, so young, and so cheap that he makes any team better. He could help get the Yankees over the hump and into the postseason next year, and still be ace caliber when the kids hit their primes.
Cashman mentioned the Justin Wilson trade as "Exhibit A" of how they'll likely attack the rotation this offseason, meaning trade for youth and depth so they have as many options as possible. Given how hard it is to acquire even decent pitching this year — a team traded two real live prospects for two months of Ivan Nova, remember — acquiring as much cheap depth as possible seems like a smart move. I liked what I saw out of Chad Green and especially Luis Cessa this year. Another one of those deals would be sweet.
The Catching Situation
On Gary Sanchez's role in 2017: "Gary Sanchez is our starting catcher next year. That's his position to lose. That doesn't mean he can't lose it. We saw Severino last year helping us get to the postseason. This year, he struggled. We're very excited about Gary, who always projected to be (a middle of the order bat)."
On expectations for Sanchez after his huge season: "It's hard to expect that and I wouldn't expect that over the course of a six-month period next year. But I think we have an exciting everyday talent that is going to be one of the best catchers in our game as we move forward, if he stays healthy and stays committed as he's done the last two seasons now."
On Brian McCann's role going forward: "That's a valuable combination — both (Sanchez and McCann) on the same roster — for us, both being excellent defenders and certainly strong leaders of staff … I didn't waste my time to see if he would waive his no-trade (at the deadline) because I've got to be satisfied first."
On Kyle Higashioka: "We have some young guys that kind of did a nice job for us this year. (Higashioka) has always been a tremendous defender and he'll be added to our 40-man roster this winter … We've been very good here in the last five or so years at developing (young catchers)."
Cashman did not sound eager to move McCann, though I guess he would try to give off that impression even if he were ready to move him. There's no sense in tipping your hand. He did talk about the value of McCann's veteran leadership, how nice it is to have a power-hitting lefty/righty tandem behind the plate, and how there are DH at-bats available. Cashman said he'll listen on McCann, but he values him highly, and he wants something significant in return.
As for Higashioka, adding him to the 40-man roster is a no-brainer. You don't cut loose a good defensive catcher who hit 20 homers at the upper levels of the minors. At worst, you add him to the 40-man and trade him. Letting him go for nothing is a non-option. I don't think Higashioka joining the 40-man means McCann or Austin Romine will be traded though. The Yankees could easily send Higashioka to Triple-A and stash him there next season. They don't have to make a move.
The Coaching Staff & Front Office
On the job Joe Girardi did in 2017: "We the front office did what we felt was necessary (at the trade deadline), and his job description is do everything in his power to win with whenever you get … I appreciate his efforts and everything he did from start to finish."
On Girardi favoring veterans over young players: "I don't think that's the case at all … I think it has more to do with just assessing the talent. Sometimes it plays into the decision and sometimes it doesn't. I was really satisfied with the team's competitive spirit from start to finish."
On Girardi as a lame duck manager next year: "We will go through next year and ownership will decide what they want to do as we move forward. There is that built in assumption in the process, where we play our contracts out. My contract expires the next year too … We're going to focus on the present, which is the cast of characters currently, and how we can maximize value out of all of this right now."
On bringing the coaching staff back: "Everybody is signed except for Larry Rothchild. His contract expires and I will meet with Larry today … I don't have interest in recommending changes."
I both am and am not surprised the Yankees are not making any coaching changes. I didn't think they've overhaul the staff, but when you miss the postseason three times in four years, someone usually takes the fall. That's why hitting coach Kevin Long was let go two years ago. Cashman wants to bring everyone back though — I'm not thrilled with keeping Joe Espada as third base coach, but it is what it is — and I'm sure they'll get a deal worked out with Rothschild soon.
As for Girardi, Cashman made it clear that he was speaking about both Girardi and himself when he said "ownership will decide what they want to do as we move forward." In the past, both have played out their contracts and gone a year as a lame duck. Once their deals expired, they went to the negotiating table. There were no extensions and there was no reason to think this year would be any different. Business as usual.
Things could get interesting if the Yankees miss the postseason against next year. That'll be four October-less years in five seasons. Girardi and/or Cashman might not survive that. Then again, I guess it depends how they miss the postseason. Did they crash and burn because all the kids flopped? Or did the fall a handful of games short while the young players established themselves as bonafide big leaguers? That'll play a factor in Girardi's and Cashman's next contracts.
The Rebuild & Youth Movement
On the fan response to selling: "We have a worldwide network (of fans) that we're proud to have … They're very sophisticated. This was something that we think is something that they wanted to transpire, and they wanted us to press the reset button. And you know, in many cases I was tired of seeing what was transpiring in the first few months this year. Been there, done that, it's time to do something that wasn't part of the DNA … I think our fanbase recognizes what we did in July, and responded in kind with a lot of excitement."
On Luis Severino's future: "(His performance in) the bullpen is not changing anything for me. That's where guys go when they can't be quality starters. I certainly hope that he can be a starter as we move forward. Certainly you've got to factor in and keep in mind his age. I think he's 22, 23. But at the end of the day I have to have patience. I have to be objective that way. There's a starter profile on him … He will get that opportunity (to start), whether it's New York or it's in Scranton next year remains to be seen."
Can Clint Frazier make the Opening Day roster? "I don't think so … But I remember when Robbie (Cano) — I know he was coming out of our system, the number one pitching prospect at that time was (Chien-Ming) Wang — we anticipated that at Double-A he would be being ready in two years, (but he arrived a) full year in advance after a good winter ball. (Alfonso) Soriano was the same way. It was just like, 'how we get this guy on the roster?' When you take the full package, once it all comes together — Gary Sanchez, I guess, is a more recent example too — it's just like a flood."
On Jorge Mateo playing center field: "We're trying to diversify. We've got a lot of shortstops … It's just to give us more flexibility. He's played shortstop, second base, DH, and center in Instructs. We just gave him a crash course. It's something that's been part of the evaluation process from the beginning."
No surprise Cashman isn't giving up on Severino as a starter. That would be silly. He has the stuff to start, at least when he has a feel for and confidence in his changeup, and he's so young that you give him a chance to figure things out in that role. I think at worst, Severino showed he can be a really great reliever. He still offers upside as a starter and the Yankees should without question allow him to continue developing in that role.
I thought the Cano and Soriano comparions for Frazier were interesting. They were all highly regarded prospects with high-end skills, and Cano and Soriano forced the issue. They were too good to keep down in the minors any longer. Frazier has the potential to do the same this year. The big difference here is position. The Yankees needed a new second baseman when Soriano and later Cano came up. They're not desperate for outfielders right now. Still, once Frazier is ready, you make room for him. He's a special talent.
Injured Players
On James Kaprielian and the Arizona Fall League: "(Instructional League is the) process to finish him off so he goes to the Fall League. That's the plan. So the public has been alerted … He's not on the official roster. The roster on the website is not the official roster. I know Twitter will look at it like 'OMG what's going on here?' … He's healthy and he's throwing max potential."
On CC Sabathia's knee: "I think CC is going to have a knee (procedure). He's going next week … It's just going to be a routine cleanup. It's not something that is a concern or considered serious. It's something that is expected and was expected the last two months."
My audio was all garbled and I couldn't get a clean transcription, but Cashman said that while Kaprielian is not on the AzFL roster, the league is aware the Yankees plan to send him as long as he comes through Instructs in one piece. He pitched in a game the other day and by all accounts everything went well. And yes, Cashman actually said OMG. Oh em gee.
Miscellany
On the disappointment of 2016: "It was a series of twists and turns of this year. We obviously had high hopes … It was a mixed bag. It was a very frustrating and difficult process in the first three months of the season, and I think it was a very exciting dynamic that transpired in the final three months this season. Ultimately, we know when the dust settled, when it's all said and done, the 2016 season did not achieve the stated goal, which was the first get to the playoffs and try to compete for a championship in October. "
On the luxury tax: "Haven't had any open discussions since no one has any idea what the CBA is going to be like … We'll certainly be very interested in 'resetting the clock' and not being in position to lose more money than any other clubs because we're penalized more than ever."
On Masahiro Tanaka and the World Baseball Classic: "I don't think we have say in that … Even though he felt healthy and looked fine and all that stuff, we made the right choice in saying you know what, see you in the spring, whether it's going to be in Tampa or in the WBC."
On trying to win in 2017: "Every decision we have to make — whether it's deciding support staff, coaches, the manager, anybody in the front office, and most importantly the players — every decision is designed to get us closer to being the last team standing, and that's the approach that's got to take place. And that can happen in 2017. That's the goal, but every decision (has be made with a) World Championship in mind."
If I recall correctly, teams can hold players out of the WBC if he finished the previous season injured. Did Tanaka finish the season hurt? Technically, yeah. He missed his last two starts with a forearm injury. But he was never placed on the DL though, and both the GM and manager admitted he would have made his final start had the team not already been eliminated. We'll see. If Tanaka wants to go and the Yankees can't stop him, what can you do other than help he doesn't get hurt?
The luxury tax stuff is just the worst. Hate hearing about it. Every time we do it's a remainder the Yankees are willfully throwing away their market advantage and scaling back payroll at a time every other team is raising payroll. The Yankees seem to have convinced a lot of fans that resetting the tax rate is good and necessary. Is the luxury tax saved enough to make up for the lost postseason and ticket revenue? I hope so. Otherwise this will all have been a giant waste of time.