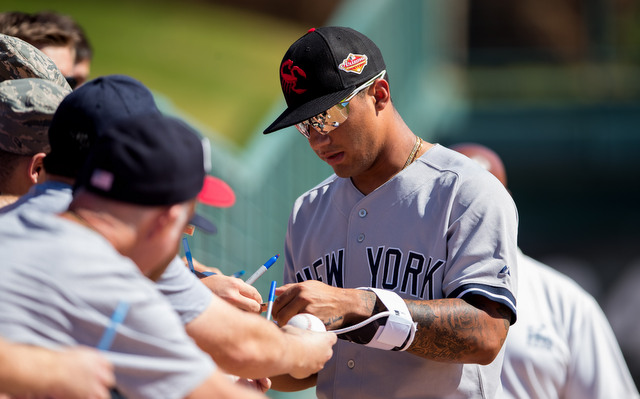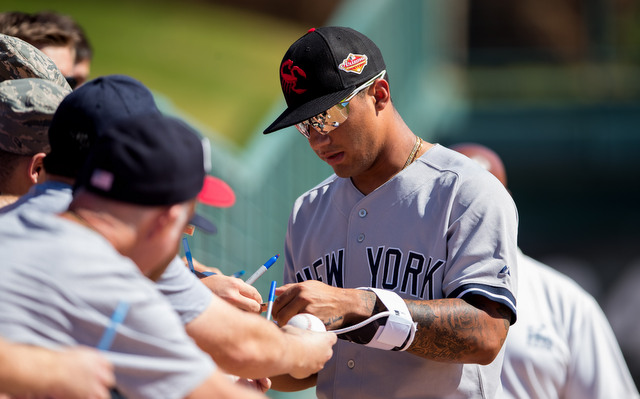 Last week, the crew at Baseball America began their annual offseason series breaking down the top ten prospects in each Major League organization. Their Yankees list, compiled by Josh Norris, went live last Friday. Here's the list, the insider, and the chat. You need a subscription to read the scouting reports for prospects two through ten. Everything else is free. Here's the top ten:
SS Gleyber Torres
OF Clint Frazier
OF Blake Rutherford
SS Jorge Mateo
RHP James Kaprielian
OF Aaron Judge
LHP Justus Sheffield
RHP Chance Adams
OF Dustin Fowler
RHP Domingo Acevedo
"The Yankees took the unusual step of selling off their veterans to embark on a rebuilding phase, but the young players they brought up provided more immediate impact than expected and kept the team in playoff contention until the season's final week," wrote Kyle Glaser in the insider write-up. I have some amateur-ish thoughts on the top ten, so let's get to 'em.
1. Holy crap the top ten is stacked. That's the best Yankees top ten I can remember. You can even go all the way back to 1999 and 2000, when they had Nick Johnson and Alfonso Soriano at the top of the farm system, with Drew Henson, D'Angelo Jimenez, Wily Mo Pena, and Jake Westbrook behind them. Laugh at those names now if you want, but those dudes were a big deal back in the day. The Yankees have a ton of depth in their farm system. I'm talking players with a chance to be regular big leaguers, and that was true before the trade deadline. The deadline deals added star power like Frazier and Torres. You could put any one of the guys Baseball America ranked among the top seven in the top spot and he'd be a more than respectable No. 1 organizational prospect.
2. The Yankees have a shot at seven top 100 prospects. In the chat, Norris said he could "very easily see Nos. 1 through 8 in this system making the Top 100," which would be amazing. I'm not quite as high on Adams as everyone else seems to be — he's good! I'm just not sure he's top 100 caliber good — so I see seven top 100 candidates, which is still incredible. Four top 100 prospects is pretty darn good. Seven is off-the-charts good. Prospects are suspects until proven otherwise, but generally speaking, that kind of top 100 prospect depth correlates well to future success. The Yankees have a lot of high-end talent and a lot of depth too. I can't remember the last time the system was set up this well.
3. The top three weren't in the organization five months ago. The Yankees' top three prospects according to Baseball America are all new to the organization. Torres and Frazier came over in separate trades at the deadline, and Rutherford was the team's first round pick in June. None of those three guys were in the system as recently as June 8th. Later than that, really, since Rutherford didn't officially sign until June 29th. That's an awful lot of top talent added to the system in a short period of time.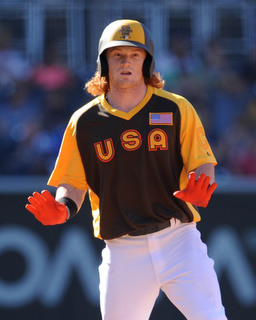 4. Frazier over Torres has become Torres over Frazier. At the trade deadline, just about every scouting publication had Frazier ranked ahead of Torres. In fact, Baseball America's midseason top 100, which was published exactly three weeks prior to the deadline, had Frazier ranked 21st and Torres ranked 27th. That's really close. Almost a negligible difference, really. Since the trade, Gleyber continued to mash in High-A and show the skills necessary to stay at shortstop. Frazier struggled in his few weeks at Triple-A. It's not a surprise to see them flipped and it's in no way unreasonable. This isn't an overreaction or anything. Torres has star caliber tools and so does Frazier, but we saw them from Gleyber more than Frazier in the second half. Torres passing Frazier has more to do with Torres taking another step forward than Frazier taking a step back. I don't have a strong opinion at the moment either way, Torres over Frazier or Frazier over Torres. The cool thing is the Yankees have both.
5. People sure do love Rutherford. I am surprised to see Rutherford ranked so high, but hey, I'm not complaining. Baseball America's scouting report says he "projects as a four-tool player" with the only shortcoming being his arm, which isn't a huge deal. If you're going to miss a tool, that's an okay one to miss. Also, in his most recent chat, Keith Law said he'd take Rutherford over every other hitter in the 2016 draft class. That is some serious praise. The Yankees have a stacked system right now and Rutherford still ranks near the top of their prospect list despite being a 19-year-old kid with 130 pro plate appearances. I am: excited.
6. Judge behind Mateo and Kaprielian is, uh, interesting. There is no right way to rank prospects. At the end of the day, it all comes down to personal preference. And really, the gap between many of these prospects is very small, so ranking one over the other is not a big deal. I'm still surprised to see Judge drop behind Mateo and especially Kaprielian. What was the goal for Judge coming into the season? To make the adjustment to Triple-A pitching, mash for a few weeks, then get to the show. He did exactly that. What was the goal for Mateo? To continue turning that high-end athleticism and those raw tools into baseball skills. Instead, he struggled most of the year and got suspended as well. The hope was Kaprielian would reach the show in September, or at least reach Triple-A. He made three High-A starts before getting hurt. Mateo and Kaprielian took steps back this year. They did! Don't get mad at me for saying it. Judge made his adjustments and got to the big leagues, and now he has to make another adjustment. That is in no way unusual. Dropping him behind Mateo and Kaprielian strikes me as an overreaction to his swing-and-miss issues in August and September. The ranking indicates those strikeout woes are a bigger concern than Mateo not hitting in general and Kaprielian getting hurt. Eh.
7. Not a surprise to see no Tate. The Yankees made three big trades at the deadline and three of the prospects they acquired are in their top ten. Torres came over in the Aroldis Chapman deal and both Frazier and Sheffield came over in the Andrew Miller trade. Dillon Tate, the headliner in the Carlos Beltran trade, did not make the top ten and it's not only because the Yankees have so many quality prospects. Tate took a step back this year, especially during his time with the Rangers. He had a hamstring injury, his velocity was down, and his command wavered. The Yankees bought low on him — Tate was the fourth overall pick in last year's draft — and will try to build him back up. Reports from the Arizona Fall League indicate his stuff has returned, which is an important first step. Tate may not be a top ten organizational prospect right now, but he's on his way to being one next year.