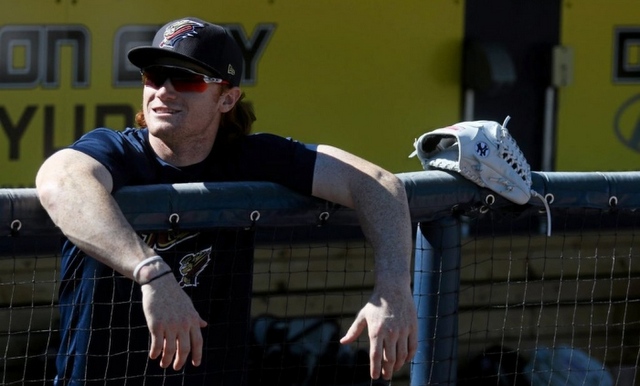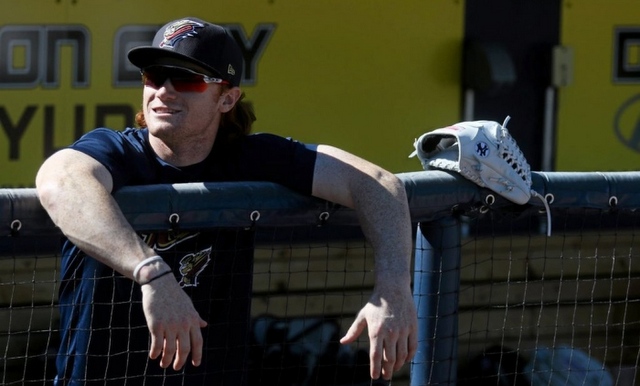 Clint Frazier | OF
Background
Frazier, who turned 22 in September, attended Loganville High School in the Atlanta suburbs. He was named Perfect Game National Player of the Year as a junior after hitting .424 with 24 home runs, and playing in the Under Armour All-American Game. The next year Frazier hit .485 with 17 home runs as a senior, and was named Gatorade National Player of the Year and Baseball America High School Player of the Year.
Both Baseball America and MLB.com ranked Frazier as the fourth best prospect in the entire 2013 draft class — and the best high school prospect overall — behind Kris Bryant, Jon Gray, and Mark Appel. The Indians selected him with the fifth overall pick after Appel (Astros), Bryant (Cubs), Gray (Rockies), and Kohl Stewart (Twins) went with the top four picks, in that order. Cleveland bought Frazier away from the University of Georgia with a $3.5M bonus.
The Yankees acquired Frazier, along lefty Justus Sheffield and righties Ben Heller and J.P. Feyereisen, from the Indians in the Andrew Miller trade at the 2016 trade deadline. "There is excitement about coming to terms for a guy that we targeted. At the same time, there was a pit in your stomach because we knew we were trading really good players," said Indians president of baseball operations Chris Antonetti to Andrew Marchand after the trade.
Pro Career
The Indians assigned Frazier to their Rookie Arizona League affiliate after signing, and he hit .297/.362/.506 (137 wRC+) with five home runs in 44 games in his pro debut. In 2014, the Tribe sent him to their Low-A Midwest League affiliate for his first full pro season, where he hit .266/.349/.411 (120 wRC+) with 13 home runs in 120 games as a 19-year-old. Frazier was 2.5 years younger than the average Midwest League player.
As expected, the Indians moved Frazier up to their High-A affiliate in the Carolina League in 2015. He hit .285/.377/.465 (147 wRC+) with 16 home runs in 133 games during the regular season — Frazier was 2.7 years younger than the average Carolina League player — then put up a .281/.347/.438 (115 wRC+) batting line with three homers in 22 games with the Scottsdale Scorpions in the Arizona Fall League.
Frazier started the 2016 season with the Indians' Double-A Eastern League affiliate, with whom he hit .276/.356/.469 (129 wRC+) with 13 homers in 89 game before being promoted to the Triple-A International League. He was promoted one week before the trade, after participating in the Futures Game. Frazier went 5-for-21 (.238) in five games with Cleveland's Triple-A affiliate before authoring a .228/.278/.396 (90 wRC+) line with three homers in 25 games with Triple-A Scranton.
"I was thinking to myself, 'I've let other people make me feel pressure.' And that's never happened before, I've never felt pressure," said Frazier to Kelsie Heneghan when asked about his mindset after the trade. "You go through that feeling of that you have weight on your shoulders the whole time. Every time I stepped into the box, I was trying to impress people."
Frazier is a career .273/.353/.444 (128 wRC+) hitter with 54 home runs, a 25.8% strikeout rate, and a 10.0% walk rate in 2,027 minor league plate appearances and 457 games. He's done that despite being at least 2.5 years younger than the average competition in each league. (He was almost four years younger than the competition for his levels in 2016.) Needless to say, Frazier has appeared on many top 100 prospect lists over the years.
| | Baseball America | MLB.com | ESPN | Baseball Prospectus |
| --- | --- | --- | --- | --- |
| Pre-2014 | 48th | 48th | 45th | 36th |
| Pre-2015 | DNR | 53rd | 92nd | 89th |
| Pre-2016 | 44th | 47th | 72nd | 53rd |
| Mid-2016 | 21st | 15th | 34th | 26th |
At this point Frazier is a lock for all pre-2017 top 100 prospect lists. Had he followed through on his commitment to Georgia out of high school, he would have been draft-eligible this summer. Instead, Frazier reached Triple-A at age 21, and is now only a phone call away from the show.
Scouting Report
Brian Cashman called Frazier's bat speed "legendary" after the trade and that has long been the right-handed hitter's calling card. Frazier has an insanely quick bat and strong hands that generate big raw power. That power doesn't always show up in games though because he hits the ball on the ground too frequently. Frazier's ground ball rates in his three full minor league seasons are 41.6%, 42.8%, and 45.0%. Those are a wee bit too high for a high-end prospect. He needs to generate more loft.
Over the years Frazier has worked to tone down his setup at the plate, which featured a lot of unnecessary movement back in the day. He used to waggle his bat, things like that. Frazier has good knowledge of the strike zone and recognizes spin, though he tends to get too swing happy at times and chase out of the zone. It's not so much an approach problem as it is a "hey, calm the hell down" problem. Frazier plays very hard with an all-out style that will endear him to fans, but sometimes the aggressiveness carries over into his at-bats. Here's some video from his stint with the RailRiders:
In addition to the bat speed, Frazier is an above-average runner and that allows him to be a weapon on the bases and track down balls in the outfield. He's played all three outfield spots in his career and has the defensive prowess to remain in center for the foreseeable future. Frazier, who is listed at a stocky 6-foot-1 and 190 lbs., also has an above-average arm that would fit well in right field. Point is, he's not a one-dimensional player. He contributes at the plate, in the field, and on the bases.
2017 Outlook
Frazier won't be Rule 5 Draft eligible until next offseason, so he's not on the 40-man roster and won't have to be added until after the 2017 season. The Yankees will surely bring him to Spring Training next year as a non-roster player though, and given his talent, Frazier is the kind of player who could force the issue quick and get called up next summer. My guess is he'll be added to the 40-man and reach the show before being Rule 5 Draft eligible, which doesn't happen often for high school draftees, even ones selected fifth overall.
My Take
I really like Frazier as prospect, have for a long time, and I was thrilled the Yankees were able to get him (and more!) for Miller. I didn't think they would be able to pry a prospect of this caliber (and more!) loose for a reliever, even one as good as Miller. The bullpen market really blew up over the last 12 months or so.
Frazier is not without his flaws. He's going to swing and miss some, and it'll probably take him some time to get his footing in the big leagues, but the offensive potential is very high, and Frazier is going to play a well-rounded game too. With all due respect to guys like Aaron Judge and Austin Jackson, Frazier is probably New York's best outfield prospect since Ruben Rivera was in his heyday in the late-1990s.