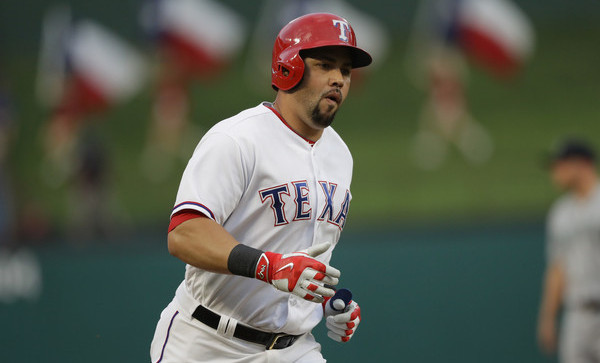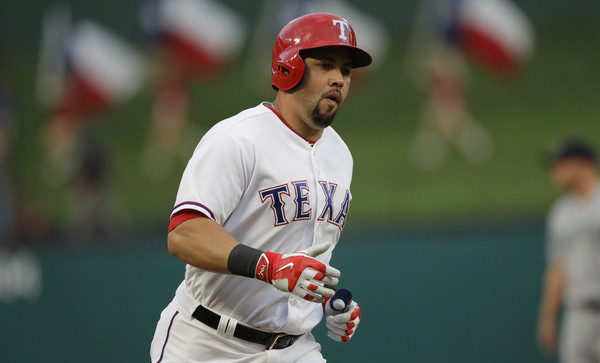 Last week the Yankees made their first major move of the offseason when they sent Brian McCann to the Astros for a pair of Single-A pitching prospects. The move cleared quite a bit of salary ($11.5M in both 2017 and 2018) and also freed up the DH position. That was McCann's only real ticket to regular at-bats now that Gary Sanchez is entrenched behind the plate.
Even before the trade, the Yankees were connected to many of the top free agent sluggers available. I have no doubt some of that is the general "the Yankees are in on everyone" nonsense we hear every offseason. Chances are there is some legitimate interest too. Where there's smoke, there's usually fire. The McCann trade created a need at DH and the team is exploring their options. It's what they do.
One of those options is ex-Yankee Carlos Beltran, who was traded away as part of the youth movement a few months ago. The Yankees signed him during he 2013-14 offseason, and he spent the next two and a half years in New York before being traded to the Rangers for three prospects at the 2016 trade deadline. Beltran is a free agent now and the Yankees are said to have interest in a reunion. Does bringing him back make sense? Let's dive in.
Offensive Performance
Because Beltran spent all that time with the Yankees, we're familiar with his work at the plate. He hit .304/.344/.546 (135 wRC+) with 22 home runs in 99 games before the trade this year, which is right in line with the .295/.357/.505 (135 wRC+) batting line he put up after April last season. Remember how bad Beltran was last April? Woof. He followed that with over 800 plate appearances of 135 wRC+ baseball. Cool.
Beltran didn't perform quite as well with the Rangers after the trade — he hit .280/.325/.451 (103 wRC+) with seven homers in 52 games with Texas — though I'm not too concerned about that. He was healthy and I'm sure there was something of an adjustment period after joining a new team in a new division in the middle of a postseason race. The end result was a .295/.337/.471 (119 wRC+) batting line with 29 homers in 593 plate appearances in 2016.
Of course, when you sign a free agent, you're getting what he does in the future, not what he's done in the past. That's the tricky part. Beltran will turn 40 soon after Opening Day and it is very reasonable to wonder what he has to offer at that age. Batted ball data is a pretty big deal when it comes to players approach 40, so here is Beltran over the last three seasons: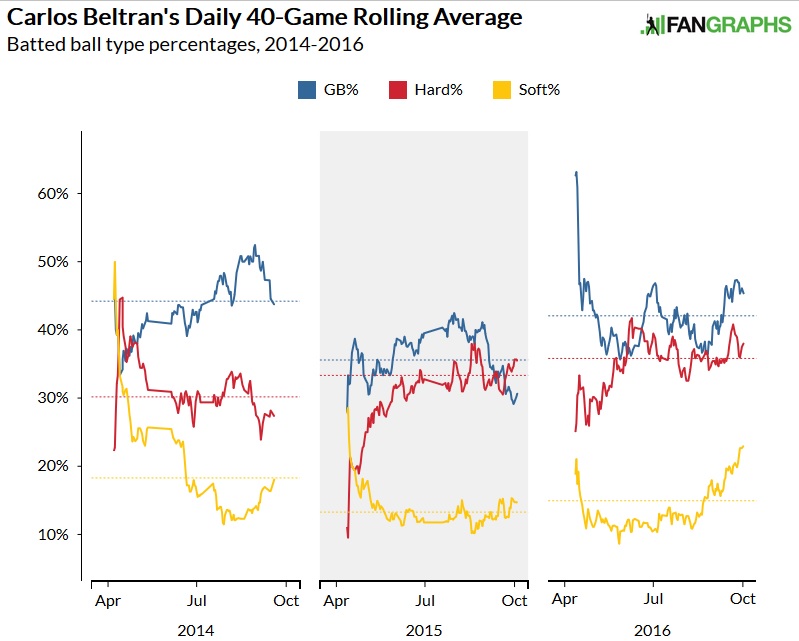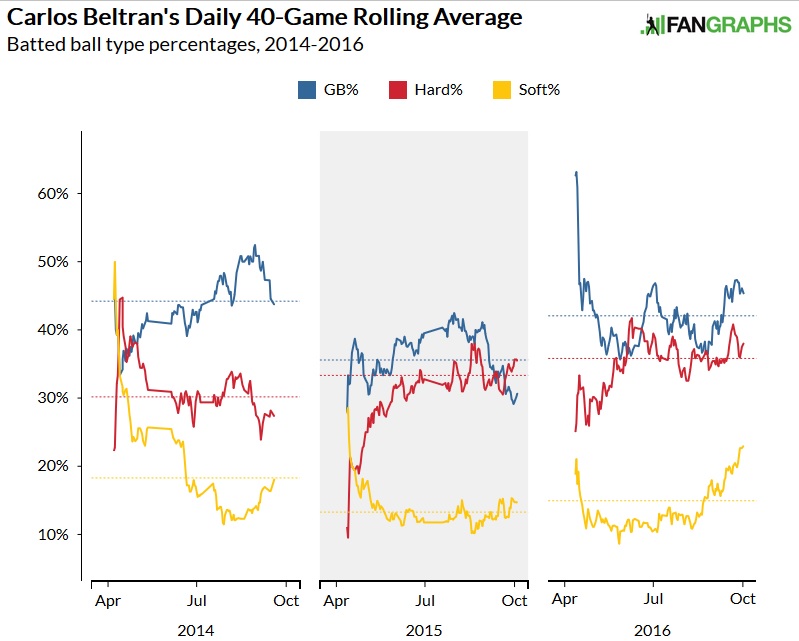 An increase in ground balls is a classic "he's losing bat speed" indicator, and while Beltran's ground ball rate was higher in 2016 than it was in 2015, it wasn't a huge increase. A 42.1% ground ball rate isn't all concerning anyway. It starts to get scary when hitters, especially middle of the order power hitters like Beltran, start getting up closer to 50%. Carlos is not close to that yet.
As you can see in the graph, Beltran's ground ball and soft contact rates did tick up late in the season, while he was with the Rangers. That helps explain why his numbers slipped after the trade. That could be nothing more than a small sample size blip though. Carlos could have been worn down after a long season, especially after playing a chunk of it in the Texas heat. Could be nothing, could be something. We can't possibly know.
Point is, there are no major red flags in Beltran's batted ball data over the last few years. He's still elevating the ball and he's still making hard contact overall. From both sides of the plate too. The sudden late season increase in ground ball and soft contact rates this past season is a little red flag. It's something to consider. It's not enough to avoid signing Beltran completely, I don't think.
Defensive & Baserunning Value
This is easy: none. Less than none, really. Beltran is a negative in the field. He'll cost you runs. Forget saving them. Once upon a time he was as good as any center fielder in the game. Now he's a barely mobile right fielder who fits best at DH. Age and years of knee injuries will do that to a guy. With McCann gone, the Yankees are in position to play Beltran at DH exclusively in 2017, which is where he belongs.
As for the baserunning, it's the same deal. Beltran's doesn't run well anymore. It's not just the lack of stolen bases either — Beltran stole one base in 2016, none in 2015, three in 2014, and two in 2013 — it's the other aspects of baserunning too. This past season Beltran took the extra base only 30% of the time. That's going first-to-third on single, scoring from first on a double, things like that. The MLB is average was 40%. He was far below that.
According to the numbers at FanGraphs, Beltran cost his teams 4.2 runs on the bases and in the field in 2016. Baseball Prospectus says it was 5.0 runs. That doesn't sound like much, but remember, he played only 69 games in the outfield compared to 73 at DH. The playing time split limited the defensive damage. Given his age, there's no reason to think Beltran's defense or baserunning will improve. He's a bat-only player.
Injury History
For the first time since 2013, Beltran managed to avoid the disabled list this past season. He did miss time with knee, hamstring, and quad problems — Carlos had to have his knee drained in June — but they were all day-to-day injuries. Last season Beltran was sidelined with an oblique strain. The year before he had a bone spur in his elbow that required season-ending surgery.
Beltran's knees are the biggest concern going forward. Guys pull obliques and hamstrings get tight. It happens. More and more with each passing year too. Beltran's knees are pretty messed up though. The left, the one he had drained his year, has given him on and off problems over the years. The right knee required microfracture surgery back in 2010. The move to the full-time DH should help Beltran's knees stay healthy. His medical history isn't pretty though.
Contract Estimates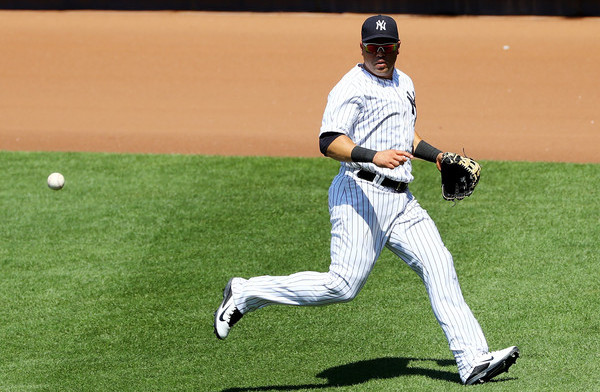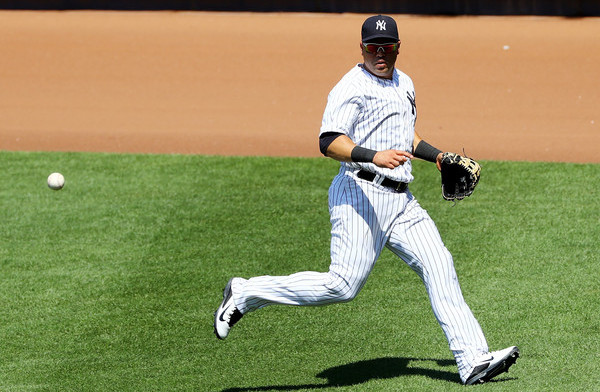 First things first: Beltran did not receive the qualifying offer this offseason. He was not eligible to receive it after being traded at midseason. I'm pretty sure there was better than a 50/50 chance Carlos would have taken the $17.2M qualifying offer, but who knows. Either way, he's not attached to draft pick compensation. No worries there.
Unlike some other big name DH candidates, most notably Edwin Encarnacion, Beltran figures to come on a short-term contract given his age. No draft pick and a short-term deal for a guy who hit 29 homers with a 119 wRC+ in 2016? Pretty sweet. Here are some contract estimates:
I include Bowden in these things because his free agent contract predictions have been insanely accurate over the last few years. He might not get them right down to the last dollar, but he's almost always in the ballpark. It's kinda freaky, really, to be that close year after year after year.
MLBTR and the FanGraphs crowd project a one-year contract, which is what common sense tells you a soon-to-be 40-year-old free agent should receive, no matter how productive he was this past season. Common sense doesn't always win out in free agency. With teams like the Red Sox and Blue Jays and Red Sox and Astros and Red Sox said to be in the mix, I wouldn't at all be surprised if Beltran gets two years. The team that offers the second year might be the one that gets him.
So What About The Yankees?
This is what I think: I think Beltran is Plan A for the Yankees at DH now that McCann is gone. He's the guy they want. He won't cost them a draft pick and he'll come on a short-term deal, plus they know him. They know Beltran's work habits and what he's like in the clubhouse. Also, he adds lineup balance as a switch-hitter, and because he's played in the Bronx the last few years, there should be no adjustment period. It'll be like he never left.
I also think the Yankees are unwilling to go two years to get Beltran. Maybe one year with an option, but not two guaranteed years. Every indication they've given the last year or so points to getting under the luxury tax threshold — whatever that number winds up being — during the 2018 season, and two years for Beltran compromises that. Alex Rodriguez, Mark Teixeira, and CC Sabathia will all be off the books after next season. That's their best chance to get under the threshold.
Also, what about Beltran? What does he want? Chances are his top priority next season is being with a contender. He wants a World Series ring. The guy has banked over $200M in contracts in his career. Chasing after every last dollar doesn't seem like a thing that will happen. Beltran figures to join a no-doubt contender. He's not stupid. He knows the Yankees are a team in transition — heck he was traded for prospects as part of the transition — and that means there's a pretty decent chance they won't contend in 2017.
Bringing Beltran back for a year to serve as the DH and mentor the young kids seems like a great idea, and really, it is. The question is whether Beltran is on board with that plan. Another team could offer a better chance of contention and/or a guaranteed second year, which throws a wrench into things. I'm not going to lie, bringing Beltran back makes me nervous after watching A-Rod, Teixeira, and Alfonso Soriano fall apart in the blink of an eye. I'd be okay with a one-year deal, but I wouldn't be too upset if he winds up elsewhere either.