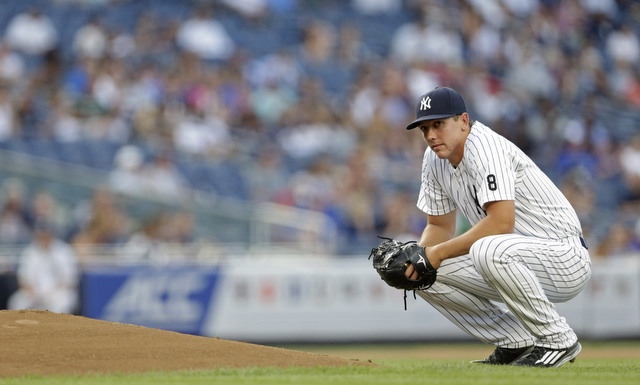 For the 19th consecutive season, the Yankees used at least eight different starting pitchers in 2016. They actually used nine this year. All nine made at least five starts too, so that number isn't skewed by some random September call-up who made a spot start in Game 162 or something like that. The Yankees used nine starters this year and they needed all of 'em.
Late in the season, after the rotation was thinned out by injuries (Nathan Eovaldi) and trades (Ivan Nova) and ineffectiveness (Luis Severino), the Yankees turned to a trio of young pitchers to shore things up: Luis Cessa, Chad Green, and Bryan Mitchell. Cessa and Green both came over in the Justin Wilson trade last offseason. Mitchell? He's been around for a while now. The Yankees drafted him in 2009. All three had their moments this year.
The Work In Progress
Lots of eyebrows were raised when the Yankees traded Wilson last offseason, especially since they sent Adam Warren to the Cubs for Starlin Castro literally one day earlier. Just like that, two of Joe Girardi's four most trusted relievers were gone. The Yankees felt they needed rotation depth though — were they right or what? geez — so Wilson was traded for two Triple-A starting pitching prospects.
The lower ranked of the two, at least according to various scouting publications, was Green, a former 11th round pick who had a 3.93 ERA (3.22 FIP) in Double-A last season. Not the sexiest prospect, you know? The Yankees sent the 25-year-old right-hander to Triple-A to start the year, as expected, and holy crap, he dominated. Green had a 1.52 ERA (2.17 FIP) in 94.2 innings for the RailRiders. A total of 649 pitchers threw at least 90 innings in the minors this summer. Green ranked third in ERA and second in FIP.
The Yankees called Green up in early-May to make a spot start not because someone was hurt. They just wanted to give the rest of the rotation an extra day to rest. It wasn't a "we need someone and he's available" call-up. Green pitched well and the Yankees gave him a chance. The spot start didn't go well — six runs (four earned) in four innings against the Diamondbacks — and that's usually what happens. Green wasn't the first guy to get lit up in his debut and he won't be the last.
After a return trip to Triple-A, the Yankees brought Green back in early-July to make another spot start, this time because they didn't want CC Sabathia and his balky knee to hit and run the bases in San Diego. Green pitched very well, allowing one run on three hits in six innings against the Padres. He struck out eight and didn't walk anyone. That earned him another start and … the Indians clobbered him for seven runs in 4.1 innings. Four homers too. Three in the first inning!
The Yankees could have easily — and justifiably — sent Green to Triple-A after that, but they didn't. They kept him around as a long reliever and he pitched well, throwing 8.1 scoreless innings across three appearances following the All-Star break. The Eovaldi injury and Nova trade opened up rotation spots, so Green got another chance. His best start of the season, by far, came against the Blue Jays on August 15th. Eleven strikeouts in six innings of two-hit ball. How about that?
Green remained in the rotation really because the Yankees didn't have any other options, but also because he earned it by pitching well through August. Unfortunately, his season came to a premature end on September 2nd, when Green left a start against the Orioles with pain in his elbow after only 1.2 innings.
The injury was later diagnosed as a sprained ulnar collateral ligament and a strained flexor tendon. That sounds bad and it is, don't get me wrong, but the sprain and strain were relatively minor. They ended Green's season but he didn't need surgery and is expected to be ready for Spring Training. He had resumed playing catch even before the end of the regular season. Sucks, but at least his rehab seems to be going well.
All told, Green had a 4.73 ERA (5.34 FIP) in 45.2 innings spread across eight starts and four relief appearances with the Yankees this season. He missed a lot of bats (26.3%) and did a good enough job limiting walks (7.6%), but Green didn't get grounders (41.3%) and didn't keep the ball in the park (2.36 HR/9). Yikes. Here are the all-important left/right splits:
| | BF | AVG/OBP/SLG | wOBA | K% | BB% | GB% | HR/9 |
| --- | --- | --- | --- | --- | --- | --- | --- |
| vs. RHB | 103 | .253/.311/.394 | .306 | 25.2% | 7.8% | 47.1% | 1.13 |
| vs. LHB | 95 | .287/.351/.663 | .421 | 27.4% | 7.4% | 34.5% | 3.74 |
So yeah, Green really needs to figure out a changeup. I don't think his true talent level is a 3.74 HR/9 (!) against lefties, but still, he needs something to combat them. He can bust them inside with cutters, but that only works so much. Green can get righties out. He has the slider for that. But he has nothing that moves away from lefties to stay off the barrel. Getting that changeup going is priority No. 1.
To Green's credit, he came over from the Tigers as a work in progress and he did make strides this season. He added the cutter — "From my last outing, I added a cutter. I've been working on that the past couple of weeks. I think that made a big difference, being able to throw that for strikes," said Green after his start in San Diego — and he's also improved his slider since Spring Training.
"Everything's gotten better," said Girardi following the Blue Jays game when asked about Green's slider. "We loved his arm, and that's why we traded for him. Each time, he took his demotion the right way and said, this is what I need to work on and I'm going to get better. He never got down on himself, never hung his head and just went to work. And he works extremely hard."
At this point, Green is a four-pitch pitcher with three fastballs (four-seam, two-seam, cutter) and a slider. He has velocity too. His four-seamer averaged 94.4 mph this year and topped out 98.7 mph. That's a pretty great starting point. The changeup is the big question. Green does throw one — you can see it at the 1:04 mark of the video above — but it's not consistent enough. It needs to improve.
Depending how the offseason shakes out, the Yankees figure to give Green the opportunity to compete for a rotation spot in Spring Training, assuming he's healthy. And if that doesn't work out, he could land in the bullpen. Triple-A is another option. Lots of possibilities here. Green has some lively stuff and he seems to be a quick learner and hard worker. Hopefully those traits mean more progress is coming.
The Ex-Shortstop (And Current TV Analyst)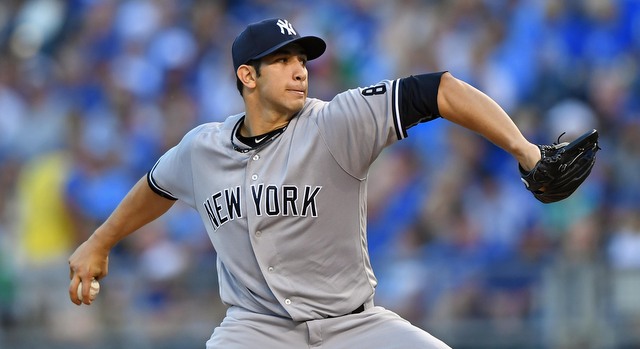 The more well-known player of the two prospects the Yankees received in the Wilson trade was Cessa, not that he was a top prospect or anything. It was the second time Cessa had been traded in six months; he and AL Rookie of the Year candidate (favorite?) Michael Fulmer went from the Mets to the Tigers for Yoenis Cespedes at the deadline last summer. The Tigers then flipped Cessa for a bullpen arm, which they always seem to need.
Cessa, a former shortstop who converted to pitching in 2011, was impressive in Spring Training, allowing just three runs in ten innings across five outings. All the damage came in one game too. In the other four, he allowed two hits and a walk in eight scoreless innings while striking out eight. Cessa impressed enough with his stuff and results to land a spot on the Opening Day roster. He was in the bullpen to start the season.
The stint on the big league team didn't last very long. Cessa made his MLB debut on April 8th, in the fourth game of the season, and allowed one run on a Miguel Cabrera homer in two innings. After that, the Yankees figured Cessa was better off in Triple-A, where he could start and pitch regularly, rather than sit in the big league bullpen and pitch sparingly. He's a young man and he needed to pitch. Mop-up duty wasn't a good role for him.
Cessa spent the next four months or so riding the Scranton shuttle. He returned to the big leagues briefly in May, and again in late-June and early-July when a fresh arm was needed. In the meantime, Cessa pitched to a 3.03 ERA (3.62 FIP) in 77.1 innings in 14 starts and one relief appearance with the RailRiders. He didn't have the easiest schedule. Cessa bounced from Triple-A starter to MLB reliever several times in the first half. That was his role.
It wasn't until late-August that Cessa got a chance to start with the big league team. Eovaldi was hurt, Nova was traded, and Severino pitched himself out of the rotation, so the Yankees gave Cessa an opportunity. He earned it by pitching well in Triple-A and in several short stints in the Bronx. His first start was his best. Cessa threw six shutout innings against the Angels on August 20th. He fanned five, walked one, and allowed three hits.
Cessa remained in the rotation the rest of the season and he pitched well. Better than I think many realize. He made nine starts for the Yankees, allowed more than three runs only twice, and four times he held the other team to two runs or less. Cessa also completed five innings in each of his nine starts, which doesn't sound like anything special, but the Yankees didn't get a whole lot of length from their other young starters in 2016.
All told, Cessa finished the season with a 4.35 ERA (5.52 FIP) in 70.1 innings spread across nine starts and six relief appearances. That includes 4.01 ERA (5.14 FIP) in 51.2 innings as a starting pitcher. Three things stood out to me about Cessa.
1. He throws four pitches. Unlike Green, who spent part of the season learning a cutter and still needs to work on his changeup, Cessa already has four pitches, and he threw all of them during his nine-start cameo. It's the standard four-pitch mix. Here's how often he threw each pitch as a starter, via Brooks Baseball:
Four-Seam Fastball: 48.6%
Slider: 30.3%
Curveball: 11.1%
Changeup: 9.9%
The slider is Cessa's best secondary pitch and his go-to offering in big spots. He's not shy about using his changeup or curveball though. He uses them regularly. Hitters are going to see four pitches from Cessa. They can't sit fastball-slider or fastball-changeup or whatever. They have to be ready for everything else as well. Cessa had good velocity as a starter — his heater averaged 95.0 mph and topped out at 98.3 mph in his nine starts — and he definitely has a deep enough repertoire to remain in the rotation.
2. He can be really efficient. Girardi had a pretty quick hook with Cessa at times this year, rarely allowing him to face the middle of the lineup a third time, which I can understand with a young pitcher. Cessa still did a very nice job limiting his pitches and being efficient. He averaged only 14.7 pitches per inning and 3.69 pitches per plate appearance as a starter. The MLB averages are 16.8 and 3.95, respectively. Only three times in his nine starts did he throw more than 85 pitches, yet he still never once threw fewer than five full innings. Cessa was a breath of fresh air in a world of young pitchers on pitch counts.
3. He didn't miss many bats or limit homers. It isn't all good news, obviously. Four pitches and efficiency are nice, but they didn't lead to strikeouts (16.1%) or grounders (43.2%). Cessa didn't walk many (4.9%), so that's cool, but he also had a hard time keeping the ball in the park (2.05 HR/9). He allowed homers in all but two of his nine starts. Eleven times he was taken deep in 51.2 innings as a starter, which works out to 1.92 HR/9.
Everyone gave up more home runs this year, balls were flying out of the ballpark, but a 2.05 HR/9 is rather extreme. Yankee Stadium plays a role in that, so it's no surprise Cessa was more homer prone against left-handed batters, who can take aim at the short porch.
| | BF | AVG/OBP/SLG | wOBA | K% | BB% | GB% | HR/9 |
| --- | --- | --- | --- | --- | --- | --- | --- |
| vs. RHB | 167 | .242/.289/.439 | .311 | 15.0% | 4.2% | 42.7% | 1.77 |
| vs. LHB | 118 | .234/.280/.486 | .324 | 17.8% | 5.9% | 43.8% | 2.43 |
Cessa's platoon split is not nearly as drastic as Green's. That's what having four pitches does for you. A right-handed pitcher giving up a lot of homers to left-handed hitters in Yankee Stadium is not exactly uncommon, though Cessa also had his trouble with righties too. It seems like a simple location issue. Here are the pitch locations of the 16 home runs he allowed in the big leagues, via Baseball Savant.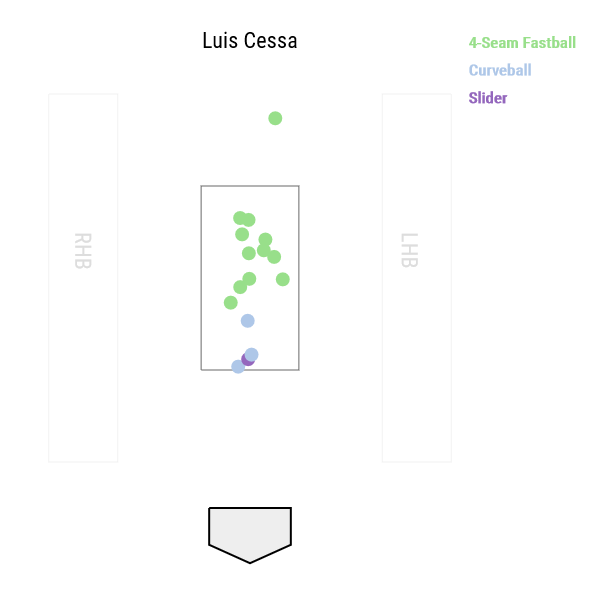 Yeah. Fastballs down the middle tend to get hit a long way. Can't throw them there, Luis. Cessa has the tools to start. I really believe that. The guy has four pitches he throws regularly, he pitches inside, and he throws strikes. So he was homer prone and didn't miss as many bats as you'd like in his first nine big league starts. Welcome to the club. Tons of guys have done the same. All things considered, I liked what I saw from him in those nine starts.
Cessa finished the season healthy — he started Game 162 and threw 147.2 total innings in 2016, a new career high but not by a lot (139.1 in 2015) — so the 24-year-old is in position to throw upwards of 180 innings next year. That's pretty great. Cessa is actually doing television work at the moment, broadcasting the World Series for FOX Sports Latin America …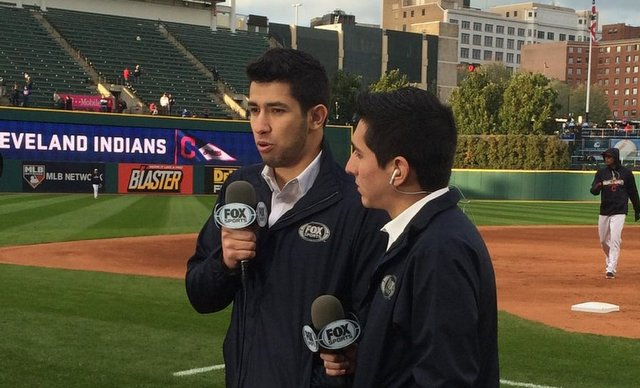 … and it's safe to assume he'll come to Spring Training with a chance to compete for a rotation spot. He might even be the favorite for a rotation spot over others like Green, Severino, and Mitchell. Cessa performed the best out of all of them this past season, and his present skill set suggests he's most likely to have success as a starter in the immediate future.
The Broken Toe That Sabotaged A Season
The Spring Training competition for the fifth starter's spot was a two-man race between Nova and Sabathia. Had it been a three-man competition, Bryan Mitchell would have won. Mitchell was marvelous in camp, allowing one run on seven hits and three walks in 15.2 innings. He fanned 12. Beyond the numbers, his stuff was crisp and he seemed to be locating better than he had at any point in the previous two years with the Yankees.
Mitchell made the Opening Day roster, which wasn't a shock given his Grapefruit League performance. He was going to be in the bullpen and was the early favorite to assume Adam Warren's super utility reliever role. Instead, Mitchell managed to break his left big toe covering first base in his final Grapefruit League outing. He took a misstep and the bone cracked. Total fluke injury. The fracture required surgery and sidelined Mitchell for four freakin' months.
"I felt something, but I definitely didn't think it was this severe, given that I could still get over to the base and all that," said Mitchell after the injury. "I'm not trying to be too roller coaster right now. Just have to roll with it. It's just a bump in the road and we'll get past it, hopefully quicker than later … It really hasn't sunk in yet. But it's tough right now."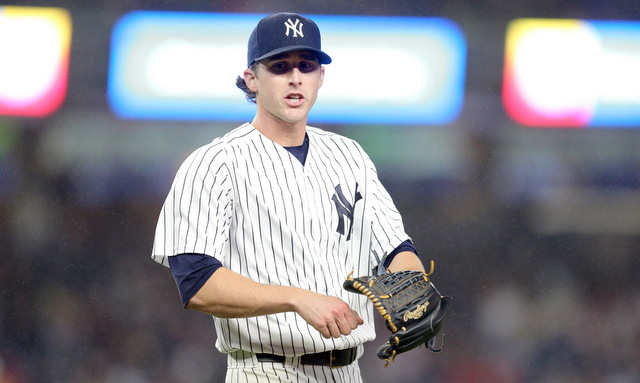 It wasn't until August 8th that Mitchell pitched in his first minor league rehab game. He kept his arm in shape by throwing while sitting in a chair before finally being cleared to play catch and throw off a mound. Mitchell made four minor league rehab starts, reportedly looked as rusty as you'd expect, then was activated off the 60-day DL and optioned to Triple-A Scranton on August 24th.
The Yankees originally planned to keep Mitchell down through the end of the Triple-A postseason so he could start every fifth day, but after Green hurt his elbow, they called him up and stuck him in the rotation. Because he did not spend 20 days in the minors on an optional assignment — most of it was injury rehab — Mitchell did not burn a minor league option this year. He still has one for next season.
Anyway, Mitchell's first big league start came against the Blue Jays on September 7th, and it went about as well as you could have hoped: four hits and two walks in five scoreless innings. He struck out five. His next two starts were duds (six runs in 2.1 innings and four runs in 4.2 innings) and that wasn't too surprising. The Dodgers and Red Sox loaded their lineups with lefties and Mitchell paid the price.
Mitchell's most impressive outings were his final two. On September 23rd, at a raucous Rogers Centre, the Blue Jays worked Mitchell hard and scored three runs in the first two innings. He threw 46 pitches to get six outs. It was all set up to be a short night, but Mitchell settled down, retired ten of the final 13 batters he faced, and completed six full innings. He showed some gumption against a good team in a hostile environment.
Then, five days later, Mitchell had his best start as a big leaguer, when he held the Red Sox to two hits in seven scoreless innings. The Yankees almost wasted that effort, but thankfully Mark Teixeira came up with the walk-off grand slam. Here is the inexplicably unembeddable video of Mitchell's night. This was a really tough season for Mitchell overall thanks to the toe injury, but at least he was able to end it on a really positive note. That start must have felt great.
Overall, Mitchell finished the season 3.24 ERA (4.23 FIP) in five starts and 25 innings. The good news: he got grounders (48.2%) and kept the ball in the park (0.36 HR/9). The bad news: he walked (11.2%) more batters than he struck out (10.3%). That's a big problem. Can't be successful walking more batters than you strike out. Mitchell has good stuff. Or, rather, he has two good pitches in his fastball and curveball. He should, in theory, be able to miss bats with those pitches.
The fastball and curveball are Mitchell's only two reliable pitches, however. His third pitch is his cutter and that's pretty much the only thing he has to attack left-handed batters because his changeup is not good. So not good he doesn't even bother to throw it. Losing most of this season is pretty unfortunate. Mitchell would have had a chance to continue working on things. Instead, he lost all that development time.
As with Green and Cessa, I expect Mitchell to come to camp with a chance to win a rotation spot. If that doesn't work, he could wind up in the bullpen, which was the plan this year before the injury. Of the three guys in this post, I have the most confidence in Cessa remaining a starter long-term and it's not all that close. Green and Mitchell have more work to do, but I do think that if neither can hack it in the rotation, they can be quality short relievers.