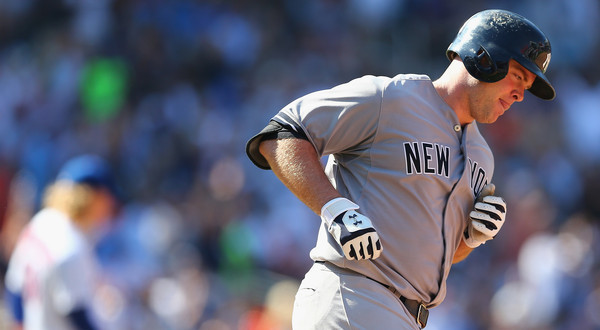 Yesterday afternoon the Yankees made their first major move of the offseason, trading Brian McCann to the Astros for two pitching prospects. Two pitching prospects I didn't cover in my Scouting The Market post, naturally. Funny how that works. Anyway, trading McCann is a pretty big deal, and I have some thoughts on it.
1. I've been saying for weeks I would prefer to see the Yankees keep McCann unless someone makes a big offer, and while Albert Abreu and Jorge Guzman have exciting arms, I'm pretty underwhelmed. They're two low level lottery tickets who are years away from helping at the big league level. I was hoping the Yankees would focus on a pitcher(s) either on the cusp of the show or close to it. There's a very Gary Sheffield trade vibe to this trade (productive veteran loses job, swapped for big arms), though keeping McCann would have been much easier and more justifiable than keeping Sheffield. Having two power hitting catchers — one from each side of the plate! — sure seems like a really nice luxury, especially since there are DH at-bats available. Then again, the Yankees need to focus on improving their long-term future, and they're not really in the position to enjoy two power hitting catchers. They'd go to waste in 2017. I dunno. It's not a bad trade, just not what I would have preferred. I wanted guys closer to the show, not a pair of low level kids. What do I know though. Brian Cashman deserves the benefit of the doubt given his trade track record.
2. Does this trade get made if Gary Sanchez doesn't go on that ridiculous tear the last two months? What happens if Sanchez's first extended taste of the show looks like, say, Yadier Molina's? Molina hit .267/.329/.356 (77 wRC+) in 51 games as a rookie. I actually think the Yankees would have made this trade even if Sanchez had struggled in his two-month audition. They seem committed to going with Greg Bird and Tyler Austin at first base, and Aaron Judge and Aaron Hicks in the outfield. Catcher is a bit different because of the whole "works with the pitchers" aspect, but I think the Yankees would have given Sanchez a chance to sink or swim next season even he didn't do what he did this year.
3. With that in mind, this is a trade that doesn't get made by a team confident in their ability to contend next season. McCann's not the player he once was, but productive catchers are really hard to find, and clubs planning to make a run at the postseason don't trade that guy for two lower level pitching prospects. I don't mean for this to come off as a negative. It's a good thing. It's a reality check. The Yankees were an 84-win team this past season while having Andrew Miller, Aroldis Chapman, and Carlos Beltran for half the season, and Sanchez hitting like Babe Ruth the other half. They're pretty far from contention — this trade makes them unquestionably worse in 2017 — and I was worried they'd go through the offseason making dinky little moves that might get them up to, say, 85 wins. The Yankees realize contention is not imminent and acting appropriately.
4. Can't say I'm surprised the Yankees went back to the well and targeted two hard-throwing pitchers with iffy command. That seems to be their specialty. I'd feel much better about the return — for what it's worth, Abreu and Guzman do have an awful lot of upside, especially Abreu — if I had any confidence in the Yankees being able to develop pitchers like this. Their track record is not good at all. (Yes, I know developing pitchers is hard.) Maybe things will be better under Gary Denbo, who has only been in charge of the player development system for two years. Besides, you don't stop trying to develop these types of players just because you haven't had success doing it. Still, don't be afraid to mix in a guy with lesser stuff but some command and pitchability now and then, fellas. Diversify that portfolio, yo. Not everyone needs the organizational stamp.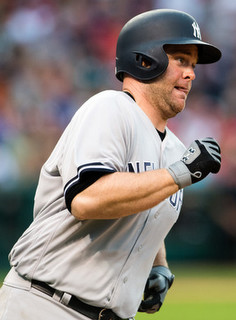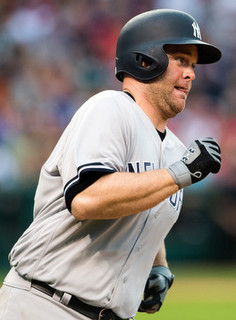 5. Not to be overlooked part of this trade: the money. The Yankees are paying $11M of the $34M owed to McCann the next two years, and while that's not an insignificant chunk of change, they are saving $23M total. That money is going to be really helpful as the team attempts to get under the luxury tax threshold. It might not happen next season, so the $11.5M savings in 2017 might not be much of a factor. But that $11.5M in savings in 2018? That's going to go a long way towards helping the Yankees get under the threshold, whatever it may be. That's the year to do it, when Alex Rodriguez and CC Sabathia come off the books. Maybe Masahiro Tanaka too. I couldn't care less about the Yankees saving money, but I'm sure ownership loves it.
6. Right now, New York's best left-handed hitting power threat is Didi Gregorius. Yikes. Hopefully Bird helps out in that department, but after missing an entire season following shoulder surgery, I don't think you can count on him. I'm sure the Yankees will sign a veteran DH now — so do you think Beltran is going to sign before Thanksgiving, or wait until after the holiday? — and hopefully that guy will provide some left-handed thump. That short porch might get mighty lonely next season. The Yankees don't have too many guys on the roster who can take advantage of it at the moment.
7. I think it would behoove the Yankees to pick up a veteran backup catcher. Austin Romine did an okay job this year, and Kyle Higashioka is waiting in Triple-A, but I don't really feel comfortable with those two as the safety nets for Sanchez. Throwing a few million bucks at someone like, say, Alex Avila or Giovanny Soto to back up Sanchez might not be such a bad idea. It gives the Yankees some depth in case Sanchez has a rocky year — I love Sanchez, he's awesome, but even the most talented young catchers can struggle early in their careers, it's a tough position — and also someone to help mentor the young backstop. Going with Romine and Higashioka as the top two catchers behind Sanchez is asking for trouble.
8. Along those same lines, I'm interested to see whether the Yankees do anything to replace some of the leadership they've lost in the last few months. McCann, A-Rod, Beltran, and Mark Teixeira are all gone. They're down to Sabathia and Brett Gardner, based on everything we've heard about the team's leadership core over the last few years. I don't think this is a huge deal, but I'm not in the clubhouse. I'm just curious to see how the Yankees react. They're going young now and they're going to want some veteran guys to show the kids the ropes and things like that. Sabathia and Gardner can't do it all, can they? Does it even matter?
9. The Yankees are going to go from a boring 84-win team to an exciting 78-win team*, aren't they? There will inevitably be growing pains next year. The kids aren't all going to hit the ground running like Sanchez. When you go young like the Yankees seem likely to do, things often get worse before they get better. At least it'll be more fun to watch the kids play though, you know? The Yankees were boring for long stretches of time this year. They weren't scoring and most of the regulars were old. It was hard to feel good about the team's direction. At least with the kids, there's some hope for the future. It might not work! They could all flop and the Yankees could be headed into a downward spiral for the next decade. But at least now there's a chance at a better future. Watching the same veterans get older and less productive with each passing year wasn't much fun, and McCann was part of that.
* Update: 78 is too low. Should have said something like 82 wins instead. Still, point stands.