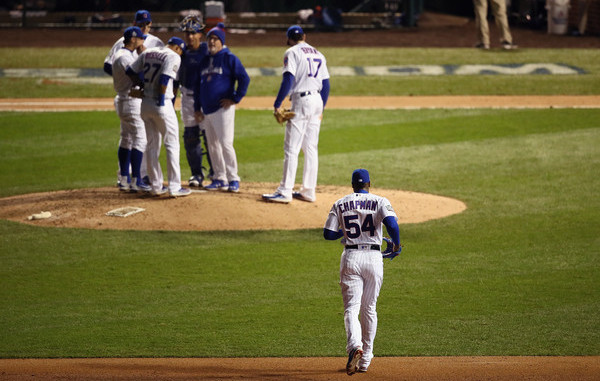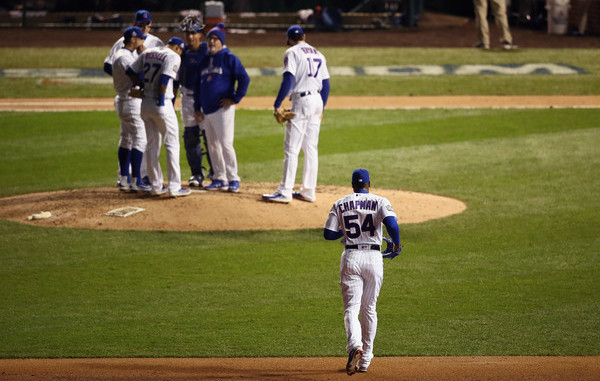 Pretty soon — as in 48 hours or less — the 2016 World Series will be over the offseason can officially begin. The free agent class is pretty weak, so I think we're going to end up seeing a lot of trades this winter instead. That's cool with me. Trades are much more fun. Anyway, I have some news and notes to pass along, so let's get to them.
Yankees will target Chapman over Jansen
No surprise here: Jon Heyman says the Yankees are planning to target Aroldis Chapman in free agency before Kenley Jansen. Those two as well as Mark Melancon will hit the open market in the coming days now that the World Series is close to being complete. This upcoming free agent class kinda stinks, but there will be three high-end relievers available. Competition for them should be fierce.
A few weeks ago we heard the Yankees are planning to target a top reliever in free agency. I figured that would happen following the Chapman and Andrew Miller trades at midseason. The Yankees had the opportunity to flip those two for high-end prospects, then replenish the bullpen with free agents in the offseason. They did step one, now they have to do step two. Chapman won't cost a draft pick plus the Yankees know him from his time in New York, so it's no surprise he's their Plan A. I prefer Jansen, but whatever.
MLB, MLBPA optimistic about finalizing new CBA
The current Collective Bargaining Agreement expires on December 1st, which isn't all that far away now, and Joel Sherman hears MLB and the MLBPA have agreed to "very few key issues" so far. Both sides are optimistic about avoiding a work stoppage, however. "I'm optimistic as well. The good thing is everyone understands and appreciates the issues," said union chief Tony Clark.
Apparently free agent draft pick compensation is a hot topic and many potential changes are being discussed, including eliminating the need to surrender a pick. The team that loses a qualified free agent would still receive a compensatory draft pick, but the signing team would get to keep their first rounder. Sherman also hears it's possible the current rules could remain in effect this offseason before a new system kicks in next winter. As long as there's no work stoppage, and I don't think there will be, it's cool with me.
Yankees renovating GMS Field
Yankee Stadium is not the only park
getting a facelift this offseason
. George M. Steinbrenner Field in Tampa is being renovated as well, the Yankees announced. The ballpark is getting $40M worth of upgrades that will bring new seating sections, a shaded cabana area, and a huge new gift shop. Construction started in August — High-A Tampa had to play all their postseason games on the road this year — and will be presumably completed in time for Spring Training.
"The renovations, which include an increased number of fan-friendly vantage points, social gathering spaces and shaded areas, will provide our guests with the modern amenities necessary for an exceptional game day experience. We are equally excited about furthering the Yankees' commitment to the Tampa community and look forward to unveiling a beautiful facility for our fans to enjoy for years to come," said Senior VP and CFO Tony Bruno in a statement. Neat. Here are renderings of the upgrades and construction photos, if you're interested.
Torres, Tate selected for Fall Stars Game
Gleyber Torres and Dillon Tate were selected to participate in the Arizona Fall League's Fall Star Game, the league announced. Here are East and West rosters. Torres is the best prospect in the game according to MLB.com's top 100 list. He's hitting .313/.421/.656 (187 wRC+) with three homers, six walks, and five strikeouts in nine AzFL games so far. Tate has a 3.86 ERA (5.24 FIP) in 9.1 relief innings with the Scottsdale Scorpions.
The Fall Stars Game is more of a prospect showcase than a true All-Star Game. They pick the biggest names each year regardless of their AzFL performance. Also, they don't disrupt pitching schedules, which is why Tate and not James Kaprielian was selected to the roster. Kaprielian's not scheduled to pitch the day of the game. The Fall Stars Game is this Saturday at 8pm ET. It'll be broadcast on MLB Network and streamed live on MLB.com. It's a good time.