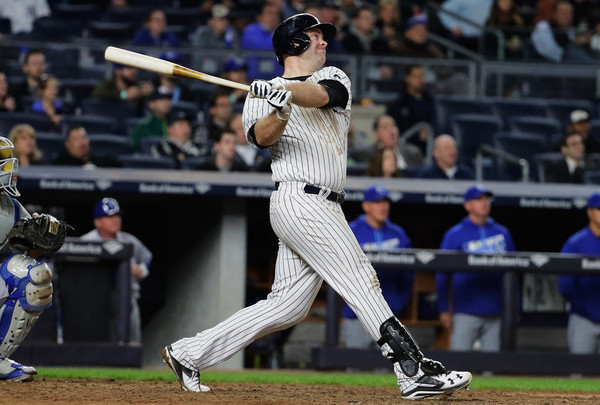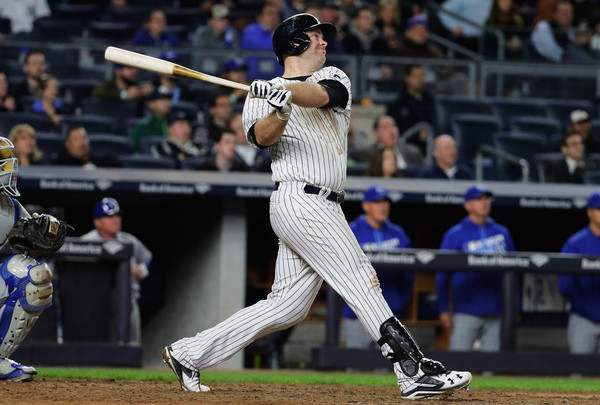 For the fourth straight offseason and fifth time in the last six offseasons, the Yankees have traded a catcher. Brian McCann has been traded to the Astros for right-handed pitching prospects Albert Abreu and Jorge Guzman, both teams announced. The Yankees are paying $5.5M of McCann's $17M salary in both 2017 and 2018, according to Buster Olney. That's $11.5M in savings each of the next two years.
McCann has been on the trade market since the deadline, even before Gary Sanchez arrived in August and smashed 20 homers in 52 games. Sanchez is the clear cut starter going forward, so McCann's role in New York would have been backup catcher and part-time DH. It's no surprise then that he waived his no-trade clause to go to the Astros, who figure to be in contention and can offer him more playing time.
"It was a tough, tough decision," said B.B. Abbott, McCann's agent, to Brendan Kuty. "This is a bittersweet day for him. It was a very tough decision for him. He's very excited to be part of what Houston has going on and it was tough and will be tough to say goodbye to a really good organization and some teammates he's come really close to."
In three seasons with the Yankees, the soon-to-be 33-year-old McCann hit .235/.313/.418 (101 wRC+) with 69 home runs in 405 games. There's nothing sexy at all about a 101 wRC+, but the average catcher hit .242/.310/.391 (87 wRC+) in 2016, and McCann is still comfortably above that. He was rock solid behind the plate for the Yankees the last three years. Well, two years and four months before Sanchez arrived.
In the past six offseasons, the Yankees have traded Jesus Montero (2011-12), let Russell Martin walk as a free agent (2012-13), traded Chris Stewart (2013-14), traded Francisco Cervelli (2014-15), traded John Ryan Murphy (2015-16), and now traded McCann (2016-17). That's an awful lot of catching going out the door. It would be more of a problem if, you know, they still didn't have Gary freaking Sanchez. No team can match New York's recent catching capital.
Abreu is the better prospect of the two coming to the Yankees. Prior to the trade, MLB.com ranked him as the seventh best prospect in Houston's system, and J.J. Cooper says Baseball America had him as the fifth best pitching prospect in that organization. The 21-year-old Abreu had a 3.71 ERA (4.07 FIP) with 26.3% strikeouts and 12.9% walks in 104.1 innings at mostly Low Class-A this past season, but also some High-A.
Guzman, 20, did not rank among MLB.com's top 30 Astros prospects before the trade, though Cooper says he was eighth among pitchers in Houston's farm system. The right-hander had a 4.05 ERA (2.64 FIP) with 32.1% strikeouts and 10.1% walks in 40 rookie ball innings in 2016. Needless to say, neither Abreu nor Guzman is knocking on the door of the big leagues at the moment. The Yankees took a long-term approach with this trade. Here are some scouting reports:
J.J. Cooper: "Albert Abreu has 4 pitches, touches 99. Jorge Guzman is better when he gears down to 97-99, touches 102-103. Good pickups for Yanks."
Eric Longenhagen: "New Yankees prospect Albert Abreu: 91-95, can touch 97-98. Very explosive arm action, change has significant projection, curve already plus."
Ben Badler: "I like Albert Abreu. Needs to improve command, but it's a starter mix on a power arm up to 99 mph with two swing-and-miss breaking pitches."
Baseball America has lengthier scouting reports right here. Neither Abreu nor Guzman is on the 40-man roster. As best I can tell, Abreu will be Rule 5 Draft eligible next offseason, Guzman the offseason after that. I reserve the right to be completely wrong though. This stuff is tricky. The Yankees do free up a 40-man roster spot right now though. I'm certain of that.
The Yankees began the process of shedding veterans at the trade deadline, when they traded Aroldis Chapman, Andrew Miller, and Carlos Beltran for prospects (and Adam Warren). Ivan Nova was traded too. McCann was a prime candidate to go this offseason, assuming they could work through his no-trade clause. Brett Gardner can't be feeling too comfortable right now, huh?