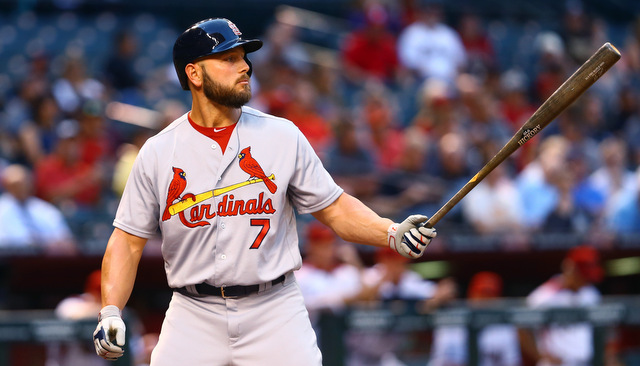 Last night the Yankees addressed one of their major offseason needs and landed a new DH. The team agreed to sign veteran Matt Holliday to a one-year contract worth $13M. Once he takes his physical and all that — I guess that's something less than a formality considering a broken thumb effectively ended his season in August — the deal will be official. Until then, here are some thoughts.
1. My quick personal take: I like the signing. I don't love it and I don't hate it. It's a solid, reasonable move. I would have preferred Carlos Beltran on a one-year contract myself, but Carlos had other ideas, so the Yankees moved on to the next best thing. I didn't want Chris Carter's or Mike Napoli's strikeouts, or Brandon Moss' or Pedro Alvarez's pulled grounders into the shift. Holliday is, as announcers like to say, a professional hitter who is going to grind out at-bats. That's pretty cool. The Yankees have lacked that in recent years. Plus Holliday is said to be a great clubhouse guy, and that's important, especially with the team focusing on getting younger. The kids need someone to show them the way.
2. I'm really glad the Yankees did the sensible thing and stuck to a one-year contract. Edwin Encarnacion is awesome — that dude is absolutely terrifying at the plate — but committing huge dollars to a DH is not something the Yankees should be doing right now. They just got rid of how many expensive DHs this year, three? Maybe four? Whatever the number is, it was too many. The Yankees are trending young and that's pretty damn exciting. Spending big on an inflexible DH would have complicated things, especially since the team is trying to get under the luxury tax threshold. Encarnacion would make sense if the Yankees were on the postseason bubble and trying to get over the hump, not trying to groom their next young core. A one-year deal was always the way to go.
3. One reason to expect Holliday's numbers to bounce back next season: his .253 BABIP was by far a career low and well below his career .333 BABIP. That happened even though his hard contact rate (38.5%) was comfortably above the MLB average (31.4%) and his career average (35.6%). In fact, among the 375 players to put at least 100 balls in play this past season, Holliday had the third highest average exit velocity (94.7 mph). Only Nelson Cruz (95.9 mph) and Giancarlo Stanton (95.1 mph) were better. Miguel Cabrera (94.5 mph) was fourth. That is some good company. Also, according to Mike Petriello, Holliday put 42.5% of his balls in play at 100 mph or better, the fourth best rate in baseball. Exit velocity isn't everything — it's possible to hit a 100 mph pop-up, you know — but it's not nothing either. Holliday can still strike the ball with authority. That suggests that .253 BABIP, which was so far out of line with the rest of his career, might not last.
4. One more reason to expect Holliday's numbers to bounce back next season: the guy hits to all fields. A right-handed hitter who can go to right field will be rewarded in Yankee Stadium. Handsomely too. Here is Holliday's spray chart from this past season, via Baseball Savant: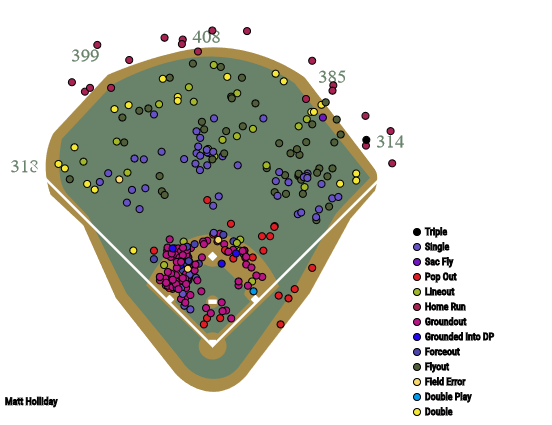 That is a beautiful thing. Holliday, even at age 36, still hit for power to all fields this summer. Homers and doubles, from foul pole to foul pole. (I won't hold my breath waiting for triples.) There's nothing wrong with pulling the ball. Not at all. But being to hit for power to all three fields is what separates great hitters from good hitters, and over the course of his career, Holliday has truly been a great hitter. That .303/.382/.515 (137 wRC+) batting line in nearly 7,500 plate appearances ain't no accident. This dude is a total pro at the plate.
5. The key to the Holliday signing is keeping him out of the outfield. He's a very poor defensive left fielder and has been for years. Both the eye test and the defensive stats agree on that. The Yankees should consider him an emergency option out there only. The team has enough outfield depth that I'm hopeful Holliday won't have to play left field at all. Even if the Yankees trade Brett Gardner, there's still Aaron Hicks, Tyler Austin, Rob Refsnyder, and Mason Williams, and those are only the 40-man roster guys. Holliday has ten games of experience at first base, all in 2016, so if he does need to play the field, hopefully it's there. The entire point is getting off his feet though. Holliday's an older player, and the entire idea behind the signing is that limiting him to DH will help keep him healthy and prevent him from wearing down later in the season. If he ends up playing the field regularly, either at first base or left field, it's a problem.
6. There is still an awful lot of offseason left to go, so it's silly to think the Yankees are done making moves. But, as it stands right now, the lineup probably looks something like this, realistically:
LF Brett Gardner
CF Jacoby Ellsbury
C Gary Sanchez
DH Matt Holliday
SS Didi Gregorius
2B Starlin Castro
1B Greg Bird
RF Aaron Judge
3B Chase Headley
Eh? That leaves Austin Romine, Ronald Torreyes, Hicks, and either Austin or Refsnyder on the bench. Gardner and/or Headley could still be traded, which would obviously change things, but that's the lineup right now, on December 5th. I have no idea whether that lineup can score runs at an above-average rate. At least it's mostly young with some upside. That'll be fun.
7. Ridiculously premature 2017-18 offseason thought: I hope the Yankees are in on Carlos Santana, who will be a free agent. He's always been a personal favorite — switch-hitters with power and patience are my jam — and he'd step right into Holliday's roster spot and annual salary slot nicely. Santana, who turns 31 in April, will command multiple years though, which could throw a wrench into the long-term payroll plans. Otherwise he'd be a really great fit as a most of the time DH/part-time first baseman/emergency catcher. I'll spend the next eleven months pretending Holliday is a placeholder for Santana. That sounds good.