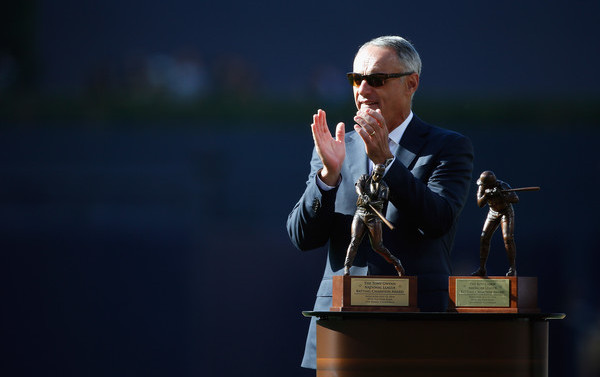 Last night, MLB and the MLBPA agreed to a new Collective Bargaining Agreement that will run from 2017-21. Baseball's unprecedented streak of labor peace has been extended to 26 years. Back in the day nearly every CBA negotiation was met with some sort of work stoppage. Thankfully that is no longer the case. Anyway, I have some thoughts on the new CBA and what it means for the Yankees.
1. First things first: I'm relieved MLB and the MLBPA hammered out the new deal, though I never expected it to get to the point of a work stoppage. There were no outstanding issues worth doing something that extreme. At worst, I thought the two sides would agree to continue negotiating beyond last night's "deadline" while operating under the terms of the old CBA. I'm glad this is over though. It was hanging over everything this offseason. Now we can forget all about the CBA stuff and focus on the Hot Stove season and next week's Winter Meetings.
2. As expected, the luxury tax threshold has been increased, though not by a whole lot, and that's a big win for the owners. It's going to slow down payroll inflation, in theory. The threshold will increase a mere $9M over the next two years, going from $189M in 2016 to $195M in 2017 to $198M in 2018. That's obviously important for the Yankees, who are dead set on getting under the threshold at some point soon. The 2018 season, with the $198M threshold, seems like the year to do it. Hal Steinbrenner has indicated that's the goal. CC Sabathia and Alex Rodriguez will be off the books by then, possibly Masahiro Tanaka as well, which will give the Yankees much more flexibility. We don't know exactly what getting under the threshold means with the new CBA — I assume the tax rate resets, but is that it? — though at least now we have a target number. The goal is $198M in 2018.
3. The free agent compensation rules are much more lenient. A team over the luxury tax threshold has to give up their second rounder, fifth rounder, and $1M in international bonus money to sign a qualified free agent. The draft picks aren't a big deal. I don't think any team will hesitate to give up their second round pick to add a quality player. The expected return on a second rounder is pretty small. Losing the associated draft pool money stinks, but even that isn't a huge deal. Using the 2016 slot numbers, New York's first rounder had a $2.442M pool value. Their second plus fifth rounders had a $1.382M pool value. See? Not a big deal. This is close to a true free agency. I can't imagine we'll see any players get hung out to dry a la Ian Desmond last year because no team wants to give up their second rounder and fifth rounder, plus $1M in international money. That would be silly. (Teams under the luxury tax threshold, which is most of them, only have to give up their third rounder.) This is much better for MLBPA.
4. The hard cap on international bonus pools — losing that $1M to sign a free agent is much more meaningful with a hard cap, though I still don't think it's much of a deterrent — really stinks. Especially since it's only $5M to $6M, which is nothing. Individual players were getting more than that the last few years. This system ensures no top international amateur will be paid as well as a top U.S. amateur who goes through the draft. The only people who benefit from an international hard cap is the owners. That's it. It stinks for the teams because they can't spend as freely — the teams that invest the most in scouting and state of the art facilities may have an even bigger advantage luring premium talent going forward — and it really stinks for the players, who now have their earning potential extremely limited. Make no mistake, this is a cost-cutting move, not a competitive balance move. The biggest international spender this year was the Padres. The Royals, Pirates, and Indians were among the top spenders in 2011, the year before the bonus pools were implemented. The hard cap is a result of the owners wanting to save money, and since international amateurs are not union members, the MLBPA has no problem collectively bargaining away their rights. This bites. The international kids got hosed big time. This isn't any better than international draft for the players. It might be worse.
4.5. The only thing I do like about the new international system is that every team gets the same bonus pool. There are too many rewards for being bad in baseball. Now that teams know they're getting the same international bonus pool now matter how many games they lose, there's less of an incentive to be bad. Now that much less, but less.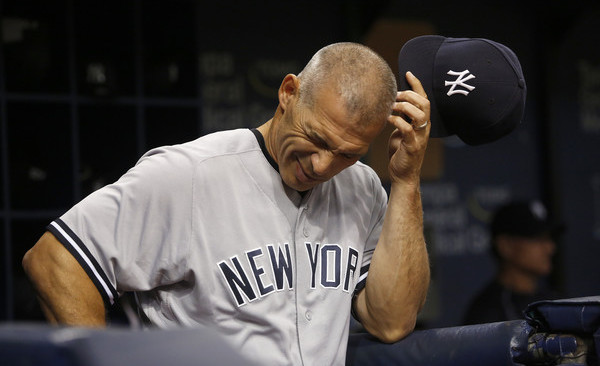 5. I'm so glad the roster rules are staying the same. No 26th man, no weird September rules. I get why the union wants the 26th man — that's 30 new full-time jobs around the league — and I do think that's coming in the future, especially with starters not pitching deep into games anymore and teams needing more innings from their bullpen. Maybe the 26th man is added as part of the next CBA in five years. As for the September rules, I am very pro roster expansion, so I'm happy that's staying the same. Reward the teams with depth and reward the minor leaguers who had strong seasons. As long as every team has the opportunity to call up 40 players in September, the system is fair to me. If one team calls up ten players and another calls up three, whatever. That's their decision. Hooray for 25-man rosters and hooray for September call-ups.
6. The elimination of the Performance Factor in the revenue sharing system is huge news for Hal and the Yankees. Wendy Thurm explained how it works a few years ago. In a nutshell, there's the general revenue sharing pool, plus a supplemental pool based on market size and revenues. Because the Yankees are in the biggest market and generate the most revenue, they were paying a ton into that supplemental pool. That's gone now. As long as the Yankees stick to the luxury tax threshold, all the revenue sharing money they're saving won't be put back into the team, so it won't have much of an impact on the field. Behind the scenes though, my goodness. The elimination of the Performance Factor will save them tens of millions of dollars a year. Remember, they Yankees paid $90M+ into revenue sharing in 2014 and 2015. Not combined, $90M+ each year. It's a significant chunk of change. (This, by the way, is the new CBA's way of dealing with small market teams that pocket revenue sharing. The Yankees no longer have to pay into the supplemental pool and the small market clubs no longer take from it. Less revenue sharing dollars for them.)
7. One thing that hasn't changed as far as we know: service time rules. Players are still going to kept in the minors just long enough for teams to gain that extra year of control, which stinks. The best players should be in MLB when they're ready, not when it's most convenient to the team. I'm not sure how this problem could be solved — teams are always going to find a way to manipulate service time to their advantage — and maybe the best possible solution is the current system. It takes only eleven days in the minors to delay free agency a year. That gets the player to the show pretty quickly, as we saw with Kris Bryant last year.
8. Okay, now for the Yankees. Now that the CBA is done, I suspect we're going to see the team really get down to business. They have a history of targeting the free agent they want and making an aggressive offer for a quick strike, and since they're said to really want one of the top free agent relievers, my guess is they're gearing up for a run at someone very soon. Probably Aroldis Chapman. That's something that could come together pretty quickly now that the free agent compensation rules (not that they apply to Chapman, I'm just saying in general) and luxury tax thresholds are in place. I'm sure other big market teams have been operating the same way. They wanted to see the new CBA before committing big dollars anywhere. Now that the CBA is done, the Yankees and Dodgers and Red Sox and whoever else can begin to move forward with their offseason plans in earnest.
9. What are those plans, exactly? I think the Yankees are looking to add three things right now. One, a top reliever. Duh. Two, a veteran bat to plug in at DH, and I think they want to limit it to a short-term deal to ensure they can get under the luxury tax threshold soon. And three, a starting pitcher. A young one would be preferable. If the Yankees can't get a young starter, I think they'll make a serious run at Rich Hill despite his obvious red flags. He's the only free agent starter who qualifies as an impact pitcher. The guy dominates when healthy. The Yankees will just have to hope they get Hill for 180 innings a year and not 80. I'm on the fence about Hill and right now I lean no. That feels like a move a win-now team makes, not a team in transition, but what do I know? Either way, things are going to start happening now. I'm sure of it.