It's pretty damn difficult for a guy who's over six and a half feet tall to get lost in the proverbial shuffle, but it seems that's what's happened to Aaron Judge during this offseason. Most of the focus has been on just about anyone and anything but him. Even guys yet to make their Major League debuts, like Clint Frazier and Gleyber Torres, have gotten more attention than Judge has during this Hot Stove season. Despite the relative lack of chatter about the big outfielder, his role in 2017 is nonetheless strikingly important.
On a macro level, Judge, along with the other young players on the team, represents the future, the success or failure of this recent rebuild. Fairly or unfairly, he and Gary Sanchez will be under a lot of pressure to perform; and if they don't, I foresee a lot of fans (though not necessarily those reading this site, who tend to be a bit more even tempered about these things) questioning the wisdom of abandoning 'SPEND SPEND SPEND' as a team building strategy in favor of rebuild/reload.
On a micro level, Judge's presence in the lineup, even if he's at a lower position in the batting order, will go along way in determining how strong the Yankees are at the plate. The top of the order seems fairly predictable, reliable, even; we pretty much know what we're going to see from Brett Gardner and Jacoby Ellsbury, as well as Matt Holliday. Sanchez's bat is also a question, but not in terms of talent; we just need to see if he can keep up the power. In the middle and bottom of the order, Greg Bird's shoulder health is a question, as are the statuses of Starlin Castro and Didi Gregorius; they both had great years (relatively speaking) in 2016 and repeating those isn't a guarantee. Which Chase Headley will show up? With improvement from last year, Judge can be a steadying presence in the bottom of the lineup, adding value with power and patience.
Both of those things were on display last year. Judge socked four homers in his 95 plate appearances and posted a .167 ISO. Those aren't horribly impressive numbers, but they're not close to what his true talent level is. With adjustments, we're likely to see those numbers climb. Additionally, he walked 9.5% of the time in 2016, a solid mark for anyone, let alone a rookie with a big strikeout problem.
Aside from those whiffs, Judge will need to improve against lefties, who exploited him big time last year. He hit just .067/.222/.067 against them last year with a 55.6% (!!!!) strikeout rate. The 16.7% walk rate is all well and good, but when it comes with nearly 60% strikeouts and literally zero power, it doesn't mean too much. And how did they do it? Changeups.
Against that pitch, Judge whiffed on 81.82% (!!!!!) of the swings he took. Unsurprisingly, he hit .000 with a .000 slugging against left-handed changeups. If we take a look at this image from Mike's post reviewing Judge's year, we can see a pictorial representation of Judge's struggles when pitchers pulled the string.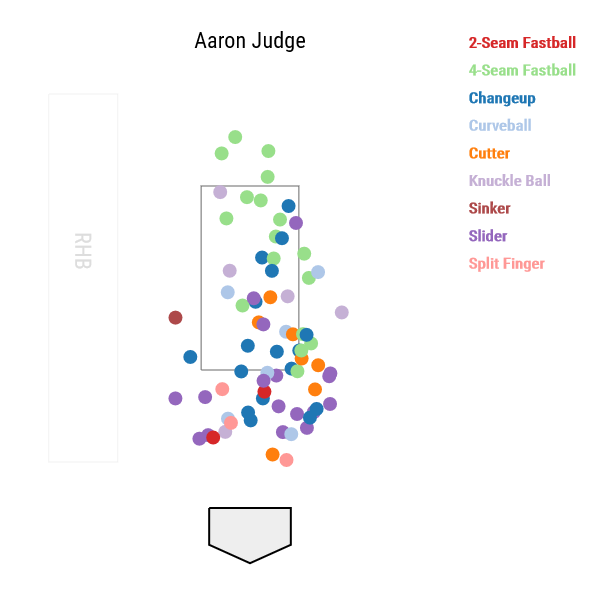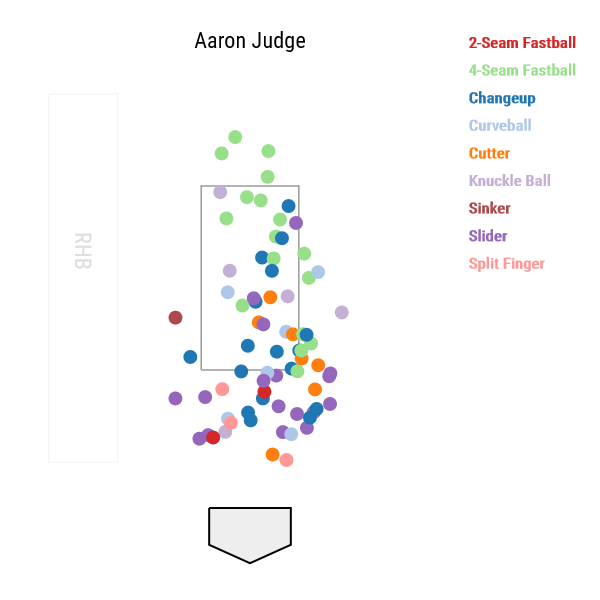 Improvement in general and improvement against lefties are the goals for Judge in 2017. Any progress on those fronts obviously means something good for him, but it also lends credence to a lineup with a lot of questions. Even if he's in the seven, eight, or nine spot, a big year from Judge can make a big difference in the Yankees' offensive production.