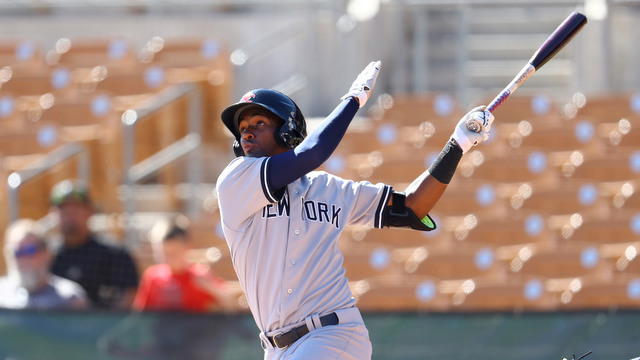 It's that time of year again. Prospect ranking season. Individual team prospect lists have been hitting the internet for weeks now, and in the coming days and weeks, all the major scouting publications will release their top 100 lists and farm system rankings.
Earlier this week, Keith Law released his annual farm system rankings in three subscriber-only pieces: 1-10, 11-20, 21-30. The Diamondbacks currently have baseball's worst farm system, according to Law. The Braves, on the other hand, have the game's best system. They've been hard tanking for a good two years now, so I'd hope so.
The Yankees are second in Law's farm system rankings, sandwiched between the Braves and Padres. Law applauds the "enormous packages" the Yankees received for Andrew Miller and Aroldis Chapman at the deadline last year, as well as their recent drafts. Here's a snippet of his write-up:
The system just keeps on going, with tons of pitching depth, a passel of natural shortstops — we need a better collective noun for that; a "belanger" of shortstops, perhaps -– who will end up playing all over the diamond, and a lot of outfielders who rake. Even Dermis Garcia, who isn't among their 20 best prospects, has 80 raw power and finished second in the advanced-rookie Appalachian League in homers as an 18-year-old.

There's no weakness here. They will trot out teams full of prospects at every level, and several of them will show up in the Bronx this year. I don't know if Gleyber Torres is the new Jeter or James Kaprielian the new Pettitte, but I'll take that bet.
Law mentioned New York's top six prospects were either a recent first round pick or acquired at last year's trade deadline. That means Torres, Kaprielian, Clint Frazier, Justus Sheffield, Aaron Judge, and Blake Rutherford are his top six in some order. Either that or Law really likes J.P. Feyereisen. I assume Jorge Mateo is seventh.
I love top prospects as much as anyone, having a guy like Mateo as your seventh best prospect is pretty wild, but the thing that stands out most to me about the farm system right now is the depth. The Yankees are loaded with players who project to be average big league players. There are about 50 prospects in the system now who would make the top 30 most years. Maybe 60.
As Law said, the Yankees are going to have prospects at every level of the farm system in 2017. We're still weeks away from official minor league assignments, but right now, these guys figure to be the headliners at each level:
Triple-A Scranton: Frazier, Dustin Fowler, Tyler Wade, Jordan Montgomery, Chance Adams
Double-A Trenton: Torres, Sheffield, Miguel Andujar, Billy McKinney, Ian Clarkin
High-A Tampa: Mateo, Kaprielian, Dillon Tate, Albert Abreu, Domingo Acevedo
Low-A Charleston: Rutherford, Garcia, Estevan Florial, Hoy Jun Park
There's some wiggle room there — Mateo could start with Trenton, for example — but generally speaking, those figure to be the Opening Day assignments. And that doesn't include rookie ball kids like Wilkerman Garcia, Diego Castillo, Nelson Gomez, Drew Finley, and Nolan Martinez. Josh Rogers is a three-pitch lefty who had a 2.50 ERA (2.88 FIP) in 147.1 innings at two levels last year and no one talks about him. The system is stacked.
Whether the Yankees can turn this impressive farm system into a consistent contender in the years to come remains to be seen. The fact they have so many prospects, both high-end prospects and depth, bodes very well. Not everyone is going to work out. We know that. The system's sheer volume of talent gives the Yankees many options all around the diamond going forward, and that's exciting.