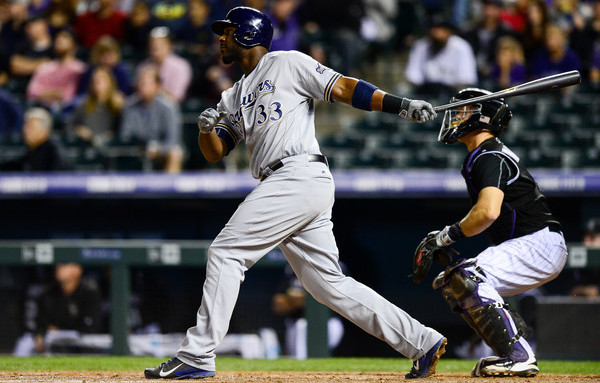 Once the new Yankee Stadium opened and it became clear the short right field porch was even shorter than it had been at the old ballpark, the Yankees started to build their roster around left-handed pull hitters. I mean, they'd always done that, but there was an increased emphasis for sure. It made complete sense too. You tailor your roster to your ballpark since that's where you play the majority of your games. Every team does it.
The Yankees sought left-handed pull hitters whenever possible. When they needed a short-term designated hitter, they signed guys like Nick Johnson and Raul Ibanez and Travis Hafner. Filling out the bench? They brought in Kelly Johnson and Eric Chavez. Brian McCann's pull power from the left side of the plate was one of the biggest reasons the Yankees signed him. No doubt about it.
At the moment the Yankees have three left-handed hitters in their projected 2017 lineup: Brett Gardner, Jacoby Ellsbury, and Didi Gregorius. Greg Bird can make it four should he win the first base job in Spring Training, and he's the only one of those four you'd truly consider as a power hitter, right? Gregorius hit 20 homers last season and that was awesome, but I don't think anyone is counting on him to be a big run producer going forward.
The Yankees actually have more power from the right side of the plate right now. Chris Carter, who will play first base on the days Bird does not, smacked 41 home runs last year. He's hit the eighth most homers in baseball since 2014. Gary Sanchez, Matt Holliday, and Starlin Castro all topped 20 homers in 2016. Sanchez and Holliday didn't even play full seasons. Aaron Judge hit 23 homers in 120 games between Triple-A and MLB.
For the first time in as long as I can remember, the Yankees lineup leans towards the right side of the plate. Go back throughout history and most successful Yankees teams had big lefty bats, from Babe Ruth and Lou Gehrig to Reggie Jackson and Graig Nettles and Chris Chambliss to Paul O'Neill and Tino Martinez. Left-handed power and patience is the franchise's trademark. That isn't the case so much right now.
"The power is not prevalent from the left side. That is the way the dominoes have shaken out," said Brian Cashman to Joel Sherman recently. "There is no think-tank, philosophical change to get away from lefty power. It is how it has shaken out as we tried to upgrade each individual position."
If the Yankees wanted lefty power, they could have added it this offseason. They could have brought in Pedro Alvarez and Brandon Moss instead of Holliday and Carter, for example. Or maybe Adam Lind and Luis Valbuena. There were left-handed pull hitters on the market this winter waiting to be signed. The Yankees went righty instead of lefty, probably because Holliday is a better pure hitter than those guys and Carter has more power than all of them.
The team's lack of left-handed power — Carter hit more homers than Gardner, Ellsbury, and Gregorius (and Bird) combined in 2016 (41 to 36) — does not mean the Yankees will be unable to take advantage of Yankee Stadium's short right field porch in 2017. Last year we saw Castro drive the ball to right field with authority. Holliday and Carter have been doing it for years as well. Check out their line drive and fly ball rates by direction from 2014-16:
| | LD+FB% to Pull | LD+FB% to Middle | LD+FB% to Oppo |
| --- | --- | --- | --- |
| Carter | 51.8% | 80.0% | 90.1% |
| Castro | 31.3% | 51.6% | 74.5% |
| Holliday | 33.9% | 54.3% | 77.9% |
| MLB AVG for RHB | 33.7% | 35.3% | 51.1% |
When Carter has hit a ball the other way over the last three seasons, it's been a fly ball or a line drive more than nine times out of ten. That sounds ridiculous, and it is, but it's not unheard of. Other top right-handed power hitters like J.D. Martinez (90.1%), Kris Bryant (88.6%), and Mike Trout (88.0%) are in the same neighborhood. The best power hitters are the ones who hit the ball out to all fields.
Castro and Holliday don't hit as many line drives and fly balls when going the other way as Carter, but they're still way above the league average for right-handed batters. Roughly three out of every four balls they've hit to right field over the last three seasons have been airborne. Want to take advantage of the short porch as a right-handed hitter? You've got to get the ball in the air when you go the other way, and Carter, Castro, and Holliday are all very good at it.
(Last year, after Tyler Austin hit his walk-off home run against the Rays, I noted how rare it is for a right-handed batter to hit an opposite field home run on an inside pitch. Only eleven righties had done it up to that point last year, and three are now Yankees: Austin, Carter, and Holliday.)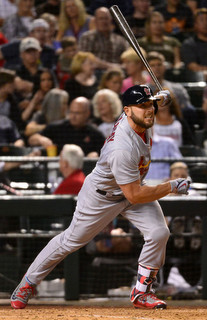 Now, here's the rub: those three don't hit the majority of their batted balls the other way. When they do hit the ball to right field, it tends to be in the air, but like most hitters they mostly hit back up the middle and to the pull side. Since 2014 only 23.0% of Carter's batted balls were to right field. It was 29.9% for Holliday and 22.5% for Castro. This is important context. It's not like these three are hitting every other ball to right field. It's just that when they do go to right field, they often do so in the air. That's good given the short porch.
During their brief big league cameos last season we saw Sanchez and Austin, as well as Judge, hit home runs to right field. All five of Austin's big league homers were opposite field shots at Yankee Stadium. Sanchez hit two out to right field and Judge hit one. Their scouting reports coming up as prospects indicated those guys have opposite field power, especially Sanchez and Judge, so what we saw last year wasn't out of character.
The Yankees aren't very left-handed at the moment. Their best lefty power hitter is Gregorius by default, though a healthy Bird would take over that title. The good news is the Yankees do have plenty of power from the right side, including several righties who are equipped to take advantage of the short right field porch given their tendency to hit the ball in the air the other way. They'll be able to use the short porch without all the annoying grounders pulled into the shift.