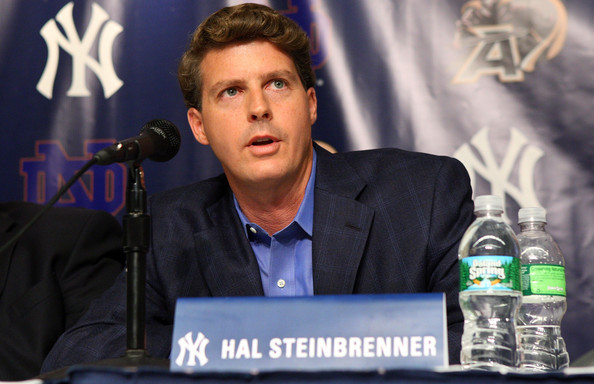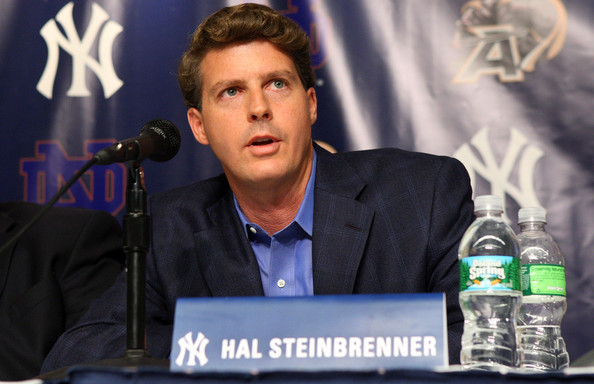 Eleven days from now, pitchers and catchers will report to Tampa and the Yankees will open Spring Training. Among those who will show up for work that day is Aroldis Chapman, the team's new old closer. The Yankees signed Chapman to a five-year deal worth $86M back in December. It includes an opt-out after year three.
Yesterday, at the quarterly owners' meetings, Hal Steinbrenner spoke to Bob Nightengale about Chapman's return to New York, and, well, look:
"Quite frankly it was manageable the minute he got here last year,'' Steinbrenner said at the quarterly owners' meetings Thursday. "He was great. Look, he admitted he messed up. He paid the penalty. Sooner or later, we forget, right? That's the way we're supposed to be in life. He did everything right, and said everything right, when he was with us."
To be fair, Steinbrenner later told David Lennon he meant to say "forgive," not "forget," which is only slightly better. Anyway, Hal's agenda became pretty clear after he acknowledged the Yankees re-signed Chapman in part because he puts butts in the seats.
"They love him,'' Steinbrenner said. "There are so few baseball players that I feel can really get fans to buy a ticket and brings their kids to their game, and he's one of them.''
Please like my temperamental $17M a year closer. That's what this all sounds like. Forget about the ugly stuff and look at those 105 mph fastballs wowie!
The thing is, there is no forgetting, and it's not really up to the fans to forgive. Last winter's alleged domestic violence incident stays with Chapman the same way performance-enhancing drugs stayed with Alex Rodriguez. It's always there with you, subconsciously. You never really forget. It's silly to pretend otherwise. (Also, domestic violence is roughly a bazillion times worse than PEDs, but I digress.)
Steinbrenner committed an awful lot of money to Chapman and he wants fans to like him. I get it. But dude, don't tell people they should forgive him or worse, forget about it. That's one of those things that, even if you believe it, say it in your head and not out loud, you know? This is a sensitive subject. Telling people to forget it ain't cool. As with anything in life, telling people how to feel isn't a great idea.
The Yankees have a chance to be really exciting this coming season because Gary Sanchez and Aaron Judge are going to sock dingers, because Didi Gregorius is going to flash leather at shortstop, and because Masahiro Tanaka is an artist on the mound. Chapman will be part of that excitement too. Fans are under no obligation to forgive him or forget about his history though, whether Hal likes it or not.