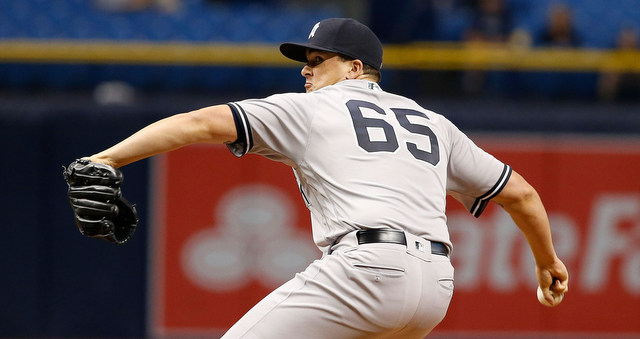 Jonathan Holder | RHP
Background
Holder, now 23, is from Gulfport, Mississippi, where he earned several All-State Team selections at Gulfport High School as a two-way player. He hit .383/.455/.723 with eight home runs in 30 games as a senior while going 8-1 with a 1.36 ERA and 87 strikeouts in 61.2 innings. Despite that performance, Baseball America did not rank Holder among the top 40 prospects from Mississippi or the top 200 prospects overall for the 2011 draft, and he went undrafted out of high school.
Holder instead followed through on his commitment to Mississippi State, where he took over as closer for the Bulldogs almost immediately. He started his college career with a 27.1-inning scoreless streak, longest in school history, and he finished the season with a 0.32 ERA in 28.1 innings. Holder struck out 30, walked five, and saved nine games. Not surprisingly, he was a Freshman All-American.
After the season, Holder suited up for the Wareham Gatemen in the Cape Cod League. He had a 1.99 ERA with 33 strikeouts in 22.2 innings against basically the best college players in the country. The Cape is for the cream of the crop. The best of the best. Wareham won the league championship that year.
With Mississippi State the following year, his sophomore season, Holder threw 54.2 innings with a 1.65 ERA. He struck out 90, walked 17, and tied the SEC single-season record with 21 saves. Holder was a First Team All-American and a finalist for the Stopper of the Year award, which goes to the best reliever in college baseball each year. He struck out a dozen in 9.2 innings with Wareham after the season.
During his junior season Holder saved seven games with a 2.22 ERA in 52.2 innings. He struck out 71 and walked nine. All told, Holder had a 1.59 ERA with 191 strikeouts and 31 walks in 136 innings at Mississippi State. He and Jacob Lindgren formed the best setup man-closer tandem in college baseball in 2014. (Lindgren was the setup man, Holder the closer.)
Baseball America (subs. req'd) ranked Holder as the 11th best prospect in Mississippi and the 286th best prospect overall for the 2014 draft. The Yankees selected him in the sixth round (182nd overall) and signed him quickly for a $170,000 bonus, below the $237,600 slot value.
Pro Career
Following the draft, Holder made a pair of quick tune-up appearances with the rookie Gulf Coast League Yankees before being moved up to Short Season Staten Island. All told, he had a 3.96 ERA (3.01 FIP) with 22.1% strikeouts and 8.4% walk in 36.1 total innings. Holder threw 89 innings between college and pro ball in 2014.
The Yankees, as they've been known to do with relief prospects, moved Holder into the rotation in 2015, his first full pro season. And he pitched really well too. In 118 total innings, almost all with High-A Tampa, Holder had a 2.52 ERA (2.85 FIP) with 18.7% strikeouts and 5.2% walks. It seemed like the conversion took, but alas.
Last season the Yankees moved Holder back to the bullpen full-time, and good golly, he destroyed the minors. He threw 65.1 innings while climbing from High-A Tampa to Triple-A Scranton, and in those 65.1 innings he had a 1.65 ERA (1.30 FIP) with 42.4% strikeouts and 2.9% walks. In his final Triple-A outing, Holder struck out 12 of 13 batters faced as part of a four-inning save that clinched a postseason berth for the RailRiders.
That performance — not just the four-inning save with Triple-A Scranton, the entire season — earned Holder a September call-up. He allowed five runs in 8.1 innings with the Yankees, striking out five and walking four. Not the best big league debut, but that's okay. Last season was an overwhelming success for Holder overall. No doubt about it.
Scouting Report
Big and physical at 6-foot-2 and 235 lbs., Holder is a three-pitch reliever. He sits 92-94 mph with his fastball and will touch 96 mph, and the pitch has a little sink too. His cutter typically hovers around 90 mph. Holder's put-away pitch is a big breaking mid-to-upper-70s curveball. The separation between his fastball and curveball is pretty substantial. Here's some video:
Holder also has a changeup left over from his days as a starter, though he doesn't use it much in relief at all. He's a fastball/cutter/curveball guy nowadays. Holder is a classic bulldog on the mound and an extreme strike-thrower. His fastball command is quite good as well. He likes to pitch up in the zone with his heater to get swings and misses.
The Yankees pulled the plug on Holder as a starter not because of the results, those were excellent, but because his stuff backed up big time. His fastball sat closer to 90 mph as a starter and he couldn't hold that velocity into the middle innings. Some guys are just made for the bullpen. That's Holder.
2017 Outlook
It's not often I write a prospect profile about a guy who has already played in the big leagues. Holder debuted last September and he'll come to Spring Training with a chance to win an Opening Day bullpen spot. In all likelihood, he'll ride the shuttle all season and go back and forth between Scranton and the Bronx. That's how pretty much every reliever breaks into the show.
My Take
I love Holder relative to his draft slot, though I'm not sold on him as a high-leverage reliever at the big league level. These days 92-94 mph is not overpowering velocity, and he's a max effort guy who puts just about everything he has into his fastball to get to that velocity. Also, the curveball is good but not great. It's not a David Robertson curveball, for example. That's okay! Holder is a big league caliber reliever and hey, once upon a time I didn't think Robertson could be a high-leverage guy, so don't listen to me. Either way, we're about to see a whole lot of Holder going forward.