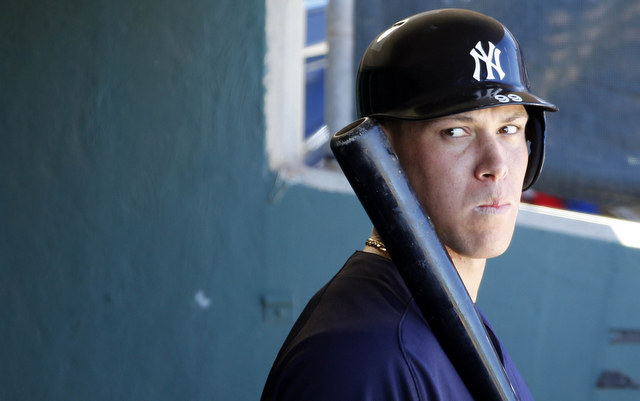 This afternoon the Yankees are playing their second road game and fourth game overall of the Grapefruit League season. So far in their three games they've hit five home runs, second most this spring (the Phillies have six), and man, I am loving it. Long live dingers. We haven't seen nearly enough of them the last four years. Hopefully the trend continues.
What to keep an eye on today? Chad Green, for starters. He's coming off an elbow injury and the other four rotation candidates have all pitched already. They all threw well too. Green will look to do the same today. Greg Bird and Aaron Judge are batting third and fourth in the starting lineup, and, with any luck, we'll get to see them do that for the next five or six years. (Gary Sanchez might have something to say about that.) Anyway, here is the Orioles lineup and here are the players the Yankees sent 60 miles south to Sarasota:
LF Aaron Hicks
C Austin Romine
DH Greg Bird
RF Aaron Judge
1B Rob Refsnyder
2B Ruben Tejada
3B Miguel Andujar
CF Dustin Fowler
SS Jorge Mateo
RHP Chad Green
Available Pitchers: LHP Evan Rutckyj, LHP Joe Mantiply, RHP Gio Gallegos, RHP Kyle Haynes, and RHP Matt Marsh are all scheduled to pitch after Green. LHP Nestor Cortes, LHP Caleb Frare, RHP Jonathan Holder, RHP Yefrey Ramirez, and RHP Matt Wotherspoon also made the trip and are available. Haynes, Marsh, Cortes, Frare, and Wotherspoon are all up from minor league camp for the day.
Available Position Players: C Wilkin Castillo, 1B Kellin Deglan, 2B Thairo Estrada, SS Abi Avelino, 3B Cito Culver, LF Ji-Man Choi, CF Rashad Crawford, RF Clint Frazier, and DH Jorge Saez will be the second string off the bench. C Francisco Diaz, SS Tyler Wade, and OF Billy McKinney will be on the bench as well. Estrada, Avelino, Culver, and Crawford are all up from minor league camp.
It is bright and sunny in Sarasota today. Pretty much perfect Spring Training baseball weather. This afternoon's game will begin a little after 1pm ET. If you're in the Orioles home market, you can watch the game on MASN. If not, you can watch live on MLB Network and MLB.tv. The MLB Network broadcast will be available in the Tri-State Area. You won't be blacked out. Enjoy the game.