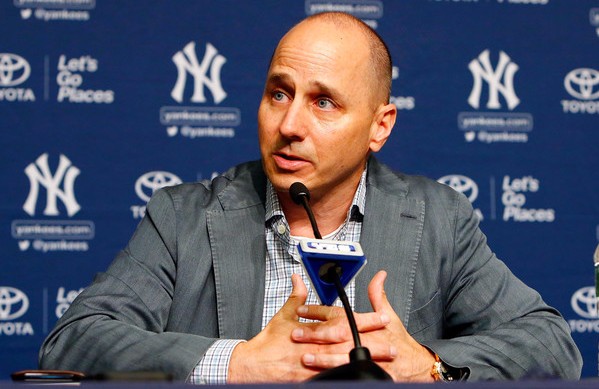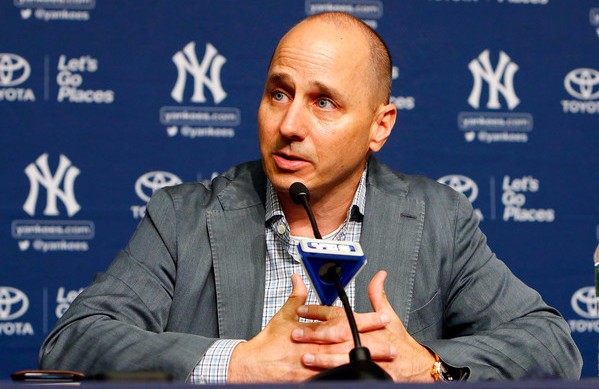 Welcome to another contract year for Brian Cashman.
Don't worry: Cashman has enough job security that he isn't about to trade the farm for some short-sighted fix that harms the Yankees' future. He's acquitted himself quite well over the last two decades and it's hard to imagine anyone else in the job right now. It doesn't hurt that he has a healthy relationship with the Steinbrenner family and Hal in particular.
But this season won't be without some drama for the 49-year-old general manager. There are two scenarios: the good and the bad, both coming with certain pitfalls and questions with which to deal come the trade deadline. Let's dive in.
If the Yankees are winning…
This situation doesn't pose problems so much as it forces choices. If the Yankees are middling at the deadline (near .500 like last year), then the Yankees may make a few minor moves, but they wouldn't be about to trade away a boatload of prospects, particularly for a short-term asset. However, if the Yankees are able to get off to a positive start and build momentum towards the All-Star break, Cashman will be in a strong position to be a buyer.
It's been a minute since the Yankees were really significant buyers at the break, but it's been even longer since the team has had such a strong prospect core. The last time the Yankees' farm system was booming like the present came before Cashman was in charge. Ideally, you want to see this group of prospects come to the majors and be the foundation for future success. But many prospects fail and sometimes you're better off trading them before they're exposed to the majors.
Mike brought up the upcoming 40-man roster crunch and that incentivizes a significant buying effort if the team's major league success calls for it. What better way to solve the 40-man roster crunch than trade players on the 40-man or who need to be added after the season for 1-2 marquee players?
Identifying and prying those players in the right deal will be tough, but man, wouldn't trading some prospects for Jose Quintana be a pretty sweet boost for the pennant race? Quintana may be an Astro by then, but that won't limit the Yankees from being players in the trade market. The team could stand to upgrade multiple rotation spots mid-season, maybe even add a reliever. Plus there are always injuries that come up and force a creative solution to an unforeseen problem. No one thought the Yankees would have needed Bobby Abreu at the start of 2006, but Gary Sheffield was hurt and Cashman pounced at adding the high-OBP right fielder with multiple years of control. The Yankees could have a position of weakness pop up that we don't expect.
The team has to balance the option to buy at the deadline with the plan to get under the luxury tax after next season in preparation for the robust free agent winter of 2018-19. The luxury tax for the 2018 season will be $197 million, but there is also a 50 percent tax for repeat offenders, which the Yankees certainly are until they can get under. Cashman utilized what was left in ownership's budget for this season on Chris Carter's deal, so anything adding money would receive extra scrutiny from ownership. This will need special consideration if there is significant money added to the payroll beyond this season.
If the Yankees are losing…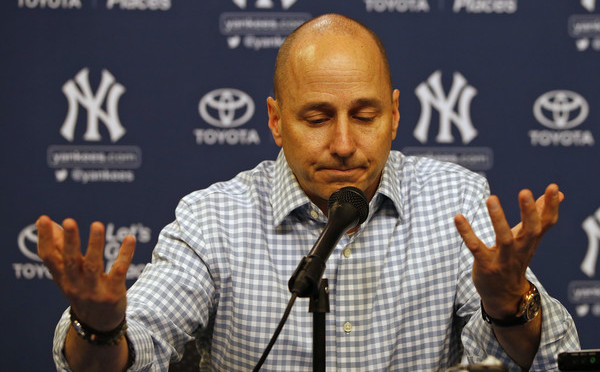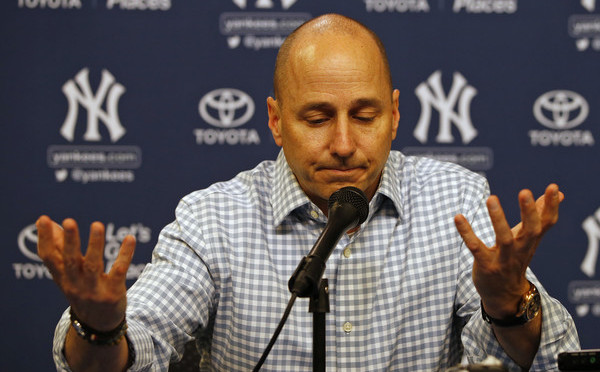 This is where there are going to be some potential problems. If the Yankees are under .500 and hovering near the cellar of the AL East in July, the most obvious solution would be to sell. Give up on expiring assets that you don't want to potentially retain and add to an already substantial farm system. It worked pretty darn well last season.
However, it's not that simple. The team is not giving up on this season easily and refusing to call it's current situation a rebuild: It's a transition and one in which the team wants to be competitive. It's understandable, too: The team wants to win games to keep fans in the seats.
So convincing ownership to sell for a second consecutive season is tough. On top of that, Cashman made two pretty remarkable deals for Andrew Miller and Aroldis Chapman, but unless the team wants to trade Dellin Betances, it's harder to see any one player getting that large a return. Matt Holliday could fetch a minor piece or two. Michael Pineda could be dealt for a return similar to Ivan Nova. Brett Gardner could be attractive. Masahiro Tanaka is where it gets interesting, but his buy-out and elbow create complications.
All of this is to say another sell-it-all summer is unlikely. The team has enough expiring contracts (CC Sabathia, A-Rod, Holliday and possibly Tanaka) to get the payroll underneath the tax next season, but that would also involve relying even further on the young core or bringing in cheap replacements in free agency.
—
It's pretty obvious that one hopes for the first scenario. It's a lot cleaner and likely portends for future success as well, something Cashman has built towards with a tear down in 2016. It's unlikely we see a repeat of that but ninja Cashman could come out and surprise. The Yankees' front office often strikes when least expected. Expectations may be slightly less for the Yankees this season, but the job ahead is the same: Look for potential trades, scout for next season's free agency and prepare for June's draft.