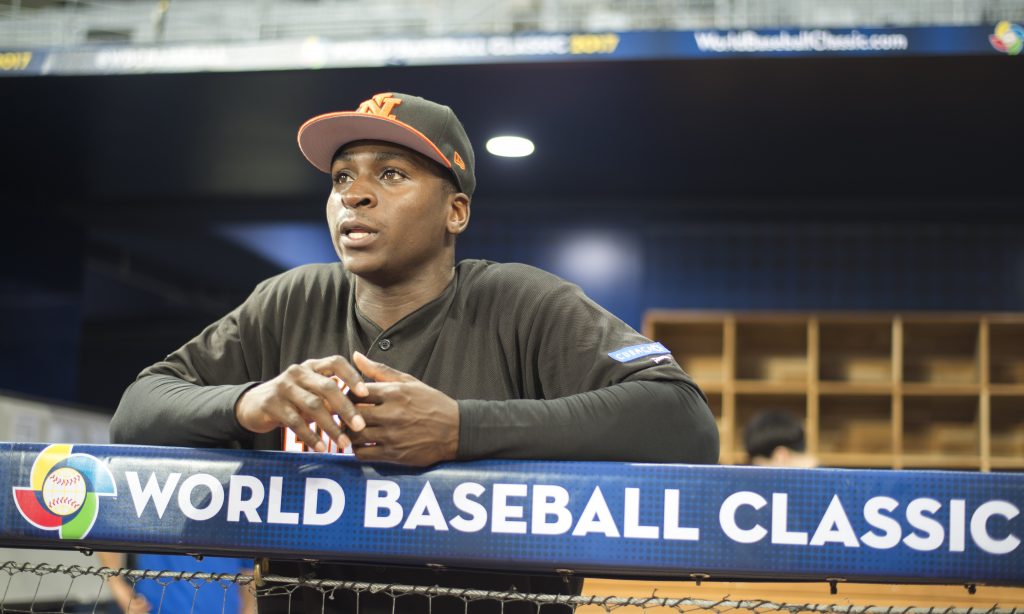 A bit after the Netherlands-Israel World Baseball Classic match at the Gocheok Sky Dome in Seoul, a group of Taiwanese reporters flocked towards the Netherlands dugout as Didi Gregorius stepped outside of the dugout. As one of the reporters finished an interview, she giddily asked Gregorius for a selfie because she "wants to prove that she actually talked to him." Gregorius easily obliged. He (and I) probably knew that the reporter probably wanted one with him regardless because he is Didi Gregorius, a young and rising figure who plays for the famed New York Yankees.
Gregorius spent the past week in Seoul as a member of the Kingdom of the Netherlands team for the 2017 World Baseball Classic. After one of the exhibition matches, Gregorius and several teammates went out and he posted on his Instagram stories a selfie of themselves at a shopping mall.
"I was just walking around," he said. "You gotta experience everything when you're in a different country. I've never been (in Korea) so you gotta walk around and see what they got."
The Korean baseball fans — and many others who traveled to see the games in Seoul — however, got to see what Gregorius has to offer. Gregorius, after hitting a home run in his first Spring Training at-bat this year, did not seem to lose his power stroke in Pool A play of the World Baseball Classic. In three games and twelve at-bats, he has hit for a 1.083 OPS, hitting three doubles and knocking in three. One of the doubles, which came in the bottom of eighth in the game against Taiwan, tied the game up at five and Netherlands went on to walk-off in the ninth to clinch the second round trip to Tokyo.
Gregorius also barely missed a home run earlier in the game, as the ball hit the wall just a few feet shy of being in the seats. It might as well as been a home run in many other ballparks, as the Gocheok Sky Dome is rated below-average for home run rates. Last night, in the Tokyo Dome, Gregorius clobbered a big home run for the Netherlands:
However, Gregorius never looks for home runs when he steps into the box. He is aware of last year's power surge and the expectations that came with it. But when asked if he changed his offseason training regimen to increase power, he immediately shook his head and gave a firm response.
"If I hit a home run, I hit a home run," Gregorius said. "But I'm just trying to drive the ball, try to hit it gap to gap — left field line, right field line — I'm a line drive hitter. If they go out, they go out, but nothing's going to change."
Indeed Didi is a line drive hitter. He's always had a line drive swing that Yankee scouts loved even when his bat did not play out for the Diamondbacks in 2014 (.226/.290/.363 in 299 PA). After hitting for a .276/.304/.447 line with 20 home runs with 70 RBI in 2016 while still displaying slick fielding ability, he's established himself as one of the most fun AL shortstops to watch.
With the Team Netherlands, Didi is teammates with another young AL shortstop, Xander Bogaerts, whom Gregorius acknowledges is a better hitter "if you look at the numbers." While they play for rival teams in the regular season, Gregorius and Bogaerts feel natural playing for a same squad.
"It does not feel weird to play with (Bogaerts) because I played with him when we were young," Gregorius said. "It's just fun because all people (on the team) are from back home representing Netherlands and Curacao. When we're working together, we are a team. When we're playing each other, we don't know each other (laugh)."
Sure, the Red Sox may have a better-hitting shortstop right now, but the Yankees have some great shortstop talent in the minors that could impact the big league team in a few years. There's of course Gleyber Torres and Jorge Mateo. Deeper down, there are Tyler Wade, Wilkerman Garcia, Kyle Holder, Hoy Jun Park, etc., all of whom signed as shortstops but could very well change positions in near future.
Despite the many shortstop talents in the system, Gregorius is not worried about his long-term outlook with the Yankees.
"I'm going to play my game," Gregorius put it succinctly. "They are playing their game too. I cannot judge people on what they do and I cannot worry about it."
Even if any of the younger talents land in the majors, Gregorius is planning to be an embracing "veteran." "When we are on the team, we play together so there's no competition between each other," he said. "Why do I have look out for something that's not even there right now? (To them) I'm a so-called veteran so they come to me and I pass along what A-Rod and all those guys taught me. I hope every young guy goes a long way because you want them to be successful."
Gregorius, of course, was once in their shoes before. Breaking into the bigs in 2012, it took him until 2015 to be a solid regular and the work ethic that scouts raved about and guidance from older players took his play to the next level in 2016. Prior to that though, he has had to go back and forth between Triple-A and MLB in the both Reds and Diamondbacks systems. He is aware of the challenges of having to transition as an ML player and has the right intentions – guide them through the most crucial part of their career.
Not only Gregorius cares about the younger players, but also he has looked out for the fans during Pool A play of the World Baseball Classic. After Netherlands defeated Taiwan in a dramatic walk-off affair, he walked over to the Royal Diamond seats (the seats directly behind the home plate and by the dugouts in Gocheok) to sign each autographs for each fan and take selfies while his teammates had gone into the clubhouse to celebrate the win.
In each instance I have been around him, Gregorius is upbeat, smiling, not saying "no" to fans and generally being positive to whatever is in his sight. His positive attitude rings in his answer when asked what his 2017 goal is.
"Win a ring. That's it," he said. "We got a lot of talent and a lot of young guys coming up so wait for the season."