Got eleven questions for you in the mailbag this week, the final mailbag before the start of the regular season. I'm excited. Are you? Hope so. This should be a fun year. RABmailbag (at) gmail (dot) com is where you can email us your questions throughout the week.
Also, don't forget to vote for the 2017 Prospect Watch! Voting closes at 12pm ET.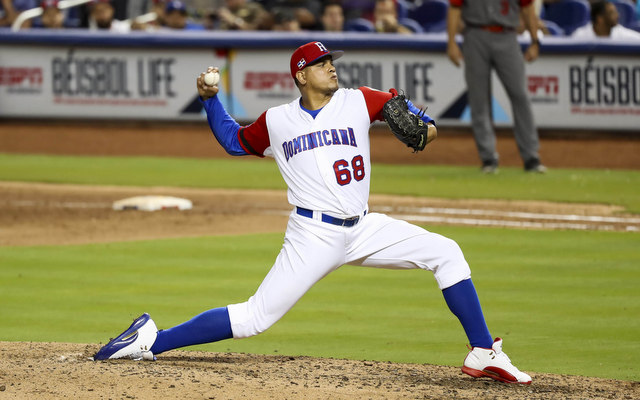 Seamus asks: I know Dellin Betances doesn't really ramp up his velocity until the end of spring training/beginning of the regular season. I think he topped out at 95 today. I was wondering what his velocity was during the World Baseball Classic? Did he up it to his normal velocity for the tournament?
This question was sent in last Friday, following Dellin's first appearance with the Yankees after returning from the World Baseball Classic. There's no PitchFX in the Grapefruit League, so any velocity readings for Betances in Florida are based on the scoreboard or a scout's gun, if that information is available. Here are the fastball velocity numbers from his five WBC appearances, per PitchFX since the games were in MLB ballparks:
March 9th: 97.1 mph average and 97.8 mph max
March 12th: 97.6 mph average and 98.5 mph max
March 14th: 96.7 mph average and 98.3 mph max
March 16th: 97.6 mph average and 99.2 mph max
March 18th: 98.1 mph average and 99.2 mph max
Last season Betances averaged 98.4 mph and topped out at 102.0 mph (!) during the regular season, so while he's been a little below that this spring, keep in mind Dellin has been a slow starter in the velocity department the last few seasons. From Brooks Baseball: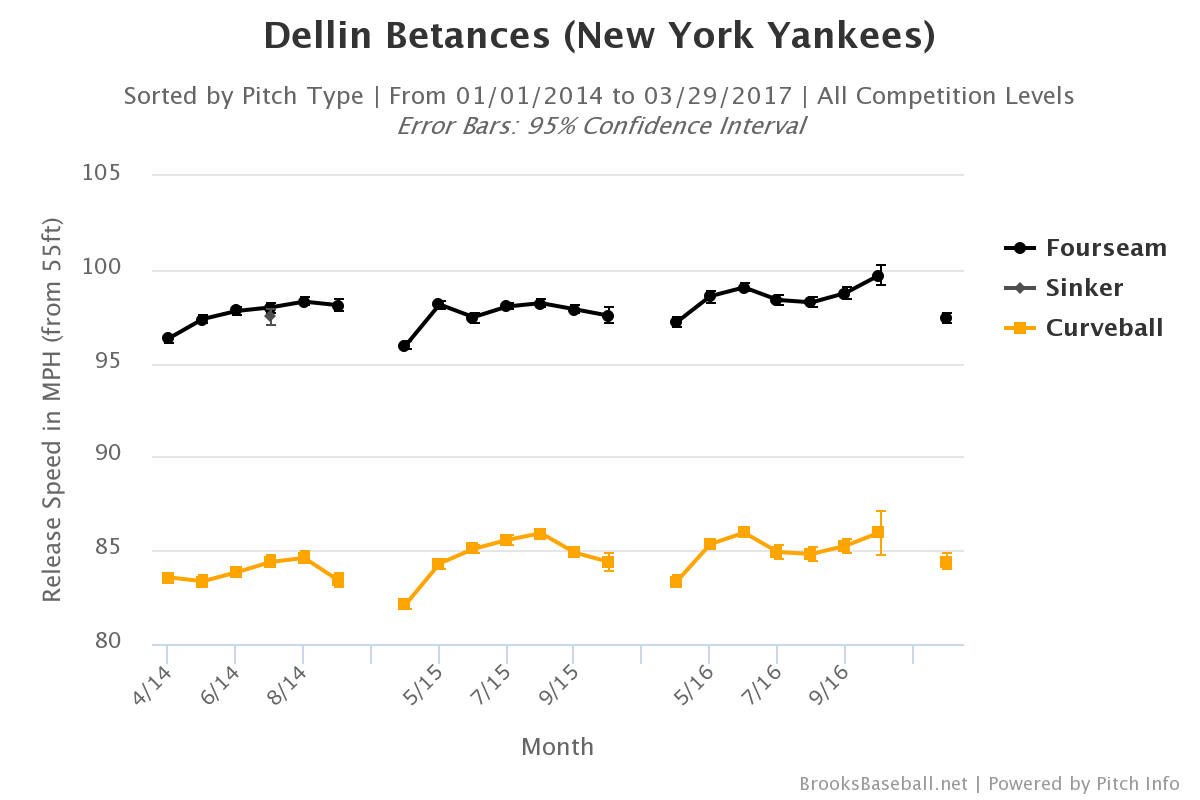 April has always been Betances' worst month of the season in terms of average velocity. He, like many other pitchers, tend to ramp it up in the summer months, when it's hot and they can really get loose and air it out. Having watched each of Dellin's televised outings this spring, both with the Yankees and in the WBC, I can tell you he looks pretty much exactly like Dellin Betances. No worries for me here. That 95 mph reading last Friday was probably the result of a lack of a reliable radar gun.
Anonymous: The Yankees have won a lot of spring training games this year, but how much of this exhibition game success is due to the superiority of the team's minor league talent vs the milb talent of other teams? Can this success be quantified by throwing out late-inning scores, concentrating on innings in which major leaguers play against major leaguers (e.g., starting pitching in AWAY games), or some other method? Would any of these exercises be more predictive of regular season success than the uselessness of raw ST records?
The Yankees have had a lot of late-inning comeback wins this spring — they're 25-8-1 overall (counting the exhibition game against Team Canada) and have already clinched the best record in all of Spring Training — which suggests the prospects and minor leaguers are doing most of the heavy lifting in those games. Here's a quick breakdown:
Number of games leading after six innings: 18 (18-0 record in those games, though on one occasion they blew the lead, then rallied to win anyway)
Number of games tied after six innings: 6 (3-2-1 record in those games, and in the tie they rallied in the ninth to tie the game after the other team took the lead in the late innings)
Number of games trailing after six innings: 10 (4-6 record in those games)
Yup, there have definitely been a few late inning comebacks this spring, especially over the last week or so. The Yankees have a couple of walk-off wins last week, and a few other games in which they rallied late for a win. That wasn't happening all spring though. Early on the Yankees were bludgeoning teams. They'd take the lead early and hold it the rest of the game. There's some recency bias to the whole "the kids keeps coming back and that's why they're winning" idea.
I don't think this means much of anything anyway. Yeah, the Yankees have a great farm system, so having the extra talent helps, but that in and of itself doesn't guarantee success. Craig Gentry, a light hitting journeyman speedster, is hitting .333/.443/.549 in 62 plate appearances for the Orioles this spring. Does that mean anything? No. It just means weird stuff happens in small samples, especially when you throw in the noise of Spring Training.
I would absolutely love it if the Yankees' spring record meant something, be it their ability to contend this year or their ability to contend down the road, when some of the prospects arrive. It doesn't though. Spring Training is meaningless because it's always been meaningless. The Cubs have as much young talent as anyone and they went 11-19 last spring. They're 12-17 this spring. It doesn't mean anything. Just enjoy the spring for what it is, silly stress-free baseball.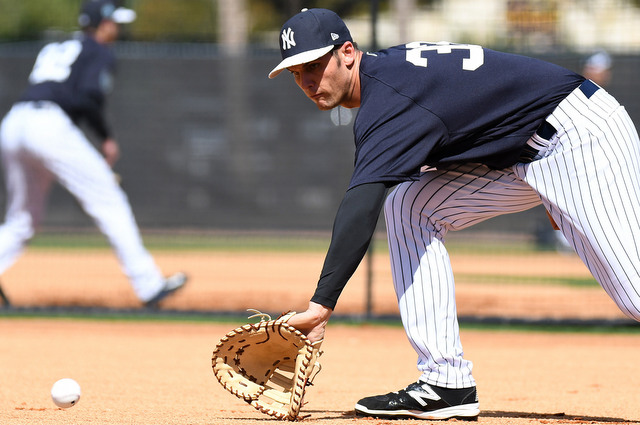 Daryl: Can you talk about Bird's defense compared to league average? When Bird played 1st, I thought he handled it well over that, what? 1/3rd of the season? I think Mark Teixeira was one of the best 1st basemen defensively during his career- Is bird's defense terrible bad, mediocre, or just bad when comparing him to a perennial gold glover?
There's no good way to evaluate first base defense. The stats have a hard time at first base because it's not really a range-based position. No team is looking for a first baseman who can cover a lot of ground. They're looking at how someone moves around the first base bag, how he receives throws from other infielders, and how well he can throw home and to second base for force plays. That's pretty much it.
Both DRS (-3) and UZR (-1.2) say Greg Bird cost the Yankees runs in his 379.2 innings at first base in 2015, and while those specific numbers mean nothing, in this case they do match the scouting reports. Baseball America (subs. req'd) called Bird "average around the bag" prior to that 2015 season. MLB.com said he has "adequate range and arm strength at first base, though he gets credit for working hard on his defense." Keith Law (subs. req'd) said Bird "still needs work on fielding ground balls."
Bird has made some nice scoops at first base this spring, though that doesn't mean a whole lot. Every first baseman makes a nice scoop now and then. Jason Giambi was a pretty good scooper despite being a pretty terrible defensive first baseman overall. Based on what I've seen, which admittedly isn't much, I'd say Bird's defense is average or slightly below. Not a disaster but not a guy who will save you a ton of runs either. He's a bat first player and that is perfectly fine.
Nico asks: Is there anything legally prohibiting "loan" trades? Eg you have a young star closer but are out of contention in July, so you loan him to a contender for the rest of the year, but he comes back to you for the rest of his contract starting next season. Could you ever see it??
There's nothing against that in the rules as far as I know. And besides, even if there was, it seems like it would be easy to circumvent. The question is what's appropriate compensation? The Yankees aren't going to, say, lend Betances to the Nationals for August, September, and the postseason out of the kindness of their heart. They're going to want something in return, even if they know they'll get Betances back following the season. I sure as hell wouldn't risk my player getting hurt while with another team and accept nothing in return.
Perhaps the Yankees and Nationals could agree to a fair value trade like Betances for four prospects, something along those lines, and if Betances gets hurt while with Washington, the Yankees keep the prospects. If not, they return three of the four prospects and get Dellin back after the season. Eh? The team loaning the player would have to get something out of the deal, otherwise there's no reason to agree to it. It's all downside.
Mark asks: If an MiLB player is suspended for a PED offense, what happens to his roster spot? Is the team forced to play short-handed?
Oh no, definitely not. It works the same was as an MLB player getting suspended for performance-enhancing drugs. He is placed on the restricted list and the team can bring in another player to fill in the roster spot. Playing shorthanded isn't safe. The MLBPA is pushing for a 26th roster spot so players can get more rest and pitchers won't be overworked. Forcing a team, especially a minor league team given all the bus rides and pitchers on innings limits, to play with 24 players because one guy got busted for PEDs wouldn't be right.
Thomas asks: Just wondering about the retention bonuses that certain players can receive, depending on their roster status – we've seen a bunch of teams cut and re-sign a player to avoid paying these bonuses (such as Jon Niese, potentially), but why is there never any controversy about this? Couldn't it be seen as similar to messing with a player's service time, or trying to get around luxury tax requirements?
The $100,000 retention bonus is written into the Collective Bargaining Agreement. Any player with at least six years of big league service time who signs a minor league contract gets the retention bonus if he's not on the 40-man roster by a certain date and an automatic June 1st opt-out if he's not on the roster. The Yankees released Niese on March 26th then re-signed him on March 28th, allowing them to avoid paying him the $100,000. Other teams like the Diamondbacks (Gregor Blanco) and Orioles (Chris Johnson) did the same thing this year. The Dodgers opted to pay Brandon Morrow the retention bonus.
I'm honestly not sure why the MLBPA hasn't made a bigger stink about this, though I suspect it has something to do with the player requesting his release. Niese, for example, could have told the Yankees he wants to see whether another team would carry him on their Opening Day roster, so they granted him his release so he could go look for work. And when nothing panned out, he returned. Niese has banked over $26M in his career to date, so he might not be sweating that $100,000 much. That sound possible? The release/re-sign move happens multiple times every year and no one complains or files a grievance, and the rule wasn't changed in the latest CBA. Could it really be this easy to circumvent?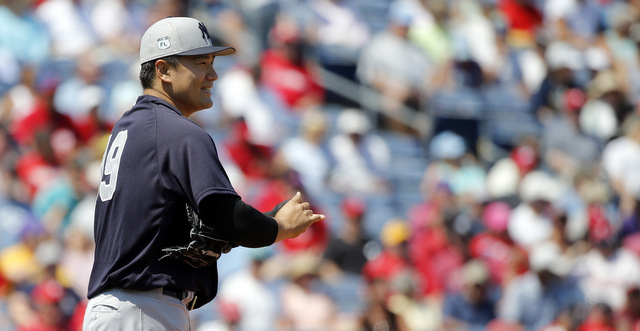 Daniel asks: If a team (say, the Astros) offered to take Jacoby Ellsbury and every penny of his contract, would that be enough to entice the Yankees to accept lesser prospects in a trade for Tanaka? Kind of makes sense from a business perspective.
It only makes sense if the goal is to save money, not maximize your talent base. Other teams have made similar trades because they don't have the same financial resources as the Yankees. The Braves attached Craig Kimbrel to Melvin Upton in order to unload his contract, for example. The Pirates attached prospects to Francisco Liriano to get rid of his contract. The Yankees have the money to absorb Ellsbury's contract. Attaching him to a player as good as Masahiro Tanaka simply to save a few bucks doesn't sit well with me at all. If you're going to trade Tanaka, trade him for prospects, not salary relief. It's bad enough the Yankees are caving to MLB and throwing away their financial advantage by getting under the luxury tax threshold. Imagine trading actual good players simply to get rid of a bad player's contract. Good grief.
Jon asks: Hey Mike, if Judge is sent down to SWB to start the year how many days approx. would he have to stay down to buy back a full year of ML time?
This question was sent in before we learned Aaron Judge would be the starting right fielder. Of course, that doesn't mean Judge will stay in the big leagues all season. He could struggle and wind up back in Triple-A, similar to Luis Severino last season. I don't think it'll happen, but it is definitely possible. Anyway, 63 days is the magic number here. Judge has 51 days of service time, so add the 12 days necessary to delay free agency and you're at 63 days. Two months, basically. (Teams usually wait a little longer than 12 days just to a) play it safe, and b) be less obvious about it.) Keep in mind Judge is going to turn 25 in April, so delaying free agency means we're talking about capturing his age 31 season in 2023. I'm not so worried about that. This isn't like delaying Gary Sanchez's free agency last year to capture his age 29 season. Service time shouldn't be a consideration for Judge. Let the kid play.
Daniel asks (short version): If the Yankees are buyers at the deadline and the Orioles are near last place, could you see the Yankees trading for Machado? If so, do you think they would go over the luxury tax cap in order to work out a long-term deal?
You know, it's not crazy to think the O's may have to trade Manny Machado at some point. If they determine they won't be able to re-sign him following the 2018 season, trading him for a godfather package makes way more sense than letting him walk for a dinky draft pick. I suppose it depends on where they are in the standings and all that, but yeah, a Machado trade at some point in the next 16 months or so doesn't seem insane.
A few things about the Yankees and a Machado trade. One, the chances of a Yankees-Orioles trade of this magnitude are tiny. The O's don't want to see Machado thrive in New York and the Yankees don't want to see their prospects thrive in Baltimore. There's a reason blockbuster intradivision trades are so rare. Two, a lot will depend on where the Yankees are in the standings. If they're contending, I think they'd be more open to a Machado trade. If not, forget it. They'll keep the prospects.
And third, do the Yankees think it's possible to sign Machado to an extension, or is he dead set on testing free agency? If there are any doubts about being able to sign him, I think the Yankees will pass. I don't think the luxury tax situation will be a big concern because that is workable, but I don't think they want to give up a boatload of prospects for Machado knowing he's definitely going to become a free agent after next season, even if they're in the race at the trade deadline. Ultimately, I think the Yankees-Orioles intradivision dynamic means a trade won't happen. The O's won't have any problem finding other suitors with great prospects to offer.
Andrew asks: I feel like we didn't hear anything about Kap during spring training. What's his status?
Healthy and ready to go. The Yankees took is slow with James Kaprielian early in Spring Training following last year's elbow injury, though they did let him make one Grapefruit League appearance two weeks ago. He struck out three in two scoreless innings. Kaprielian was sent to minor league camp later that day and he's been pitching on the other side of the street since. He struck out six in four innings and change this past Sunday, according to Josh Norris. Kaprielian will start the season with High-A Tampa, and while the Yankees figure to keep him on some sort of pitch/workload limit early on, he's good to go. Elbow is good and he's thrown well this spring.
Aleesandro asks: This is hard to quantify, but how much would the Yankees retaining Robinson Cano have affected the team's current farm system? If they had kept him, how much longer would they have pushed to be a contender?
Yeah, that's pretty much impossible to answer. The Yankees would be a better team right now with Cano because he's better than Starlin Castro and Ellsbury (combined), and that's effectively who replaced him. Ellsbury got the big contract the Yankees were going to give Cano, and Castro has taken over at second base. Robbie would have likely helped the Yankees win a few more games these last three years, which means a worse draft slot (no Kaprielian? no Blake Rutherford?) and perhaps no fire sale at the 2016 trade deadline.
Then again, who's to say the Yankees wouldn't have been able to draft Kaprielian and Rutherford anyway, and that Cano himself wouldn't have been traded for even more prospects at last year's deadline? Chances are the farm system wouldn't be as good as it is right now because so much had to go right to get it where it is. Rutherford had to fall for bonus reasons, for example, and both the Andrew Miller and Aroldis Chapman trades were perfect storms. Re-signing Cano would have changed everything. The payroll situation, the team-building strategy, everything.