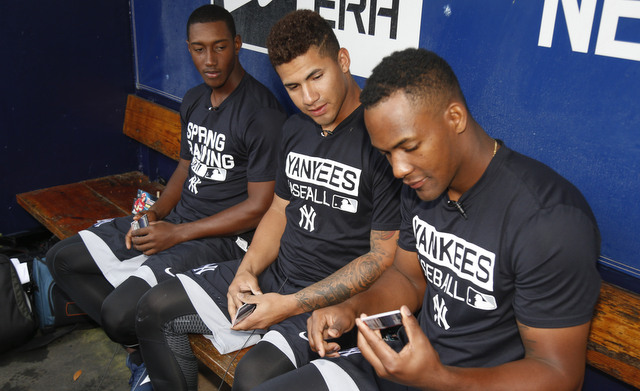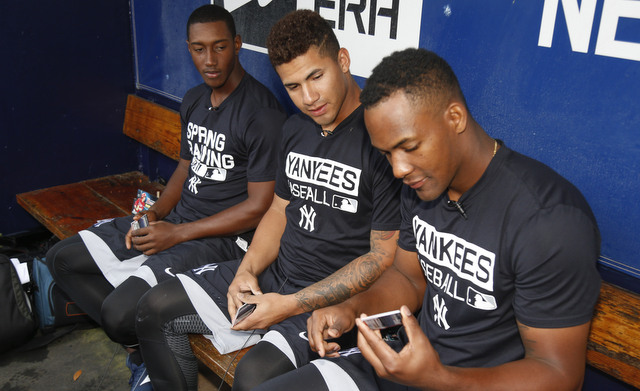 One of our longest running features — I hesitate to call it a feature, but whatever — here at RAB is our annual Prospect Watch. We pick a prospect and track his progress throughout the season in the sidebar. Simple, right? Also kinda silly, but hey, people seem to like it, so it continues. Think of it as the player's FanGraphs page in the sidebar.
Once upon a time I would make an executive decision and pick the Prospect Watch player myself, then a few years ago I decided to open it up to you folks, the readers, and that works well. This is a good year for a poll too. The Yankees are loaded with prospects. I had a hard time limiting myself to only eight Prospect Watch candidates for this year's poll. I could have easily listed several more.
I don't believe the Prospect Watch Curse is a thing so, once again, this year's poll features top prospects. Shall we get to the candidates? We shall. They're listed alphabetically and the number next to their name is where they ranked in my top 30 prospects list.
RHP Chance Adams (No. 11)
The Case For Adams: Few pitchers in all of minor league baseball had a better statistical season in 2016 than the 22-year-old Adams, who threw 127.1 innings with a 2.33 ERA (2.96 FIP) and 29.1% strikeouts between Double-A and Triple-A. He showed he can handle the rigors of starting after being drafted as a reliever in 2015, most notably holding his mid-90s velocity deep into starts. Adams also improved his curveball and changeup. He'll begin 2017 in Triple-A, which means he's knocking on the door of the big leagues.
The Case Against Adams: As we learned last year, pitchers have a tendency to get hurt, which means the Prospect Watch could potentially go dormant for weeks at a time. Also, Adams has spent only one year as a starter, and it's possible his body won't be too happy about going through a big workload for the second straight season. He also isn't shy about walking hitters (7.9% in 2016) and that has a tendency to ugly up stat lines. And there's the possibility the Yankees will call Adams up to work in relief at some point, and given Joe Girardi's tendency to ease young relievers into things, the Prospect Watch could morph into a Mop Up Reliever Watch.
3B Miguel Andujar (No. 8)
The Case For Andujar: Very quietly, the just turned 22-year-old Andujar broke out with a career year in 2016, setting a new career high with 12 home runs. He also struck out only 12.9% of the time against the best pitching he's ever faced. Andujar has made some nice progress with his pitch recognition, so he's doing a better job attacking hittable pitches and letting the less hittable ones go by. Making easy contact can be a curse. Last year felt like the start of something big for Andujar.
The Case Against Andujar: Andujar's career season last year featured only a .271/.331/.403 (108 wRC+) batting line in nearly 700 total plate appearances between High-A Tampa, Double-A Trenton, and the Arizona Fall League. That's good, but it's not "hey let's get this guy in the sidebar so I can see his stats everyday" good. Keep in mind a big chunk of Andujar's prospect stock is tied up in his defense as well, specifically his cannon arm at third. That won't show up in the Prospect Watch.
OF Clint Frazier (No. 2)
The Case For Frazier: Frazier, 22, ranked no lower than 39th on the four major top 100 prospect lists released this spring (Baseball America, Baseball Prospectus, Keith Law, MLB.com), so he has considerable upside. Even last season, before he hit some bumps in the road in Triple-A, he hit .276/.356/.469 (129 wRC+) with 13 home runs in 89 Double-A games despite being more than three years younger than the average Eastern League player. Frazier has the tools to hit for both average and power, and he'll steal a few bases too.
The Case Against Frazier: Unfortunately, those Triple-A struggles did happen, and we can't ignore them. He hit .229/.285/.359 (83 wRC+) with a 27.9% strikeout rate in 38 Triple-A games with the Indians and Yankees, and Frazier is going to return to that level to start the season. That doesn't mean he'll definitely struggle again. Frazier wasn't the first player to have a hard time in his first trip through Triple-A and he won't be the last. It's just something we have to be aware of. Frazier struggled really for the first time in his life late last season.
RHP James Kaprielian (No. 5)
The Case For Kaprielian: With a healthy elbow, the just turned 23-year-old Kaprielian is poised to carve up hitters in the low minors this season. PitchFX data from the Arizona Fall League last year had his fastball averaging 95.7 mph and topping out at 99.1 mph. Add in three quality secondary pitches (slider, curveball, changeup) and good enough command, plus a ton of competitiveness, and you've got a recipe for a top pitching prospect. The four scouting publications ranked Kaprielian as the 58th best prospect in baseball, on average.
The Case Against Kaprielian: As you know, Kaprielian was our Prospect Watch player last season, and he hurt his elbow and missed most of the regular season. Three starts with High-A Tampa and that was it. The Prospect Watch went unused from late April through the start of the AzFL season in October. That was so incredibly lame. Kaprielian is said to be healthy right now, but the best predictor of future injury is still past injury, and Grandmaster Kap is coming back from a fairly significant arm issue.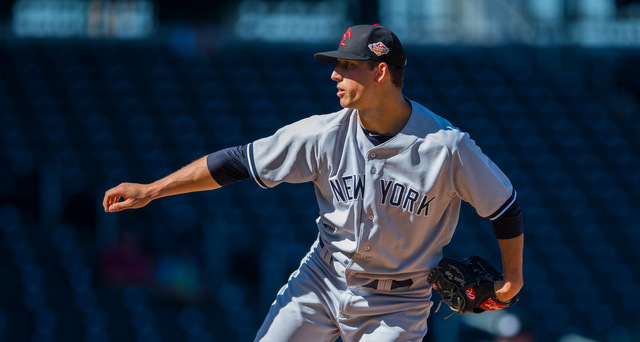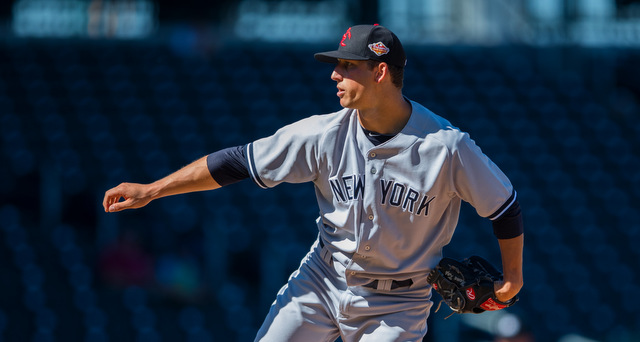 SS/CF Jorge Mateo (No. 7)
The Case For Mateo: I'm not sure any prospect in the farm system is better at filling up every column in the box score than Mateo. Doubles, triples, homers, steals, the whole nine. Mateo, 21, remains an excellent athlete with a true 80 tool (speed) and developing power — he set a career high with eight home runs last season after hitting one outside-the-park homer in 2015. The ongoing transition to center field means nothing for Prospect Watch purposes, though there is reason to believe Mateo will be playing with a big chip on his shoulder.
The Cast Against Mateo: There's really no way to sugarcoat it: Mateo had a very disappointing 2016 season. He hit .254/.306/.379 (99 wRC+) with 36 steals in 51 attempts (71% success rate) in 507 plate appearances at High-A Tampa, and he was suspended two weeks for an undisclosed violation of team rules in July. Not great! The last thing we all want, aside from an injury, is to vote a prospect into the Prospect Watch and see him have a year like Mateo did in 2016.
OF Blake Rutherford (No. 4)
The Case For Rutherford: Rutherford, 19, was the Yankees' first round pick last season, and he authored a .351/.415/.570 (171 wRC+) batting line with three homers and a 10.0% walk rate in 130 rookie ball plate appearances in his pro debut last year. He was a consensus top ten draft talent who slipped to the Yankees mostly for bonus reasons, and this spring the various scouting publications have ranked him as 38th best prospect in baseball, on average. Meet the Next Big Thing.
The Case Against Rutherford: I don't think this will happen, but it is entirely possible the Yankees will hold Rutherford back in Extended Spring Training to start the season, which would mean the Prospect Watch sits unused for a few weeks, possibly until the short season leagues open in late-June. Again, I don't think that will happen, but it is a possibility. Also, even if the Yankees do send Rutherford to Low-A Charleston, it wouldn't be a surprise if the 19-year-old has some ups and down during his first full pro season.
LHP Justus Sheffield (No. 6)
The Case For Sheffield: Sheffield is the team's best pitching prospect with no sort of injury history. The 20-year-old reached Double-A last season and he threw 134 total innings with a 3.36 ERA (3.61 FIP) in 2016. He also struck out 24.2% of the batters he faced, which is pretty darn good for a kid this age. Sheffield has good velocity despite being on the short side, plus both his slider and changeup are put-away pitches on their best days. It can be easy to forget how good Sheffield is given the depth of this farm system.
The Case Against Sheffield: Again, there's the whole "pitchers break" thing that has to be considered. Sheffield hasn't had any injury problems in his career thus far, but then again neither did Kaprielian until last year. Such is life. It's also worth noting Sheffield walked 10.4% of the batters he faced last season, which is pretty high. The weird thing is he's a great athlete who repeats his delivery well, so it's hard to explain why he's had problems throwing strikes.
SS Gleyber Torres (No. 1)
The Case For Torres: Torres, 20, is the best prospect in the farm system and one of the very best in baseball. Baseball Prospectus was the low site on him, ranking him 15th in their top 101 list, while the other three scouting publications (Baseball America, Keith Law, MLB.com) all had Torres among the top five prospects in the game. Gleyber hit .283/.368/.438 (128 wRC+) with 14 homers and 25 stolen bases last season, plus his walk (11.1%) and strikeout (19.3%) rates were strong for a teenager who spent the entire season in High-A. Torres has star caliber tools and his placement in the various top 100 lists tells you everyone expects big things.
The Case Against Torres: I'm having a tough time coming up with one, to be honest. There's the obvious "being a 20-year-old in Double-A is hard" caveat, and I suppose we should keep in mind the Yankees figure to move Torres around the infield a bit, and all the position changing could drag down his offense. Hopefully not, but it is possible. Every prospect carries some level of risk. That's the way it is. Gleyber is so insanely talented that he carries less risk than most.
* * *
I ranked Aaron Judge as the third best prospect in the farm system, but I'm leaving him out of the Prospect Watch poll because he's expected to spend most of the season in the big leagues. We're going to see him nearly every day. I originally started the Prospect Watch as a way to keep tabs on the guys in the minors, who we don't get to see play.
Anyway, with all due respect to guys like Albert Abreu and Dustin Fowler and Dillon Tate, those are the eight players eligible for this year's Prospect Watch. The poll is open right now and will remain open until 12pm ET this Friday, so you've got a little less than 48 hours to vote. I'll reveal the winner Friday afternoon. Now … go vote!
Who should be the 2017 Prospect Watch?