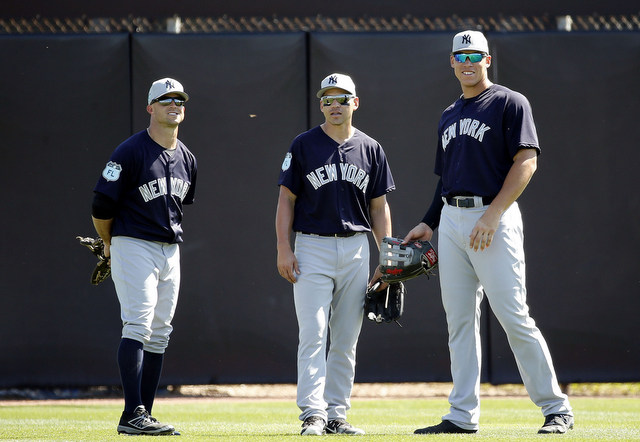 This coming Sunday the Yankees will open the 2017 regular season with the first of three games against the Rays in Tampa. I can't wait. They're going to play literally the first game of the entire season, you know. The season opener is a 1:10pm ET start on Sunday. There are two other games later that day before the traditional Opening Day around the league Monday.
So, with Spring Training nearing an end and the regular season only four days away, I figured I'd come up with some bold and completely unnecessary predictions for the 2017 season, because why not? I came up with ten because ten is a nice round number, and if three are correct, I'll be pretty pleased. Four would be cool. Anyway, here are my ten stupidly bold predictions for the 2017 season, in no particular order.
1. Pitchers not currently on the 40-man roster combine for 30+ starts.
Some of these predictions are more bold than others, and this one is lacking in the boldness, I'd say. Even if the Yankees don't carry Jordan Montgomery on the Opening Day roster, he's put himself in position for an early call-up. It's not at all difficult to imagine him making, say, 20 starts for the Yankees this season. Chance Adams and the lesser hyped Daniel Camarena will be looming in Triple-A Scranton too, and I get the feeling the Yankees will wind up bringing in a little outside help at some point as well.
2. Judge finishes in the top three of the Rookie of the Year voting.
Many folks have jumped off the bandwagon, scared away by those 42 strikeouts in 95 plate appearances last season. Me? I am still very much on board because Aaron Judge is a better pure hitter than he gets credit for, because he's shown the willingness and ability to make adjustments throughout his career, and because few make as much loud contact. My prediction is the very idea Judge had to compete with Aaron Hicks for the right field job this spring is going to look silly in a few weeks, and big power numbers will have Judge firmly in the Rookie of the Year conversation come September.
3. A pitcher other than Tanaka, Betances, and Chapman makes the All-Star Team.
Along with Gary Sanchez, the pitching trio of Masahiro Tanaka, Dellin Betances, and Aroldis Chapman are the super early candidates to represent the Yankees at the All-Star Game. I think they'll send a pitcher other than those three to the Midsummer Classic as well. Who? Well that's the mystery. My guess right now would be Michael Pineda. He certainly has the stuff and swing-and-miss ability. It's just a matter of better location and perhaps a little more luck on balls in play. Pineda was an All-Star with the Mariners back in 2011, remember. I think this guy was lost forever following the shoulder surgery:
(Fun Fact: Betances is one of only five pitchers to go to the All-Star Game in each of the last three seasons along with Chris Sale, Clayton Kershaw, Max Scherzer, and Madison Bumgarner. The four best starters and the best reliever on the planet, basically.)
4. Green emerges as the next great Yankees reliever.
I like Chad Green. The Yankees did a nice job identifying an unheralded pitching prospect in another organization who had room for growth, and they helped him take that next step last season. Green improved the quality of his slider in Spring Training thanks to pitching coach Larry Rothschild, then, while in Triple-A, he learned a cutter as well. His MLB debut last season wasn't great (4.73 ERA and 5.34 FIP in 45.2 innings) though he has some tools on the mound.
One of those tools is not a changeup. Green has been working to add either a changeup or splitter to his arsenal over the years and it just isn't working. At some point this year he will inevitably find himself working out of the bullpen, and I think once that happens, Green will be so dominant the Yankees will just leave him there. His fastball averaged 95.4 mph as a starter last season with a 26.3% strikeout rate. Let him air it out as a fastball/slider pitcher for one inning at a time in relief, and Green will join Betances and Chapman to form a three-headed bullpen monster.
5. Neither Sanchez nor Bird will lead the Yankees in home runs.
These two are the obvious candidates to lead the Yankees in home runs this season, right? Sanchez socked 20 homers in 53 games last year, and while I don't think anyone expects him to repeat that pace, Sanchez clearly has a ton of power and knows how to hit. Greg Bird has a tremendous approach and the kind of left-handed pop that plays very well in Yankee Stadium. Those two should sock a lot of dingers this summer. Can't wait.
That said, I'm boldly predicting Sanchez and Bird will finish second and third on the Yankees in home runs, in either order. Judge could sock 25+ dingers, which would probably be enough to lead all rookies, though I don't think he'll lead the Yankees either. Not Matt Holliday or Chris Carter either. My pick? Starlin Castro. Boom. Castro turned 27 last week and is at the age where maximum power output could be reasonably expected. He set a career high with 21 dingers last year, and now that he's entering his second year with the Yankees and is presumably more comfortable with things, I'm saying he'll get to 30 this year.
6. The Yankees do more buying than selling at the trade deadline.
The Yankees sold at the trade deadline last season and I'm glad they did. It was time. The trades netted them an incredible farm system and have set the team up for success in the coming years. It's exciting. I don't expect that to happen again though, and for a few reasons.
Hal Steinbrenner doesn't want to sell. Remember, Brian Cashman spent weeks trying to convince Hal to sell before he agreed to it last year. The only reason Chapman was traded was because he rejected a contract extension first. I don't think Steinbrenner wants to go down that road again.
I think the Yankees will be in the race. They're not front-runners or a no-doubt postseason team by any means, but I think they'll get much more out of the young players this year than the veterans last year, putting them in the thick of the race come late-July. If they're in the race, they won't sell.
The stars won't line up again. The Chapman and Andrew Miller trades were a perfect storm last year. Everything came together at the right time for the Yankees. They do have some quality trade chips to peddle at the deadline (Tanaka and Betances, most notably), but I don't think anyone will blow them away with an offer.
Rather than sell, I expect the Yankees to buy. Not necessarily in a huge way though. I don't think they're going to make a deal for Jose Quintana, for example. I do think they're going to end up acquiring a starting pitcher though — keep in mind I said the same thing at the outset of the offseason and was dead wrong — and also package some prospects together for other pieces, similar to last year's Tyler Clippard trade. The 40-man roster and upcoming Rule 5 Draft situation tell us something is very likely to happen here.
7. Ellsbury, not Gardner, is the outfielder traded away.
I am going to predict one big trade and it will be Jacoby Ellsbury who gets dealt away, not Brett Gardner. Ellsbury's contract is a sunk cost. The Yankees owe him that money no matter what. With outfield prospects like Clint Frazier and Dustin Fowler knocking on the door, I think Cashman will be able to convince Steinbrenner salary dumping Ellsbury and saving, say, $7M a year over the four years left on his contract to open a spot for a prospect is the better big picture move than keeping Ellsbury at full price and trading the $25M owed to Gardner the next two years. Now, will Cashman be able to convince Ellsbury to waive his no-trade clause? I think so. I just don't expect them to get much in return.
8. Rutherford will take over as the No. 1 prospect in the organization.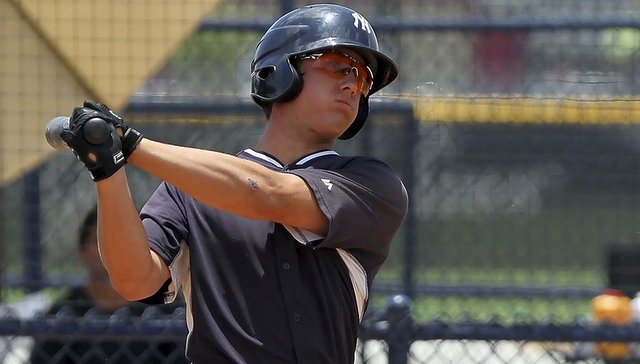 I love Gleyber Torres. He's awesome. He hits, he defends, he runs the bases well, and he manages to play the game with both a lot of energy and a quiet confidence. You couldn't create a better shortstop prospect in a video game. I also love Blake Rutherford. He doesn't have Gleyber's defensive chops at a premium position, but he's an excellent offensive prospect thanks to his potential to hit for average and power, as well as his ability to draw walks, and I think that'll vault him over Torres in the prospect rankings this summer. I'm not saying Torres will be bad! I expect them to both be top 15-ish prospects come the midseason rankings, with Rutherford a few spots higher than Gleyber.
9. The Yankees will have the most productive DH spot in baseball.
Alex Rodriguez was so bad last season it might come as a surprise Yankees' designated hitters hit .261/.312/.450 with 28 home runs last year. You can thank Carlos Beltran for that. He spent a lot of time at DH. Of course, that slash line works out to a 96 OPS+, which ranked ninth among the 15 AL teams. Not good. The Yankees didn't get enough offense from a position that exists solely to provide offense.
This year I expect the Yankees will not only get more production from the DH spot, I think it'll be the most productive DH position in baseball. David Ortiz is retired and Edwin Encarnacion is moving into a less hitter friendly ballpark in a division without nearly as many hitter's parks as the AL East. Nelson Cruz will give Holliday a run for his money, but don't forget, it won't just be Holliday at DH. Sanchez will surely get a few at-bats there, as will Carter, who led the NL in homers a year ago. Holliday will get most DH at-bats and he'll pepper the short porch with opposite field homers. The other guys will chip in some as well.
10. The Yankees will spend more days in first place than last year.
Okay, I'm cheating, because the Yankees didn't spend any time in first place last season. Literally zero days. That's what happens when you lose Opening Day, drop six of your first ten games, and don't get over .500 for good until August. In all seriousness though, I think the 2017 Yankees will spend more days in first place than the 2013 Yankees (17 days) and possibly the 2014 Yankees (24 days), though I don't think they'll win the AL East. Even with the questions at the back of the rotation, I believe this team is better than last year, and it'll show when they get off to a better start in April. They've had some trouble keeping their head above water early on the last few seasons.