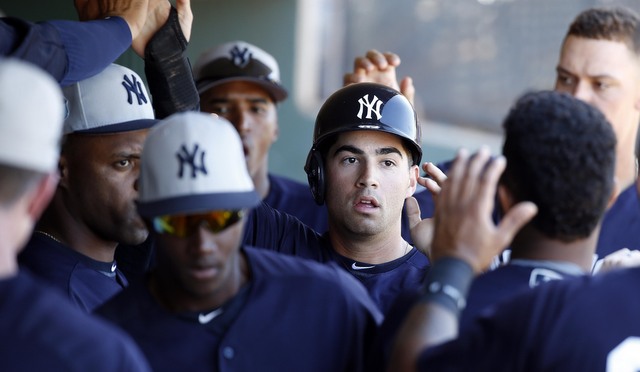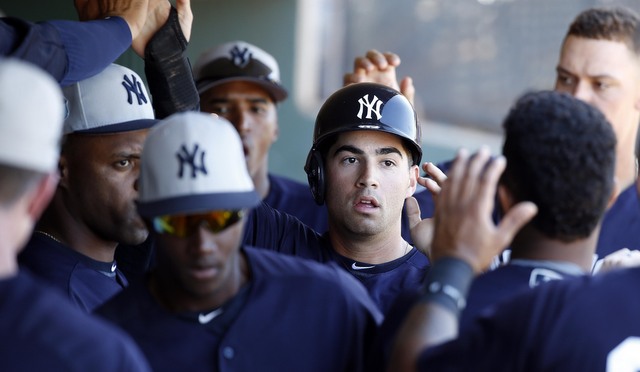 At some point in the coming days the Yankees will decide how they're going to replace the injured Didi Gregorius at shortstop for what everyone hopes is only a few weeks. Gregorius suffered a shoulder strain earlier this month and the talk right now is he could return in early-May. Missing April stinks, but at least it wasn't something more serious.
The Yankees have three shortstop candidates remaining in camp following their latest round of roster cuts: Pete Kozma, Ronald Torreyes, and Tyler Wade. Torreyes is a lock to be on the Opening Day roster in some capacity. At worst, he'll be the utility infielder again. There's also a definite chance Torreyes will start at short while Gregorius is sidelined.
Who do fans want to replace Gregorius? Wade, of course. Bring me the young exciting prospect over the veteran retread any day of the week. Unfortunately things like development plans and the 40-man roster get in the way of such moves. Blah. In all seriousness though, is now the right time for Wade? Let's make the cases for and against.
The Case Against Wade
It's much easier to build a case against Wade than for Wade — that is true of most prospects — so I might as well start here. Wade, who turned 22 in November, has never played above Double-A. Not one single game. He hit .259/.352/.349 (101 wRC+) at the level last year, which is good but not blow you away great. The various projection systems don't see Wade having much of an immediate impact:
PECOTA: .233/.299/.353 (.227 TAv)
Steamer: .224/.284/.315 (61 wRC+)
ZiPS: .234/.299/.316 (67 wRC+)
Those projections are both terrible and better than Kozma's — PECOTA is the high man on Kozma at .218/.283/.333 (.214 TAv) — though I'm not sure being slightly less awful than Kozma is enough of a reason to call Wade up right now. The Yankees have a development plan in place for Wade, which involves turning him into a super utility guy, and deviating from that plan for what might be a one month stopgap role doesn't seem like a great idea.
The 40-man roster situation can't big ignored either. Once Wade is added to the 40-man, he's on for good. Kozma can be cut easily because no one really cares if he gets claimed on waivers. Also, by calling Wade up, the Yankees would then burn one of his three option years sending him down to Triple-A whenever Gregorius returns. You'd rather not burn a young player's option so he can be a short-term injury fill-in, you know?
For what it's worth, the projection systems tells us Wade isn't ready to help the Yankees all the much at the plate, so using him to replace Gregorius would mean altering his development plan and complicating the roster situation for someone who doesn't figure to much of a short-term upgrade over Kozma. Neither guy is expected to hit much, and at best, Wade is Kozma's equal in the field. I'd bet on Kozma being better defensively right now. The last thing the Yankees want to do is rush Wade and hurt his development, especially when there's a viable alternative.
The Case For Wade
Kozma is really bad. He's a career .222/.288/.293 (58 wRC+) hitter in the big leagues and last season he managed a .209/.268/.265 (52 wRC+) batting line in nearly 500 plate appearances with Triple-A Scranton. There is a minimum acceptable standard for offense and Kozma isn't going to meet it. Not without a little BABIP luck, which, you know, could happen in a month of playing time.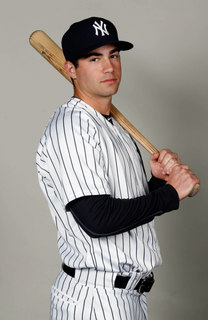 The projection systems aren't too enthused about Wade this year, though there are a few things to keep in mind about that. One, projections are not predictions. They're an attempt to estimate the player's true talent level, and weird things can happen in one month samples. Who's to say Wade, who is hitting .341/.372/.439 during Grapefruit League play, won't slash-and-dash his way to a respectable batting line in April? (Kozma is hitting a Kozmanian .206/.289/.265 this spring.)
PECOTA's 70th percentile projection for Wade calls for a .251/.321/.382 (.244 TAv) batting line, which would essentially make him the 2016 version of Chase Headley (.253/.331/.385). The 70th percentile projection is the slightly optimistic projection, and hey, what's wrong with being optimistic about a good looking prospect who has played well in camp and plays all out all the time? (PECOTA's 90th percentile projection, the really optimistic one, is .279/.352/.424.)
There's also this: the 40-man roster situation isn't that dire. Tyler Austin is a 60-day disabled list candidate. I doubt others like Johnny Barbato, Dietrich Enns, Gio Gallegos, Ronald Herrera, Chasen Shreve, and Mason Williams will stand in the way of the Yankees making a roster move. Fringe roster players, which all of those guys are for the Yankees, are a renewable resource. There will be other Barbatos and Ennses and Gallegi somewhere along the line, especially given New York's farm system.
As for Wade's development plan, I do think that should be a serious consideration, but we're only talking about a month here. If one month in the big leagues is enough to derail Wade's entire career path, he probably wasn't going to make it anyway. Keep in mind being in the big leagues is a learning experience. Wade would get to work with the big league coaches and learn from guys like Headley and Matt Holliday and CC Sabathia. There's value in that.
* * *
There is no denying Wade would be the most fun and exciting shortstop option while Gregorius is out. Well, no, Gleyber Torres would be the most fun and exciting option, but that ain't happening. You know what I meant. The fact the Yankees have played Torreyes at short more than anyone since Gregorius got hurt leads to me to believe they're leaning towards using him at shortstop. In that case, Kozma would make the most sense as the backup. I think we can all agree calling Wade up only to have him sit on the bench would be a waste.