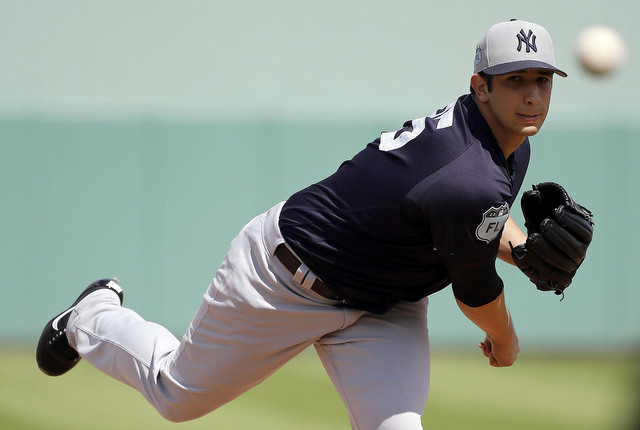 Anyone with doubts about the Yankees and their commitment to the youth movement need not look beyond the rotation. Rather than bring in outside help over the winter, even a innings eating veteran on a one-year contract, the Yankees are planning to go with their young starting pitchers in 2017. They're taking a leap of faith.
Four young starters are vying for two rotation spots this spring: Luis Cessa, Chad Green, Bryan Mitchell, and Luis Severino. We still don't know which way the team is leaning — "I would say (no one is ahead). I think we're going to have some long meetings about this," said Joe Girardi over the weekend — though I get the feeling Severino came into Spring Training as a favorite for one spot.
Regardless of who gets the two rotation spots on Opening Day, history suggests the Yankees will need all four of these guys to make starts at some point. The Yankees haven't used fewer than eight starters in a season since the strike-shortened 1994 season, when they used seven. They've averaged slightly more than ten starters per season the last three years. So yeah, the depth is good. Let's preview these four young arms.
Luis Cessa
What does he have the others don't? A fourth pitch and a ton of athleticism. Cessa, 25 in April, is a former shortstop and his athleticism is evident in his easy, repeatable delivery. More importantly, Cessa throws four distinct pitches. We saw all of them last season during his big league debut. Setting aside his eight relief outings last season, here are the numbers from Cessa's nine starts (MLB averages in parentheses):
| | % Thrown | Avg Velo | Whiff% | GB% |
| --- | --- | --- | --- | --- |
| Fastball | 48.6% | 95.0 (92.1) | 5.7% (6.9%) | 35.0% (37.9%) |
| Slider | 30.3% | 85.4 (84.3) | 21.8% (15.2%) | 66.0% (43.9%) |
| Curveball | 11.1% | 80.2 (77.1) | 4.8% (11.1%) | 50.0% (48.7%) |
| Changeup | 9.9% | 85.0 (93.7) | 13.3% (14.9%) | 40.0% (47.8%) |
The slider was Cessa's go-to secondary pitch, but he also threw his curveball and changeup roughly 10% of the time each, so the four-pitch mix is there. As a result, his platoon split was relatively small: lefty batters had a .324 wOBA against him while righties had a .311 wOBA. None of the other rotation candidates threw four pitches as often as Cessa, and I don't think any of them are as consistently in sync with their delivery as well.
Also, in the age of pitch counts, I should note Cessa was incredibly pitch efficient last year. He averaged only 14.7 pitches per inning and 3.69 pitches per plate appearance as a starter in 2016. The MLB averages are 16.8 and 3.95, respectively. Cessa managed to complete at least five innings in all nine of his starts while throwing 85+ pitches only three times.
What's holding him back? A lack of strikeouts and #toomanyhomers, more than anything. Even with a slider that rated as well-above-average in swing-and-miss rate and ground ball rate, Cessa had a mere 17.1% strikeout rate and a 45.0% ground ball rate in his 51.2 innings as a starter last year. Hitters tagged him for a 1.92 HR/9 (19.3 HR/FB%) and that's way too high. Can't do that and stay in the rotation.
Cessa has long had a reputation for being a strike-thrower and we saw it last season. He had a 3.9% walk rate in his nine starts. I wonder whether he's someone who could benefit from throwing a few more pitches out of the zone, especially in two-strike counts. Not everything needs to be over the plate, you know. That could lead to more strikeouts and fewer homers allowed. Just an idea. But yeah, too few strikeouts and too many homers. Those are the two things Cessa will look to improve this summer.
Chad Green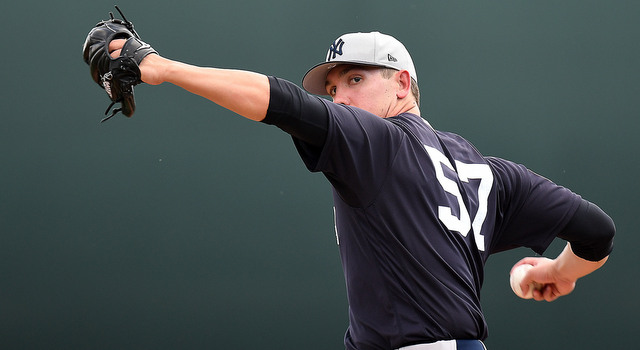 What does he have the others don't? Good question! I'm not sure, exactly. Possibly an overpowering fastball? Green, who turns 26 in May, is one of several pitchers who added velocity after joining the Yankees within the last few years, and last season his heater averaged 95.4 mph and topped out at 99.2 mph. His four-seamer generated a swing and a miss a whopping 16.2% of the time, which is nearly triple the league average rate. Green's fastball: it's good. (Bet you didn't realize he had a 26.3% strikeout rate last season, did you? )
I'd also argue that among the four pitchers in this post, no one improved their stock more over the last 12 months than Green. He's trending in the right direction. He added some oomph to his fastball, improved the quality of his slider with help from pitching coach Larry Rothschild last spring, and he added a cutter while down in Triple-A. Green came to New York with a fastball and an okay slider. Now he has a bigger fastball, a better slider, and a brand new cutter. Neat.
What's holding him back? The complete lack of a changeup. Green has tried both splitter and changeup grips and so far he's been unable to find something that works. Because of that, he has nothing to combat left-handers aside from cutters in on the hands. Last summer lefties hit .287/.351/.663 (.421 wOBA) with nine homers in 95 plate appearances again Green. Yikes. That's a 3.74 HR/9 (34.6 HR/FB%). Yikes.
Clearly, the goal for Green this season will be improving his changeup. Or his splitter. Either one works. He needs something to keep left-handed hitters off balance, because busting them inside with cutters only works so much. Green needs that soft offspeed pitch to keep them guessing. I'm not sure he has much of a chance to be a big league starter without one. His fastball and slider are good enough that, at worse, Green should be a pretty nice reliever. Obviously the Yankees hope he can be something more than that.
Bryan Mitchell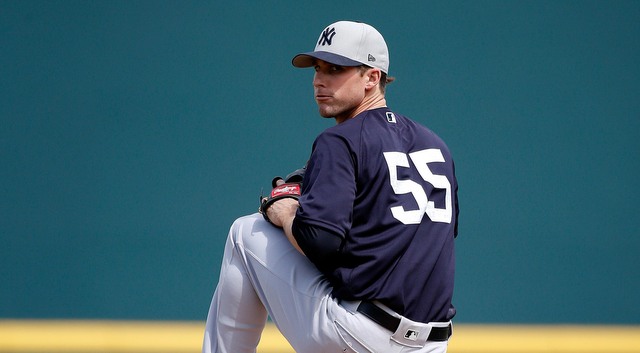 What does he have the others don't? The potential for a truly dominant pitch. Mitchell's curveball is arguably the best curveball in the organization. It's a power bender that averaged 81.9 mph last season with a well-above-average spin rate, which points to the potential for swings and misses and grounders. Don't sleep on Mitchell's mid-90s four-seamer and low-90s cutter either. His raw stuff is very impressive.
Also, the soon-to-be 26-year-old Mitchell has performed the best among the rotation candidates, both this spring and last season. I get the sense that's going to factor into the team's decision. So far this spring Mitchell has struck out 12 and walked three in 14.1 innings. He's allowed no more than one run in three of his four appearances. Last year Mitchell threw 25 innings across five starts with the Yankees, during which he had a 3.24 ERA (4.23 FIP). I don't think the Yankees will base their decision on those numbers, but I do think they'll be considered.
Of course, Mitchell walked more batters (12) than he struck out (11) during his relatively brief big league cameo last year, so perhaps don't read too much into the shiny ERA. Point is, Mitchell performed well from a "didn't allow many runs" perspective, and it sure is easy to dream on his fastball/cutter/curveball combination.
What's holding him back? Both command and a changeup, or the lack thereof. Mitchell doesn't miss as many bats as you'd expect and he's more hittable than his stuff would lead you to believe because his command is so poor. Throwing in the mid-90s is great! But if it's over the plate, it's going to get hit. And as pretty as his curveball is, it's had a below-average swing and miss rate in all three of his MLB seasons. There's a big disconnect between Mitchell's stuff and his results, and that disconnect is due to poor command.
The changeup, I'd argue, is a bigger issue. You can carve out a successful career with below-average command, even as a starter. It's doable. A.J. Burnett spent 17 years in the big leagues, won a pair of World Series rings, and banked over $140M with below-average command. Mitchell doesn't have Burnett stuff, but he has pretty darn good stuff, and that should be enough to enjoy a big league career even without improving his command.
Without a changeup, however, Mitchell has to rely on his cutter to neutralize lefties, and his command isn't good enough to rely on that one pitch consistently. Lefties hit .270/.372/.378 (.334 wOBA) against Mitchell last year and .274/.379/.415 (.350 wOBA) in his big league career overall. A right-hander who can't get lefties out doesn't have much of a chance to be a starter in Yankee Stadium. Mitchell has been working on his changeup for years — he's tried a splitter as well — and so far nothing has taken. I wonder how much longer the Yankees will keep waiting before sticking him in the bullpen for good.
Luis Severino
What does he have the others don't? Former top prospect status and, in theory, the most upside. That's going to buy the just turned 23-year-old Severino plenty of opportunities and that's why I think he's favored to land a rotation spot right now. Now, to be fair, that's not the only thing Severino has going for him. He's got the big fastball, he's got the wipeout slider, and at one point in time he had a very nice changeup as well. There was a reason Severino was a top prospect.
There's also this: Severino has had, by far, the best stretch in the big leagues among these four players. Back in 2015 the Yankees called Severino up in the second half, and he had a 2.89 ERA (4.37 FIP) in eleven starts and 62.1 innings for a team in a postseason race. He had his issues with walks (8.6%) and strikeouts (1.30 HR/9), but what rookie pitcher doesn't? Besides, Severino's strikeout (22.0%) and grounder (50.3%) rates were impressive. Remember this guy?
That guy is really good! The Yankees remember that guy. They want him back. Severino, unlike Cessa and Mitchell and Green, has shown the ability to dominate big league hitters as a starting pitcher, albeit in 60-something innings two years ago. It's more than the other guys have shown, however, and that's going to work in Severino's favor come decision time. He's a former top prospect who gave everyone a taste of his upside in 2015. That can't be ignored.
What's holding him back? Once again, it's command and a changeup, though unlike Green and Mitchell, Severino does actually have a changeup. Watch that video. There are more than a few in there. Severino lost confidence and/or feel for his changeup last season — he threw 12 changeups total in his final four starts after averaging 12 changeups per start in 2015 — and he's working to get it back this spring. Not enough of his starts have been televised for us to get an idea of how he's progressing, unfortunately.
As for the command, Severino's location with his secondary stuff last year was a bigger issue than with his fastball. His fastball is so overpowering that he doesn't need to be precise with it. He just needs to be close enough. With his slider, however, Severino left too may up in the zone and out over the plate early last season, which earned him a demotion back to Triple-A. The same was true with his changeup before he stopped throwing it all together.
This spring Severino made some slight changes to his mechanics — he's breaking his hands closer to his body (GIF) — in an effort to improve his command and changeup. His issues aren't a mystery. The Yankees and Rothschild have been working to get Severino back on track, and heck, he even spent some time with Pedro Martinez in the offseason. With the changeup, it's about getting Severino back to where he was two years ago. Concerns about his command have existed for a while though, and ultimately his ability to improve that will determine whether he stays in the rotation long-term or winds up back in the bullpen, where he dominated last season.
* * *
We have to acknowledge these four pitchers are not necessarily in a rotation competition this spring. They're in a pitching staff competition. It's entirely possible one or more of them will wind up in the bullpen should they fail to secure a rotation spot. Like I said earlier though, I'd bet on all four guys making starts at some point during the summer. That's usually how these things play out.
Assuming Masahiro Tanaka stays healthy and opts out, the Yankees have no established pitching under control beyond 2017. The hope is one or two or all four of these young starters emerge as viable long-term big league rotation options this coming season. They don't need to become aces to have value. (Have you seen what average-ish mid-rotation guys are getting in free agency?) These four pitchers could help solve a lot of problems this season, though each of them has to figure some things out to make it happen.