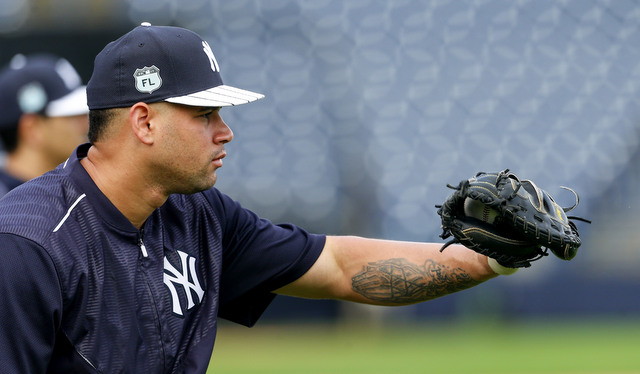 Over the last few years, really since Derek Jeter retired, the Yankees have sorely lacked a franchise cornerstone player. Robinson Cano would have been that guy had he not left as a free agent. Late career Alex Rodriguez didn't do it for many folks. (Heck, many didn't like peak A-Rod.) Brett Gardner, Jacoby Ellsbury, Mark Teixeira, and even Masahiro Tanaka lack that marquee value. Jeter was the face of the franchise.
Now, for the first time since Jeter called it a career, the Yankees have a worthy heir to that face of the franchise title. It's Gary Sanchez, the team's just turned 24-year-old budding superstar catcher, the one with the rocket arm and easy power. Sanchez took over behind the plate last year and was an instant success, smashing 20 homers in one-third of a season and establishing himself as a core player going forward.
The Yankees are so committed to Sanchez and their youth movement that they traded Brian McCann for a pair of lower level pitching prospects over the winter, even eating some money to make it happen. It would have been pretty easy — and smart, I'd argue — to keep McCann around as a high-end backup, someone to mentor Sanchez in his first full season as a big leaguer while getting at-bats behind the plate and at designated hitter. Instead, McCann is now an Astro.
Truth be told, the Yankees are asking a lot from Sanchez this season. They want him to lead their pitching staff, be a force in the middle of the lineup, and continue to develop into that marquee homegrown player they've lacked since Jeter retired. Catcher is a tough position. Even the most talented young backstops struggle early in their big league careers because there's so much responsibility. Not everyone can transition to MLB seamlessly like Buster Posey.
Then again, Sanchez is much closer to Posey than most catchers. He is the most promising young catcher in baseball and I don't think I'm being a raging homer when I say that. Aside from maybe Cubs backstop Willson Contreras, I don't see any catcher under the age of, say, 25 who comes close to matching Sanchez's offensive potential and defensive aptitude. Here are a few key storylines heading in Sanchez's first full MLB season.
No, he won't do that again.
What Sanchez did down the stretch last season was truly historic. He became the fastest player in history to hit 20 home runs, doing so in his first 51 career games, and he did it despite the physical demands associated with being a full-time catcher. (Between Triple-A and MLB, Sanchez caught exactly 100 games in 2016.) It was remarkable. We've never seen a young player come up have that level of success. Like, ever.
Of course, it's unfair and unrealistic to expect Sanchez to sustain that pace this coming season. He's a great young player, but basically no one can keep that up, especially as a catcher. Outliers do exist. Guys like Mike Piazza and Ivan Rodriguez came up, mashed right away, and basically didn't stop hitting until they reached their 30s. Posey hasn't stopped hitting either. Great players don't follow typical developmental paths. Perhaps Sanchez can do the same.
This summer Sanchez will have to contend with, possibly for the first time in his career, opposing teams game planning for him. He saw 55.4% fastballs and 44.6% soft stuff in August last year. It was 53.0% and 47.0%, respectively, in September. Not a big difference there. By time pitchers stopped throwing him pitches in the zone, the season was over.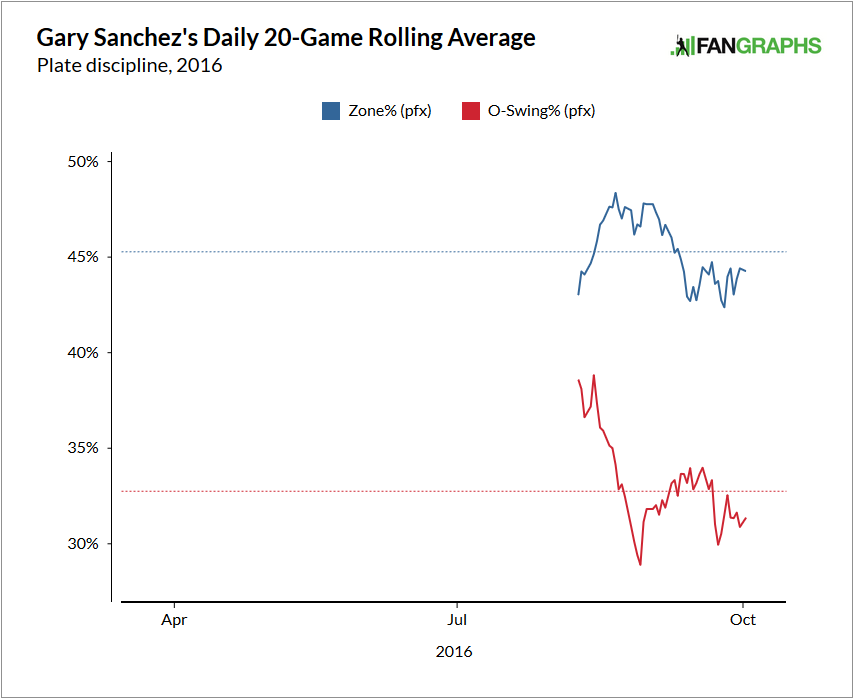 To Sanchez's credit, once pitchers stopped throwing him so many pitches in the zone, and he did adjust and stop swinging at stuff off the plate (O-Swing%). But again, by time this all happened, the season came to an end. This coming season we'll get to see the constant cycle of pitchers adjusting to Sanchez and Sanchez adjusting back, over and over again.
So, in addition to the statistical improbability of Sanchez maintaining last year's home run pace (40.0 HR/FB% in 2016!), he'll also have to contend with being the "we can't let this guy beat us" guy. The book is out on him. Teams will prepare for him more carefully because Gary has shown he can punish big league pitchers and has established himself as his club's best hitter. He's going to get more attention now and he'll have to adjust. There's a learning curve.
What would a successful 2017 season for Sanchez look like? I'd be pretty happy with, say, .270/.330/.450 and 25 homers or so. That is both a big step down from last year and pretty awesome for a 24-year-old catcher in his first full season as a big leaguer. Don't believe me? Here are the last five catchers to spend their first full season in MLB at age 24 or younger:
J.T. Realmuto, Marlins, in 2015: .259/.290/.406 (92 OPS+) with ten homers
Matt Wieters, Orioles, in 2010: .249/.319/.377 (90 OPS+) with eleven homers
Kurt Suzuki, Athletics, in 2008: .279/.346/.370 (96 OPS+) with seven homers
Russell Martin, Dodgers, in 2006: .292/.355/.436 (101 OPS+) with ten homers
John Buck, Royals, in 2005: .242/.287/.389 (79 OPS+) with 12 homers
Baseball is hard, especially for young catchers. It's difficult to temper expectations with Sanchez given what he did last year, I know it is, but you're setting yourself up for disappointment if you're expecting to see that again. The smart money is on Sanchez being both very productive in 2017 and not repeating his 2016 numbers. That debut was almost too good to be true.
Will he continue to make progress with his glove?
There are no questions about Sanchez's throwing arm. It's one of the best arms I've ever seen and that's not hyperbole. Sanchez threw out 13 of 32 attempted basestealers last year, or 41%. The league average was 29%. Furthermore, Sanchez threw out 13 of 26 attempted basestealers when anyone other than Dellin Betances was on the mound. No offense to Dellin, but he does his catchers no favors when it comes to holding runners. (Sanchez has thrown out five of seven attempted basestealers this spring.)
Sanchez's arm is a game-changer. It shuts the other team's running game right down. His arm is so good he won't even have to use it. Many runners won't even dare test him. (The Yankees do have some pitchers who are slow to the plate, like Betances, so Gary's arm will still get a workout.) Sanchez does, however, need to make progress in the other defensive aspects of his position, such as receiving and blocking balls in the dirt. His framing numbers were average in limited time last season and the scouting reports tout him as a work in progress in that department.
Also, Sanchez allowed 21 passed pitches (six passed balls and 15 wild pitches) in 316 innings behind the plate last year. The league average was 16 passed pitches (three passed balls and 13 wild pitches) per 316 innings. We saw a little too much of this last season: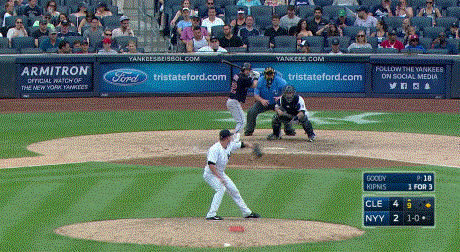 That's a pitch that has to be caught, you know? The pitcher missed his spot (by a lot) but that's catchable. The Yankees have some tough to catch pitchers (Michael Pineda and his wipeout slider, Tanaka and his diving splitter, Betances and his everything, etc.) so I'm inclined to cut Sanchez some slack here, but clearly, overall receiving and blocking is something that can be improved going forward.
To Sanchez's credit, he's made a ton of progress with his defense over the years. He was never Jesus Montero bad, though it wasn't crystal clear he'd remain behind the plate long-term either. Sanchez has improved as he progressed through the minors, and now he'll go through first base coach Tony Pena's brutal season-long catching boot camp. Pena is out there smacking baseballs at his catchers in the early afternoon most days throughout the season. He doesn't take it easy on them.
Sanchez is always going to be a bat first player and that's perfectly fine. His defense isn't terrible either, it should be noted. He's not late career Jorge Posada bad or anything like that. Sanchez is an adequate defender now, probably a bit better than that, and he's still so young that there's reason to believe his receiving will get even better with experience and more coaching.
No. 2 in the lineup, No. 1 in our hearts.
The Yankees called Sanchez up for good on August 3rd last year, and by August 19th, he was their regular No. 3 hitter. About two weeks is all it took for Gary to establish himself as the most dangerous hitter in the lineup. It stands to reason Sanchez will hit third against this year, though Joe Girardi has indicated he might hit him second instead. From Mike Mazzeo:
"I'm going to look at it," Girardi said of the potential batting order. "In the first inning, I think I'd prefer to have two guys in front of my best hitter. But then you start going through the other three times through the lineup and you get a few more at-bats over the course of the season, so I can see it both ways."
Managers around the league have started to embrace batting their best hitter second, which is an old school sabermetric credo at this point. The No. 2 hitter gets more at-bats than the No. 3 hitter across the full 162-game season, and he'll also bat with more men on base than the leadoff hitter. The days of a bat control, hit-and-run guy hitting second are slowly fading away.
Sanchez is New York's best hitter — I wouldn't be completely shocked if, say, Matt Holliday or Greg Bird outhits him this year, but right now Gary is the guy — and batting him second would be a smart move despite his lack of speed. The Yankees have been toying with the idea of splitting up Gardner and Ellsbury atop the lineup. Rather than shoehorn someone like Didi Gregorius or Starlin Castro in the two-hole, Girardi could simply bat Sanchez second. This lineup looks good, no?
Brett Gardner
Gary Sanchez
Greg Bird
Matt Holliday
Didi Gregorius
Starlin Castro
Jacoby Ellsbury
Chase Headley
Aaron Judge
I like it. Moreso than hitting Ellsbury or Headley or Castro or whoever second and Sanchez third. Simply put, the Yankees would be bunching their best hitters atop the lineup to give them the most at-bats rather than adhering to the old "your best hitter should bat third" way of thinking. Hooray open-mindedness! Now we'll see whether Girardi actually goes through with it.
* * *
Sanchez is going to be front and center as the Yankees move forward with this transition. He plays a crucial position and has already shown he can be an impact hitter. That's a building block player. The kind of franchise player the Yankees have lacked since Jeter walked away. Sanchez is, at the moment, the obvious candidate to be the next great homegrown Yankee, and my goodness is that exciting.