There has been an interesting bit of parity in the AL East this decade, as every team has won the division crown in the last seven years. The Red Sox appear to be the standard-bearer, with both ZiPS and PECOTA projecting them to repeat as division champs – but both also have at least four of the five teams sitting at .500 or better, and at least one team winning a Wild Card slot. While the smart money may be on the Red Sox, this division should be among the most competitive (and exciting) in the game once again.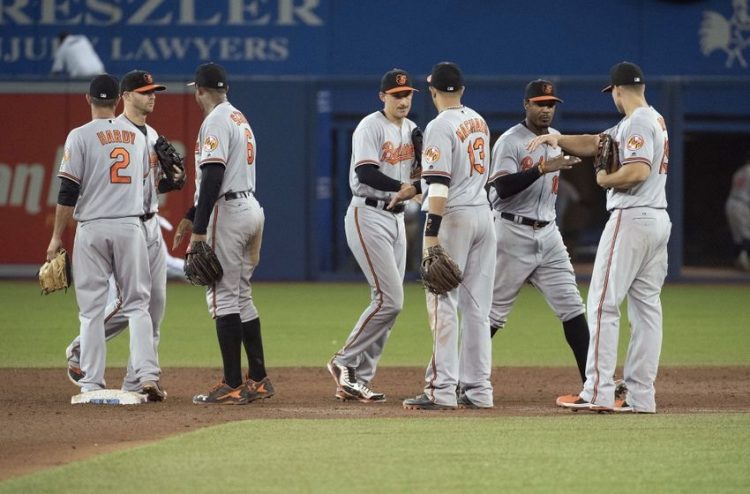 Baltimore Orioles
2016 Record: 89-73
Notable Additions: Welington Castillo, Seth Smith
Notable Subtractions: Yovani Gallardo, Steve Pearce, Matt Wieters
Buck Showalter's team is something of a perennial overachiever at this point, beating projection systems and milking middling talents for all their worth. They've made the playoffs in three of the last five years, and consistency within the organization may have something to do with that.
The 2016 Orioles were the epitome of a station-to-station team last year, finishing first in home runs by a comfortable margin (their 253 home runs were 28 ahead of the second-place Cardinals) and dead last with just 19 steals (16 fewer than the 29th place team, which happens to be those same Cardinals – it must be a bird thing). That doesn't figure to change in 2017, as the team's powerful core remains intact, and new additions Welington Castillo and Seth Smith combined for two stolen base attempts between the 2015 and 2016 seasons. The offense will once again be headlined by Future Yankee Manny Machado, Chris Davis, Mark Trumbo, and Adam Jones; it may be worth noting that Jones is coming off of his worst season since his rookie year, and will turn 32 this summer.
Possible Opening Day Lineup:
Hyun Soo Kim, LF
Manny Machado, 3B
Chris Davis, 1B
Mark Trumbo, DH
Seth Smith, RF
Adam Jones, F
Jonathan Schoop, 2B
Welington Castillo, C
J.J. Hardy, SS
The Orioles pitching staff was surprisingly average last year (98 ERA-, 99 FIP-, 102 xFIP-), but much of that owes to the team's extraordinary bullpen. Zach Britton and his 0.54 ERA led the way, but Brad Brach (2.05 ERA) and Mychal Givens (3.13 ERA) were great, as well, as the unit combined for a 79 ERA- (21% above-league-average). The rotation was mostly a mess, though, with only Kevin Gausman and Chris Tillman posting ERAs under 4.50. There is some potential there, with former top prospect Dylan Bundy finally getting healthy and showing promise, but the bullpen will likely carry a heavy load once more.
Possible Rotation:
Kevin Gausman
Chris Tillman (currently injured)
Dylan Bundy
Wade Miley
Ubaldo Jimenez
Mike Wright
Closer: Zach Britton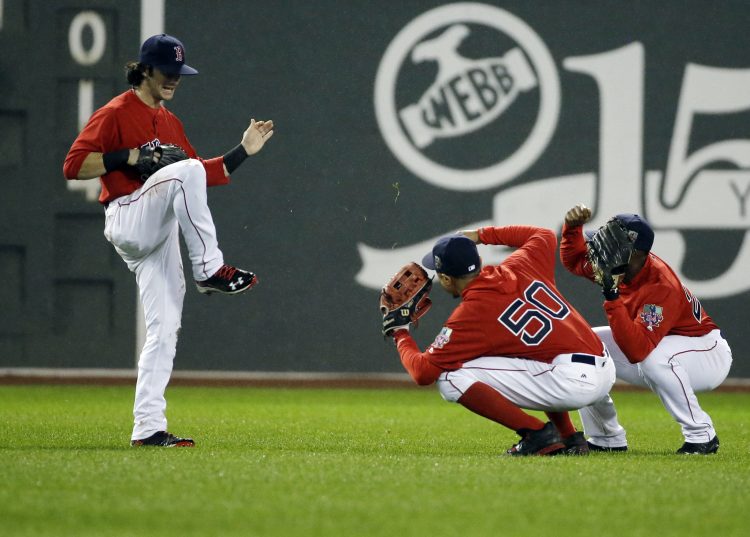 Boston Red Sox
2016 Record: 93-69
Notable Additions: Mitch Moreland, Chris Sale, Tyler Thornburg
Notable Subtractions: Clay Buchholz, Yoan Moncada, David Ortiz, Travis Shaw, Junichi Tazawa, Koji Uehara, Brad Ziegler
David Ortiz made his Red Sox debut fourteen years ago, in the team's second game of the 2003 season. He started at first base and batted fifth, going 0-for-6 with 2 BB in a 16-inning affair against the then-Devil Rays. The rest is, and I apologize for the cliche, history. This year represents the beginning of a new era for the Red Sox, if not the division as a whole, and they still appear to be the team to beat, thanks to a strong farm system and a blockbuster deal.
The new face of the franchise might just be Mookie Betts, whose energy and big smile are reminiscent of Ortiz. Or it could be top prospect Andrew Benintendi, who looked right at home in 34 games in the Majors last year. Or it could be shortstop Xander Bogaerts, who just keeps getting better. Or it could simply be old standby Dustin Pedroia, who rebounded nicely from an injury plagued 2015. There's no shortage of talent on offense, is what I'm getting at here – especially if the slimmed down Pablo Sandoval has figured things out.
Possible Opening Day Lineup:
Dustin Pedroia, SS
Andrew Benintendi, LF
Mookie Betts, RF
Handley Ramirez, DH
Xander Bogaerts, SS
Jackie Bradley Jr., CF
Pablo Sandoval, 3B
Mitch Moreland, 1B
Sandy Leon, C
Rick Porcello had a brilliant 2016, and won a Cy Young for his efforts … and he just might be the third-best starting pitcher on this team, depending upon how well David Price's rehab goes. Said rehab is the largest concern with the team right now, even though they do have a bit more depth than usual in the rotation. Price isn't the only pitcher slated to open the season on the DL, either, as new set-up man Tyler Thornburg deals with shoulder and back soreness.
Possible Rotation:
Rick Porcello
David Price (currently injured)
Chris Sale
Drew Pomeranz
Eduardo Rodriguez
Steven Wright
Closer: Craig Kimbrel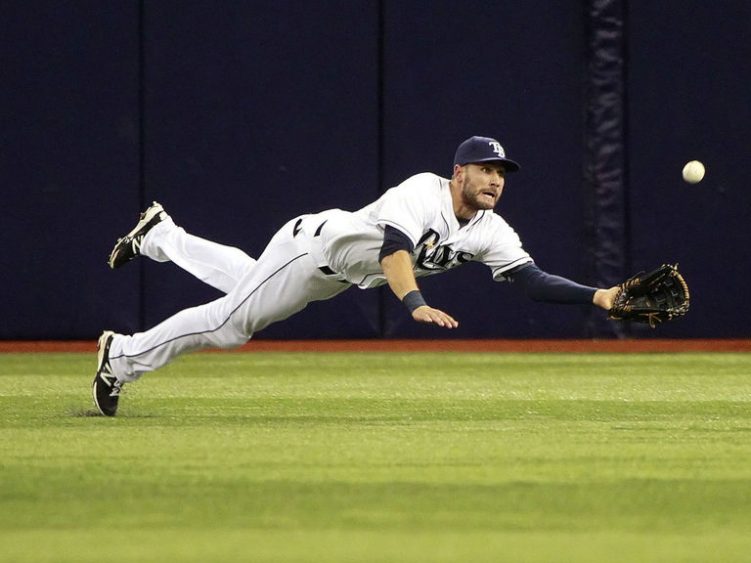 Tampa Bay Rays
2016 Record: 68-94
Notable Additions: Jose De Leon, Wilson Ramos, Colby Rasmus, Mallex Smith
Notable Subtractions: Logan Forsythe, Drew Smyly
A bit over a week ago, the Rays signed two-time Gold Glove winner Kevin Kiermaier to a six-year contract extension worth a minimum of $53.5 MM. It was met with praise by the analytical community as a whole, due to his elite defense in center field and solid offensive production, and he's still a few weeks shy of his 27th birthday. It seems that the team's shrewd maneuvering with contracts of this nature did not leave with Andrew Friedman.
The Rays offense was a bit better on a rate basis than you probably remember last year, placing 12th in the Majors in wRC+. They still finished 24th in runs scored, but that may not have been reflective of the group as a whole. That may not mean a whole lot for 2017, though, as several of their best hitters (Steve Pearce and Brandon Guyer at the deadline, Logan Forsythe a few weeks ago) were traded away. Evan Longoria is still here though, the aforementioned Kiermaier managed 12 HR and 21 SB in just 105 games last year, and Brad Miller broke out in a big way; this won't be a great group by any means, but there's more than enough to build a competent lineup – particularly when Wilson Ramos and Colby Rasmus return from the DL. Their Opening Day lineup is in flux, so your guess is as good as mine as to who they'll trot out there.
Possible Opening Day Lineup:
Corey Dickerson, DH
Kevin Kiermaier, CF
Evan Longoria, 3B
Brad Miller, 2B
Logan Morrison, 1B
Steven Souza, RF
Tim Beckham, SS
Mallex Smith, LF
Derek Norris, C
The Rays stand to open 2017 with one of the youngest rotations in baseball, with all five of their projected starters clocking in at between 24 and 29-years-old on Opening Day. Alex Cobb is battling lingering back soreness now, and if he were to miss the start of the season that average age would dip even further, as the 28-year-old Chris Archer would become the old man of the group. And, despite injuries and inconsistency, this unit has a great deal of potential from top to bottom, and that's with top prospect Jose De Leon opening the season in the minors. The worst in the AL bullpen is another story entirely, though Alex Colome was terrific as the closer last year.
Possible Rotation:
Chris Archer
Jake Odorizzi
Alex Cobb
Blake Snell
Matt Andriese
Closer: Alex Colome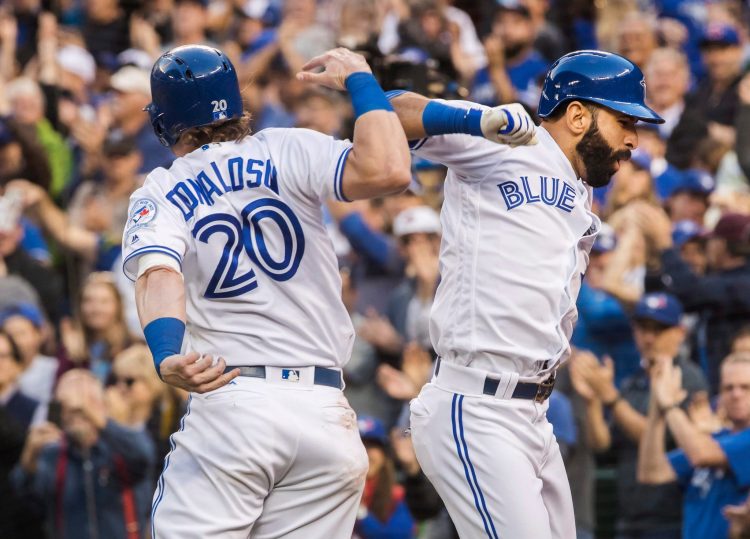 Toronto Blue Jays
2016 Record: 89-73
Notable Additions: J.P. Howell, Kendrys Morales, Steve Pearce, Joe Smith
Notable Subtractions: Joaquin Benoit, Brett Cecil, R.A. Dickey, Edwin Encarnacion, Michael Saunders
On November 11, 2016, the Blue Jays signed Kendrys Morales to a 3-year, $33 MM contract, seemingly moving away from at least one of Jose Bautista or Edwin Encarnacion. A bit less than two months later, the Indians made that decision for them, signing Encarnacion to a 3-year, $60 MM deal (with a $25 MM team option for 2020). The difference in those deals isn't insignificant, but their haste to lock-up an inferior 1B/DH has placed their offense under the microscope in the short term.
The offense remains in relatively good shape nevertheless. 2015 AL MVP Josh Donaldson is a formidable presence in the middle of the lineup, a Steve Pearce/Justin Smoak platoon at first will maximize the production from the position, and the declining duo of Bautista and Troy Tulowitzki is still more than adequate. The lineup is top-heavy, but it stands to be decent in every slot.
Possible Opening Day Lineup:
Devon Travis, 2B
Troy Tulowitzki, SS
Josh Donaldson, 3B
Jose Bautista, RF
Kendrys Morales, DH
Russell Martin, C
Justin Smoak, 1B
Kevin Pillar, CF
Ezequiel Carrera, LF
The Blue Jays had a strong starting rotation last season, and that will be mostly intact in 2017 – R.A. Dickey will be replaced by Francisco Liriano, who was acquired by the team last summer. It will be difficult to replicate the health factor, as they had five pitchers make between 29 and 32 starts, but they have had that sort of luck a couple of years running. The rotation is backed-up by a mediocre bullpen, though off-season additions J.P. Howell and Joe Smith both come with strong track records.
Possible Rotation:
Marco Estrada
Aaron Sanchez
Marcus Stroman
J.A. Happ
Francisco Liriano
Closer: Roberto Osuna