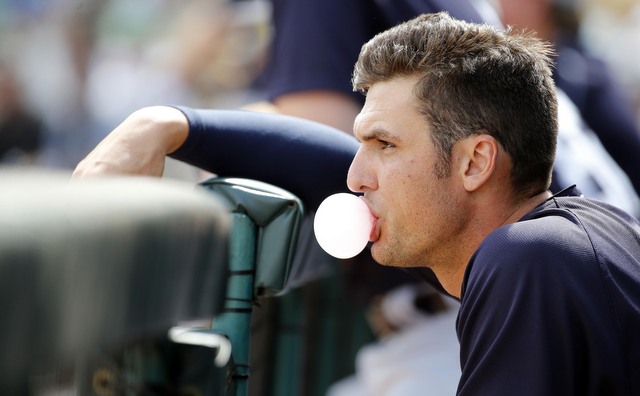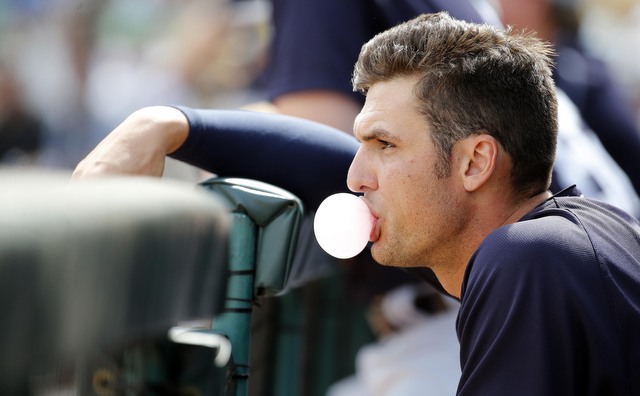 For the most part, the Yankees have had four primary first basemen over the last 33 years. Sure, there's been an Andy Phillips here and a Lyle Overbay there, but generally speaking Don Mattingly (1983-95), Tino Martinez (1996-2001), Jason Giambi (2002-08), and Mark Teixeira (2009-16) have manned first base over the last three-plus decades. Not a bad foursome, eh?
Teixeira retired following last season — at this time last year we were talking about possibly bringing him back on the heels of his big 2015 season (oy) — and, with any luck, the Yankees already have their first baseman for the next six, seven, eight, however many years. Shoulder surgery sabotaged Greg Bird's first full big league season in 2016, but he's healthy now and ready to take over the position. First base is going to be a fascinating position in 2017.
How is Bird's shoulder?
Better than ever, by all accounts. Bird had surgery last February and he was healthy enough to play in the Arizona Fall League last year. Healthy enough to hit, anyway. He didn't play first base because doctors hadn't yet cleared him to throw.
This spring Bird is a full go. Hitting, throwing, the whole nine. And any concerns about the shoulder surgery sapping his power have been assuaged by some long home runs. Bird has already launched three homers in Grapefruit League play — he also hit a double off the wall in another game that would have left the park with a favorable wind gust — and they weren't cheapies. He went the opposite way over the faux Green Monster once, plus he did this:
Forget about the stats for a moment. Hitting home runs against guys like Kyle Kendrick and Joe Gunkel in February and March doesn't tell us Bird is ready to take on the AL East pitching titans like Chris Sale and Chris Archer. More important than the results are the swing.
It's free and easy, and the strength is there
.
Players like Adrian Gonzalez and Matt Kemp had the same surgery as Bird and it took months for them regain their old power stroke. One thing Bird and the Yankees had going for them is the timing. He had surgery in February and was going to miss the regular season no matter what, so he was able to rehab at his own pace. Gonzalez and Kemp had their surgeries in October, and raced against the clock to be ready for Opening Day.
"In early 2015, I was trying to hit the way I hit and I couldn't. I'm a big feel guy and I couldn't feel what I wanted to feel. I tried different bats and different things," said Bird to Kevin Kernan over the weekend. "But four or five days ago, I got in the cage and got the work in that I wanted to get in and the feel was back. I found what I was looking for so long. The shoulder is stable and strong and the feel in my swing is back. It was just so cool to me, I don't know what else to say, it's really awesome to feel that way again."
The early returns on the health and strength of Bird's shoulder are overwhelmingly positive. He doesn't look lost at the plate either. I thought maybe it would take him a few weeks to get back into the swing of things against live pitching, but nope. For Bird to replace Teixeira and take over as the next long-term first baseman, his shoulder needs to be sound, and by all accounts, it is right now. It's been nothing but good news on that front.
Bird will bring a much needed element to the offense.
Even with a bum shoulder, Bird managed to hit .261/.343/.529 (137 wRC+) with eleven homers in 46 games against the best pitching he'd ever faced two years ago, in his big league debut. He was supposed to come up and spell Teixeira at first base and Alex Rodriguez at designated hitter a few times a week, but Teixeira's fractured shin pushed Bird into everyday duty and he thrived. It was: fun.
The book on Bird coming up through the minors touted him as a smart and disciplined hitter with a knack for hard contact and fly balls, and an approach befitting of a ten-year veteran. Bird did exactly what you'd expect a hitter with that skill set to do in the minors: he punished all those unpolished pitchers. He walked in 14.9% of his career minor league plate appearances and his worst full season performance was a .277/.356/.469 (139 wRC+) batting line between Double-A and Triple-A in 2015, when his shoulder was achy.
Last season the Yankees ranked 19th among the 30 teams in walk rate (7.8%) and 25th in OBP (.314), and a big part of that was Teixeira falling off a cliff. He went from .255/.357/.548 (143 wRC+) in 2015 to .204/.292/.362 (76 wRC+) in 2016. Yeesh. Bird, if nothing else, has shown he will work deep counts and take his walks. Hits are better than walks, but walks are better than outs, and the Yankees didn't draw enough of them last year. Bird will help change that.
Carter is going to play more than you may think.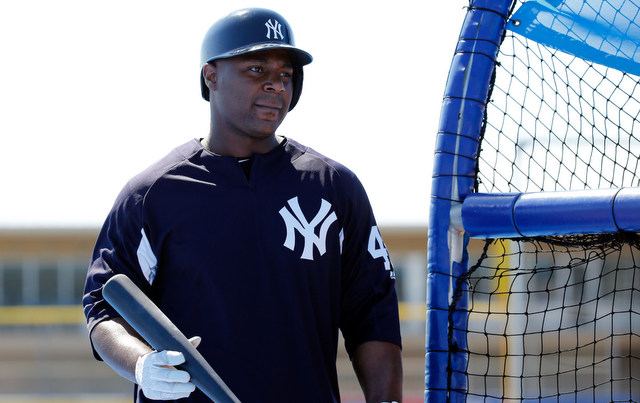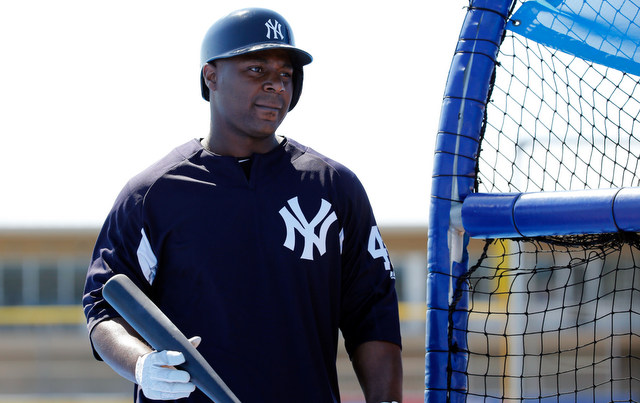 Oh yeah, the Yankees have Chris Carter too. He was a late offseason signing and Tyler Austin's fluke foot injury has already solved the "but where does he fit???" question. Carter has some left field experience but eh, I'm not sure sticking him out in spacious left field at Yankee Stadium is a good idea, even for a few innings. The fact he hasn't played left field at all in Spring Training suggests the Yankees see him as a first baseman and designated hitter only.
Even with Austin out, finding playing time for Carter seems like it might be difficult, but I don't think it will be. He's going to end up playing more than everyone expects, I think. Isn't that usually how it works? I see three ways to get Carter into the lineup fairly regularly.
1. At first base against lefties. At least against the tough ones, and there are a few of them in the AL East. Sale, David Price, Francisco Liriano, Blake Snell, so on and so forth. Bird hit .238/.347/.405 (111 wRC+) in a limited sample against southpaws during his big league cameo in 2015, and from 2014-15 in the minors, he hit .228/.320/.397 against lefties. That's not too good for a bat first player.
Carter, meanwhile, authored a .224/.338/.537 (126 wRC+) slash line against lefties last year. It's .221/.337/.459 (118 wRC+) for his career. Yes, at some point the Yankees will have to let Bird sink or swim against lefties, but I'm not sure the first year following major shoulder is the time to do it. Bird against righties and Carter against lefties would make a fine first base platoon in 2017. Lots of dingers, lots of walks. (Carter had an 11.8% walk rate last year. It's 11.6% in his career.)
2. Every so often against righties. Again, Bird is coming back from major shoulder surgery, and you can be sure the Yankees won't push him too hard. They'll give him regular rest to keep that shoulder healthy and strong, which means Carter will see occasional starts even against righties. The Yankees readily admit this is a transition year, and part of that is keeping the big picture in mind. Taking it easy on Bird following surgery will be a priority.
3. Every so often at DH too. Matt Holliday turned 37 in January, and when the Yankees signed him, part of the thinking was keeping him out of the outfield and off his feet will help him remain productive deeper into the season. Less wear and tear and all that. The Yankees gave A-Rod fairly regular days off at DH even when he was hitting in 2015. I wouldn't be surprised to see them handle Holliday the same way. (Keep in mind this could mean Bird at DH and Carter at first some days.)
Carter led the National League with 41 homers last season. Yeah, he strikes out a bunch, but 40-homer pop doesn't grow on trees. Carter is going to play and play somewhat frequently. Can he adjust to being a part-time guy? Hopefully. He's done it before. (Carter and Brandon Moss platooned at first base with the A's for a while.) Given all the AL East lefties and the fact Bird (shoulder) and Holliday (age) figure to get more rest than most players, there are some pretty clear ways to get Carter at-bats.
The defense is going to take a hit. A big one.
We've been spoiled these last eight years. Teixeira was as good as anyone defensively at first base, even later in his career after the injuries set in. Bird and Carter are … not as good Teixeira. Not close. Carter is pretty rough in the field and has been his entire career. His best position is batter's box. Bird is okay around the bag. He'll make a great scoop from time to time, but that's about it.
With any luck, the offensive upgrade going from 2016 Teixeira to 2017 Bird/Carter should more than make up for the defensive downgrade. That's the plan, anyway. First base defense is one of those things you never fully appreciate until you don't have it. It was easy to take Teixeira for granted over there. Bird and Carter won't save their fellow infielders as many errors, and that means more pitches for the pitching staff. Their bats have to make up for it.
* * *
The Yankees signed Carter because his market cratered and the price was too good to ignore. Getting a potential 40-homer bat for $3.5M (!) is tough to pass up, especially when you play in the DH league. Bird is still very clearly the first baseman of the future, and it'll be important for the Yankees to manage him and his surgically repaired shoulder this year. Carter will help them do that. Most importantly, these two figure to sock a bunch of dingers, and gosh do I love dingers.