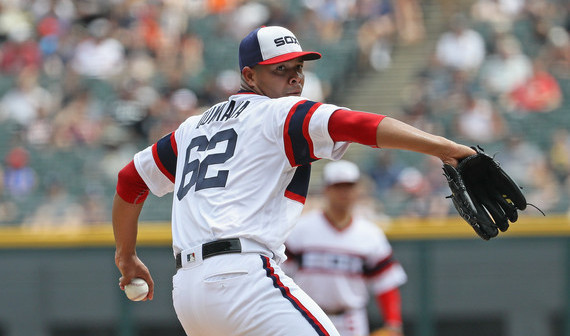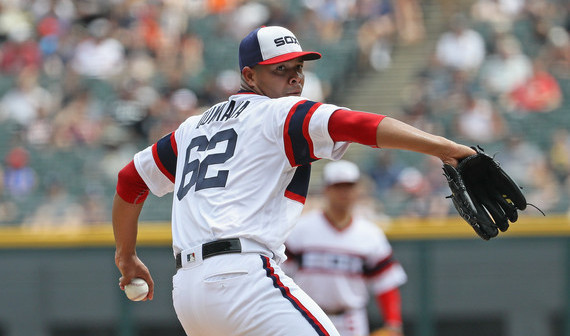 The Yankees remain in the mix for White Sox southpaw Jose Quintana. Or at least the White Sox hope they do. According to George King, the ChiSox have been scouting the Yankees all throughout Spring Training in preparation for a potential Quintana trade. Bruce Levine recently reported the Yankees are one of four clubs "believed to be dug into the sweepstakes" for the left-hander. The Astros, Cardinals, and Pirates are the others.
"I think our asks are commensurate with what we are willing to give up," said White Sox GM Rick Hahn to Joel Sherman. "We are open. We did deals with Boston and Washington, teams with World Series aspirations. Clubs like ours are focused more on the future and so if we are helping someone win in the short term, we have to feel they are helping us win in the long term."
The Yankees have been connected to Quintana since December, when the ChiSox decided to commit to their rebuild by trading Chris Sale and Adam Eaton. At one point it was reported Quintana talks were expanded to include David Robertson. The White Sox, weirdly, haven't done much of anything since the Sale and Eaton trades; Quintana, Robertson, Todd Frazier, Nate Jones, and Melky Cabrera remain in their employ. Anyway, I have some thoughts.
1. This passes the sniff test. Does it make sense the Yankees would want Quintana? Yes. He's very good, he'll spend the entire 2017 season at age 28, and he's signed affordably for another four years ($35.35M total). Does it also make sense the White Sox identified the Yankees as a realistic trade partner for Quintana, so much so that they're scouting them this spring? Yes! The Yankees have one of the best farm systems in baseball, with both the high-end talent to headline a big trade package and the depth to provide quality second, third, and fourth pieces. Trade rumors can be a tricky business with lots of nonsense. There's something to this one though. It's not outlandish.
2. The Yankees sure could use a pitcher like Quintana. Obvious statement is obvious. Every team could use a pitcher like Quintana. He's really good! But, at the moment, the Yankees have very little established pitching under contract/team control beyond 2017. Michael Pineda and CC Sabathia will both be free agents after the season and Masahiro Tanaka figures to use his opt-out if he stays healthy. Imagine a rotation without those guys. Oy vey.
The Yankees are committed to their youth movement, so much so that two of Luis Severino, Luis Cessa, Bryan Mitchell, and Chad Green will be in the rotation on Opening Day. And, as always, the odds are strongly in favor of all four of them (and possibly others!) making starts this year. No team goes through a season with five starters these days. With any luck, one or two or three of those guys will emerge as long-term rotation going forward. That'd be cool.
The thing is, even if that happens, there's still room in the rotation for Quintana. It's not Quintana or Severino, Quintana or Cessa, or anything like that. The Yankees can have all of 'em. There's no such thing as a blocked pitching prospect. Quintana is right smack in the prime of his career and he's signed well-below market. He'd fit in well with the youth movement and the plan to get under the luxury tax threshold. It's hard to find another starter who does both so well (and is actually available).
3. Don't forget to trade your prospects. My stupid and long-running shtick is intended to serve as a reminder that putting all your eggs in the prospect basket is going to lead to a lot of heartbreak. They don't all work out, that's why it's good and necessary to build a deep farm system like the Yankees have. If you're going to sit on your prospects, you'll inevitably be left with a lot of nothing. It's okay to trade some of them. Consider the last two World Series:
2016: The Cubs traded prospects for Aroldis Chapman and the Indians traded prospects for Andrew Miller. Cleveland also agreed to trade prospects for Jonathan Lucroy before he invoked his no-trade clause.
2015: The Royals traded prospects for Johnny Cueto and Ben Zobrist. The Mets traded prospects for Yoenis Cespedes (and Addison Reed and Tyler Clippard).
Trading prospects for high-end veterans tends to look good for the team getting the veterans when it's all said and done. (There are always exceptions, and hopefully the Chapman and Miller deals are two of 'em.)
Now, I'm not saying the Yankees should go out and gut their farm system by trading for every available veteran. I'm saying that when someone like Quintana comes along, a very good and young and affordable player who fills a glaring long-term need, it's okay to deal from that prospect depth. The Yankees have the pieces to make a strong offer while still having an excellent farm system.
4. Yes, I am for trading for Quintana. I guess I should make that clear. I am totally for a Quintana trade. Just don't ask me to put together a trade package. My trade proposal sucks. The White Sox smartly emphasized quality over quantity (and positional needs) in the Sale and Eaton trades, so I doubt this is a "cobble together four prospects you don't like and send them to Chicago" situation. Getting a pitcher like Quintana is going to hurt.
Obviously some prospects are more tradeable than others. Trading Gleyber Torres would be tough to swallow and the good news is the Yankees presumably have the pieces to swing a Quintana deal without including Gleyber. Would a package led by, say, Clint Frazier and James Kaprielian be enough? Aaron Judge and Justus Sheffield? Jorge Mateo and Severino? It's cool to have options and not just have to say "the trade needs to include this one specific guy because he's the organization's only elite prospect." Point is, it's okay to trade some prospects for a really good pitcher, especially when you have a lot of prospects.