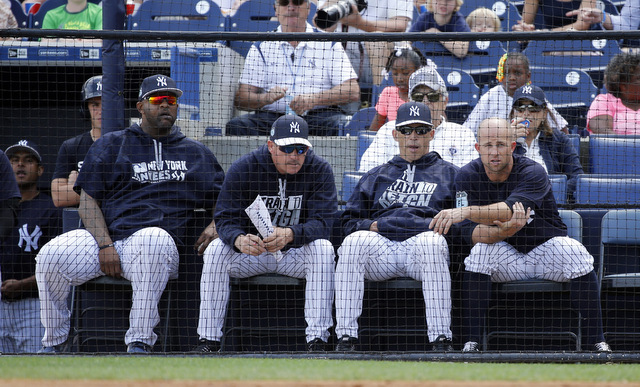 Okay, fine, the Grapefruit League season isn't exactly two weeks old, but it's close. Thirteen days. So sue me. The Yankees continue their exhibition schedule today with a World Baseball Classic tune-up game against Team Canada. Luis Severino lines up to start. That game, unfortunately, will not be televised. Lame! Anyway, I have a few thoughts on things and stuff, so let's get to 'em.
1. Speaking of Severino, a few weeks ago we learned he's changed his mechanics ever so slightly in an effort to improve the quality of his changeup. He now breaks his hands closer to his body. Nothing major. Severino says it helps with his changeup, and hey, whatever works, right? Anyway, let's see what this actually looks like, shall we? Here is 2016 Severino on the left and 2017 Severino on the right: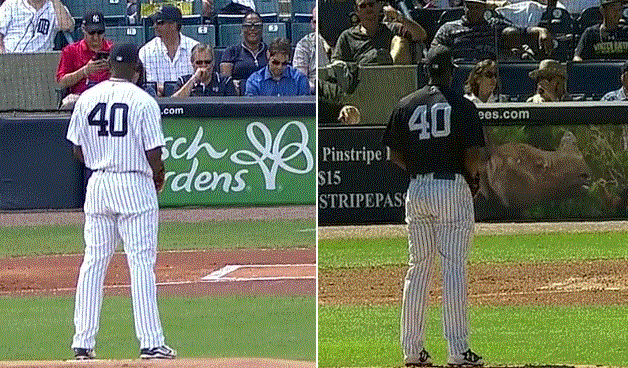 The GIF is synced up on the moment Severino begins his delivery, meaning when he moves his left foot. The difference with his hands is pretty easy to see. Last year Severino broke his hands out in front of his chest. This year they're breaking down by his waist. How does that help his changeup? I have no idea. Interestingly enough, when he starts his delivery, Severino isn't taking as big a step toward first base with his left foot, which is why he's releasing the ball a split second earlier this year (GIF on the right) than last year (GIF on the left). His tempo this year looks better. That doesn't mean he'll perform better, of course, but one of the knocks on Severino throughout his career has been his less than picturesque delivery. Now it looks a little more streamlined and less herky jerky. Could be something, could be nothing.
2. Spring Training pitcher usage can give you a glimpse into the team's internal depth chart, especially with prospects, and Jordan Montgomery has gotten much more run than fellow minor league starters Chance Adams, Justus Sheffield, Daniel Camarena, Dietrich Enns, Brady Lail, and Yefrey Ramirez this spring. Montgomery has thrown multiple innings on an every fifth day schedule, and each time he's been the first guy out of the bullpen following the projected big leaguers. From the outside looking in, Montgomery appeared to be the club's most big league ready pitching prospect coming into the spring, and his usage during Grapefruit League play all but confirms the Yankees see him that way. That doesn't mean he can sneak up and win the fifth starter's job or anything, but he is at the front of the line for a call-up whenever another starter is inevitably needed. The Yankees don't seem to consider Adams, Camarena, et al quite as ready to help at the MLB level based on their sporadic usage this spring. Montgomery has been more of a priority. (I wonder how often Ronald Herrera would have pitched this spring had he not come down with shoulder inflammation.)
3. I have to think Matt Holliday will play left field and first base in a game at some point. Even if the Yankees plan to use him as a designated hitter and a designated hitter only, it would be wise to give him some action at those positions this spring, just in case. Holliday has played both positions before — he played ten games at first last season, his only experience at the position — but if he's needed in the field during the regular season, even in an emergency, you don't want it to be the first time he sees a ball hit at him all year. A tune-up appearance or two at first and in left is in the cards, I imagine. The real question is whether the Yankees will play Chris Carter in left at some point this spring. He's played 77 career games out there, most in 2013 and none since 2014. It would be another way to get him into the lineup though. I mean, it's hard to think of a reason not to put Carter in left field for a Grapefruit League game or two. Might as well try it and see what happens. But, if the Yankees don't do it, we'll know they have zero plans to put him in the outfield this year. First base and designated hitter only.
4. I don't remember where I heard this — it's possible it was something discussed during a game broadcast and not written in an article — but Johnny Barbato is working on a splitter this spring. He used a splitter earlier in his career, before the Padres moved him to the bullpen full-time, and now he's trying to get it back. Barbato has good velocity on his fastball and he throws both a slider and a curveball, which we saw last year. Now he's working on a fourth pitch, the splitter. And he's worked multiple innings in each of his Grapefruit League appearances. Hmmm. Spring Training is the time of year when pitchers work on random pitches, so chances are this splitter business goes nowhere. Still, the Yankees went into last year planning to try Nick Rumbelow and Tyler Webb as starters — Rumbelow blew out his elbow in April while Webb did make some starts and extended relief appearances with Triple-A Scranton — and I wonder if they might try to same with Barbato. What's the worst that could happen? He gets smacked around as a starter with the RailRiders and they move him back into a short relief role? Kinda funny how Barbato went from "I wonder if they'll drop him from the 40-man roster to make room for Carter" to "wait are they going to try him a starter?" in, like, two weeks.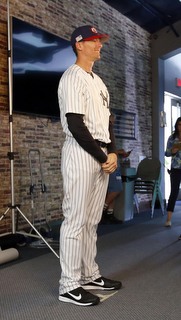 5. I'm one of those weirdos who enjoys the World Baseball Classic — it seems folks hate the WBC, then the games start and they love it — because the players are really into it and the games are often intense. The Israel vs. South Korea game Monday was as entertaining as any postseason game last year. The WBC is also a chance to watch players we normally don't get to see, either because they play in the minors or overseas. (Israel's starting shortstop, Rockies farmhand Scotty Burcham, spent all of last season in the Low-A South Atlantic League.) Pools A and B have started in South Korea and Japan, respectively, so the game times haven't been viewer friendly, but Pools C (Miami) and D (Mexico) start later this week. (Here's the full schedule.) Marlins Park is completely sold out for Saturday's game between Team USA and the Dominican Republic. That's going to be awesome. So I guess that was the long way of saying I am pro-WBC and am glad the tournament has started. Yay baseball.
6. Great work by MLB ensuring the topic of conversation will be "how do we fix baseball?" when the new season begins in a few weeks. All this talk about pace of play and weird extra innings rules and all that has everyone discussing ways to speed things up and make the game more enjoyable for casual fans. Now everyone thinks baseball is broken. It's not! Baseball is great. Are there ways it could be better? Of course. There's always room for improvement and baseball is no exception. It's just that now, instead of talking about the excitement of a new season and baseball being loaded with all these insanely talented young players, everyone is talking about fixing the game. Not great, Bob. Going to be tough to cultivate new young fans, something MLB is desperately trying to do, when everyone is perpetuating the myth baseball is broken. And this is all on MLB and the MLBPA too. They've made all these rule changes front and center.
7. Have you noticed just about all the Yankees commercials this spring are focused on the kids? Gary Sanchez and Aaron Judge have been getting the face time, not big name veterans like Aroldis Chapman, CC Sabathia, and Masahiro Tanaka. Even Clint Frazier has been in some promo videos. It's neat to see and also a bit of a shock to the system. It's been nothing but Derek Jeter and Mariano Rivera and Alex Rodriguez and all those dudes the last two decades. The Yankees are all-in on this youth movement and that even extends to their advertising. They're selling the kids, not the veterans. The times, they're a changin'.