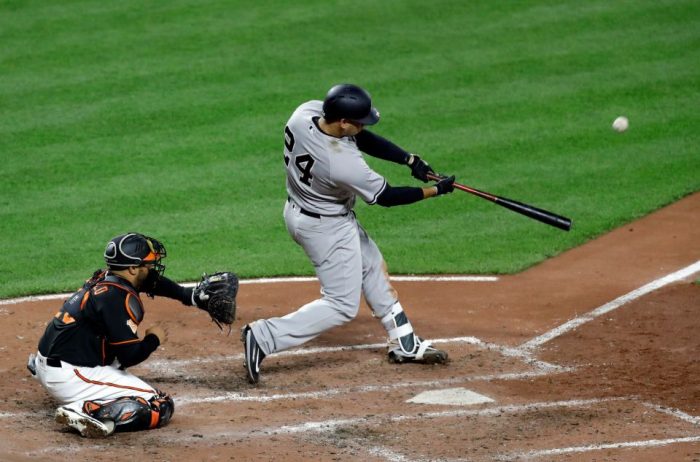 Leads are for wimps
The season-opening road trip headed north to Camden Yards, a house of horrors recently for this Yankees team. They entered the weekend with a 7-20 record at the ballpark since 2014, the second-worst mark by any AL team in that span, and were 1-8 in nine series openers there over the previous three seasons.
Make that 7-21 and 1-9 in road series openers against the Orioles after Friday night's 6-5 loss.
Luis Severino got a no-decision, extending his winless streak to 13 starts dating back to his final start of 2015. Over the last 15 seasons, that's tied with Phil Hughes (2013) for the most consecutive starts without a win by any Yankee pitcher.
The big blow came off the bat of Manny Machado, who drilled a 96-mph fastball for a three-run homer into the left field bleachers to cut the Yankees lead to 5-4 in the fifth inning.
Of the 21 homers Severino has allowed in the majors, more than half (14) have come on pitches 95 mph or faster. Since the start of last season, opponents have slugged .522 on his 95-plus mph four-seam fastballs, the fourth-highest mark among major-league pitchers in that span (min. 75 at-bats).
Gary Sanchez broke out of his early slump with a 2-for-3 effort that included a monster 426-foot home run in the top of the fifth. Since August 1 of last season, Sanchez has four homers of at least 425 feet, and the rest of the Yankees have combined for three such bombs.
It was his 21st career homer in his 59th career game – the second-most homers for any player in major-league history before their 60th game. Boston Braves outfielder Wally Berger had 22 homers in his first 59 games in 1930.
Brett Gardner sparked the offense with three hits, three runs scored and two stolen bases. He's the first Yankee to reach those totals since … Gardner did it six years ago (July 17, 2011) vs Toronto. The only other Yankees to have multiple games with at least three hits, three runs and two stolen bases in their career are Rickey Henderson (3), Snuffy Stirnweiss (2) and Chuck Knoblauch (2).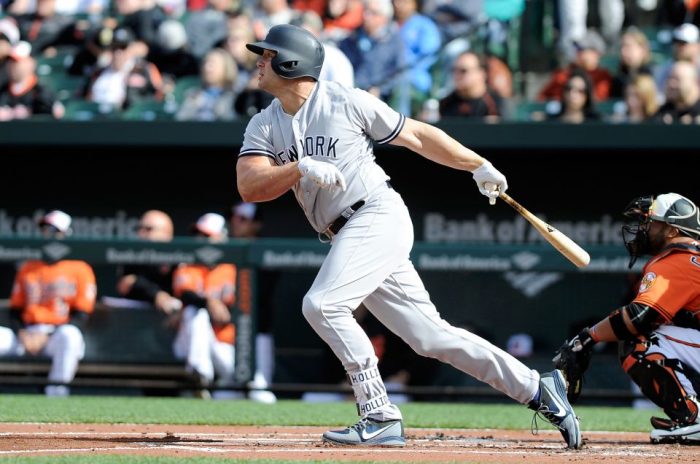 Another painful loss
It was deja vu for the Yankees on Saturday afternoon, as they once again built an early multi-run lead, coughed it up in the middle innings, resulting in yet another frustrating one-run loss. It also clinched yet another losing road series to the Orioles, the 10th consecutive set they've lost at Camden Yards.
How long has it been since they actually won a series in Baltimore? When they clinched their last series win there on Sept. 11, 2013, Mariano Rivera posted the 651st save of his career and Andy Pettitte tossed a quality start; Curtis Granderson, A-Rod and Robinson Cano each homered in the 5-4 victory.
For the third time in the last five seasons, the Yankees are 1-4 through five games. They are the only MLB team to start 1-4 or worse three times since 2013.
Masahiro Tanaka looked solid through the first four innings before unraveling in the fifth. He really struggled with his command, hitting a guy and walking two others while giving up two runs. Adam Warren relieved him in the sixth inning, making it the fifth time in five games that the team's starter didn't go more than five innings.
This is just the second time in the last 100 years that no Yankee starting pitcher recorded an out in the sixth inning in the first five games of the season. It also happened in 2007, with a rotation of Carl Pavano, Andy Pettitte, Mike Mussina and Darrell Rasner.
Milestone Alert! Matt Holliday provided one of the few highlights, notching his 2,000th hit with a single in the first inning. He joined Albert Pujols and Miguel Cabrera as the only active players with at least 2,000 hits and a .500-or-better career slugging percentage.
Rally Time
The Yankees flipped the script in the final game of the series as they avoided the sweep with a much-needed comeback win. On Sunday they fell behind early, rallied late and left Baltimore with a 7-3 victory.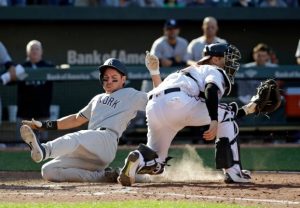 Starlin Castro delivered the game-winning hit with a tie-breaking RBI single in the ninth inning. Since the start of last year, Castro has seven go-ahead RBIs in the seventh inning or later — that's two more than any other Yankee over the last two seasons.
Before Castro's heroics, Aaron Judge tied it up with a solo blast leading off the eighth inning. He's the third Yankee with a game-tying home run in the eighth inning or later at Camden Yards, joining the legendary duo of Travis Hafner (2013) and Roberto Kelly (1992).
The Orioles pitchers couldn't find the strike zone all afternoon — issuing 11 walks, including seven by starter Wade Miley — and Holliday took advantage. He walked five times, tying a franchise single-game record. It had been done nine times prior to Sunday, with the two most recent being Mark Teixeira in 2009 and Roger Maris in 1962.
Besides Holliday, two other Yankees drew five free passes in five plate appearances and didn't score a run: Hersh Martin in 1944 and Lou Gehrig in 1935. #FunFact: Martin and Holliday both went to high school in Oklahoma, and Martin attended Oklahoma State University in Holliday's hometown of Stillwater.
Miley was effectively wild, giving up seven walks, one hit and zero runs in five innings. It had been more than 80 years since a pitcher had that many walks, allowed no more than one hit and held the Yankees scoreless — Washington Senators lefty Earl Whitehall achieved the feat on May 30, 1934. The No. 3 and 4 hitters in that lineup were Gehrig and Babe Ruth, who both went 0-for-2 and drew two walks each.