Good win. Not an easy win, but a good win nonetheless. The Yankees avoided the sweep Sunday afternoon against the Rays to clinch a 3-3 road trip. Could have been better. Could have been a lot worse. Sunday's final score was 3-2.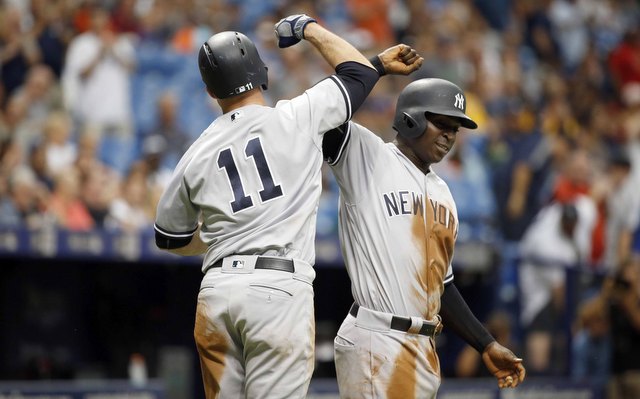 The Righties Are Not Right
Fortunately, the first inning did not set the tone for the rest of the game. The Yankees were gifted a rally in the top of the first and failed to capitalize. Brett Gardner started the game with a single, then shortstop Tim Beckham threw away Gary Sanchez's tailor made 6-4-3 double play ball. He flipped it into right field. The Yankees had runners on second and third with no outs, then:
Three-pitch strikeout (Matt Holliday)
Seven-pitch strikeout (Starlin Castro)
Five-pitch strikeout (Aaron Judge)
Those three batters swung at eleven of the 15 pitches they saw and missed seven times. Joe Girardi goes to such great lengths to split up the lefties in the lineup, yet he'll bat four righties in a row against Chris Archer, who has a disgusting slider and has held right-handed batters to a .229/.296/.362 (.290 wOBA) batting line with a 27.5% strikeout rate since the start of 2015. Shrugs.
Naturally, the left-handed hitting Jacoby Ellsbury, who went into the game a career .514/.561/.703 hitter against Archer, doubled on the first pitch to leadoff the second. Shrugs again. Two batters later Didi Gregorius got Ellsbury home with a one-out single, and two batters after that Gardner got Gregorius and himself home with a two-out, two-run home run. Eighth dinger of the year for Gardner. He's hit one more home run than last season in 468 fewer plate appearances. Is that good? That seems good.
The Yankees did not score again against Archer, who exited after throwing 108 pitches in 6.1 innings. Left-handed batters went 6-for-11 (.545) with a double and a home run against him. Righties went 0-for-15 with ten strikeouts. Free advice for future managers: stacking righties in the lineup against Archer isn't a good idea, especially when several of them are strikeout prone like Holliday, Judge, and Chris Carter. Fortunately the left-handed bats picked up the righties.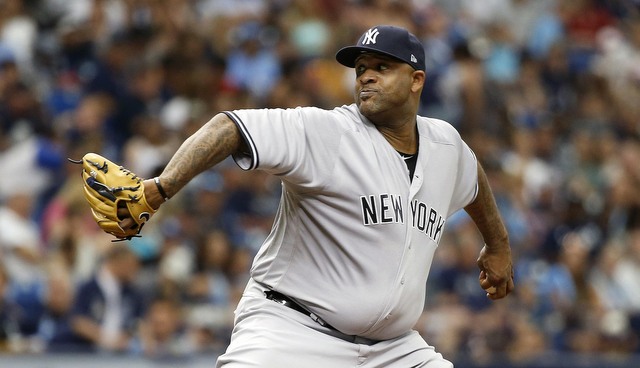 A Strong Start For Sabathia
Good to see CC Sabathia have another solid outing after that string of clunkers a few weeks ago. Throwing six scoreless innings against the awful Royals last time out is one thing. The Royals are real bad. The Rays can hit though, and they were going to present some trouble for whoever the Yankees threw out there. Sabathia allowed two runs (one earned) in five innings plus one batter Sunday, and looked about as good as you could have hoped.
The first run was sorta stupid, as it was built on an infield single, a walk, and a Sanchez error. He tried to pick Evan Longoria off first base with a snap throw, and the off-line throw sailed into right field. Carter actually got there and got his glove on the ball, but it went through his legs. Bad throw by Sanchez — and an unnecessary throw, I'd say, since Longoria wasn't that far off first base — and a bad play by Carter. He's got to knock that down. Corey Dickerson scored from second on the play.
Tampa scored their other run on a Derek Norris solo home run in the fifth, and I can't remember Sabathia giving up any other hard hit balls. I'm sure he did at some point, but they were infrequent. Sabathia retired 12 straight before the Norris home run. His afternoon ended after Dickerson slapped an opposite field single leading off the sixth. Sabathia was definitely at the end of the line there — he had to work hard to get Beckham to ground out to end the fifth — but Girardi sent him back out to get the left-on-left matchup. Didn't work, but a good start overall for Sabathia. The Yankees needed it.
The Final 12 Outs
This game had a very 2013-16 vibe to it, by which I mean the Yankees built a small lead, then turned things over to their bullpen and held on for dear life. First out of the bullpen was Chad Green, who inherited the runner on first from Sabathia. He got a clutch double play from … Aaron Judge? Aaron Judge. Longoria smoked a line drive into the right-center field gap, then this happened:
Is there anything he can't do?! https://t.co/f6WB3Y5Zyj pic.twitter.com/GeWxaDfXkX

— New York Yankees (@Yankees) May 21, 2017
Judge went 0-for-4 with four strikeouts, but good players help you win games even when they do nothing at the plate. The funny thing is replays showed Dickerson, the runner at first, did slow down to read the play before taking off for third base. He didn't think Judge would get there. Whoops. Judge laid out for the tremendous diving catch — if you're into Statcast, that ball had a catch probability of 26% — and threw to first for the easy double play. Love it.
Green started the seventh inning with a four-pitch walk, because of course. Two ground balls and a stolen base later, Kevin Kiermaier was at third base with two outs, representing the tying run. Girardi went to Tyler Clippard against pinch-hitter Logan Morrison, who worked an eleven-pitch at-bat. Eventually he popped up a full count fastball to end the inning, preserving the 3-2 lead.
Clippard went back out for the eighth and struck out pinch-hitter Colby Rasmus and Beckham, then Girardi went to Dellin Betances for the four-out save. Betances struck out Dickerson hilariously to end the eighth — it was one of the silliest swings you'll ever see — then cruised through the ninth. Longoria popped up, Michael Martinez struck out, and Steven Souza struck out. Dellin was throwing fire. That was as good as he's looked at any point since 2014.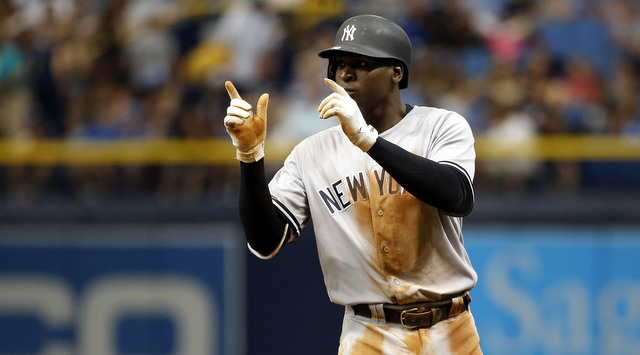 Leftovers
Strikeouts are becoming a real problem. The Yankees struck out 17 times Sunday, their second nine-inning game with 17 strikeouts this season. They did it only twice in their history prior to this season. The Yankees have struck out 10+ times in 18 of their 41 games this season. The single-season franchise record is 37 10+ strikeout games set back in 2013. The 2017 Yankees project to get there by the All-Star break. Everyone is striking out more these days, but geez guys.
Four-hit game for Sir Didi! Two-hit game for Gardner! One-hit game for Ellsbury! No-hit game for literally everyone else. Both Judge and Holliday went 0-for-4 with four strikeouts. Castro went 0-for-4 with three strikeouts. So the 3-4-5 hitters went 0-for-12 with eleven strikeouts. They've had better days. The Yankees went 2-for-11 with runners in scoring position. Both hits came in that three-run second inning innings. Didi's single and Gardner's dinger.
Sanchez is probably glad this road trip is over. He took a beating behind the plate. Sanchez took a foul tip to the right forearm in this one, after taking a foul tip to the jaw Saturday. He also got his bell rung by a few foul tips in Kansas City. I have no idea why anyone catches. It looks like no fun at all.
Box Score, WPA Graph & Standings
Head on over to ESPN for both the box score and updated standings. MLB.com has the video highlights. RAB has a Bullpen Workload page. Here's the ol' win probability graph:

Source: FanGraphs
Up Next
HOPE Week! One of the best weeks of the season. The Yankees are heading home for a seven-game homestand. The week home begins with a four-game set against the Royals, who the Yankees just saw last week. The A's come to town after that. Jason Hammel and Michael Pineda are the scheduled starting pitchers for Monday night's series opener. RAB Tickets can get you in the door for any of the seven games on the homestand.