The rain stayed away and the Yankees won for the sixth time in their last nine games Tuesday night at Camden Yards. The offense came out and put the game to bed early. The final score was 8-3 good guys. The Yankees are now 30-19 on the season. Pretty incredible.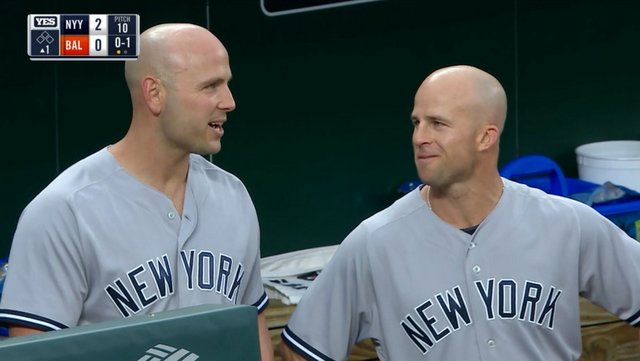 The Bald Bash Brothers
I do love first inning runs on the road. Score early and put the other team on the defensive right away. Best way to do that is with a leadoff home run, and Brett Gardner provided one against the formerly good at baseball Chris Tillman. Gardner's second leadoff dinger of the season gave the Yankees a 1-0 lead. Two batters later Matt Holliday made it a 2-0 lead with a home run to left field. Two batters after that Aaron Judge hit a ball to the warning track. This is good.
That first inning made it pretty clear the Yankees were in for a good night against Tillman, whose fastest pitch in the game registered at 92.9 mph. He hasn't been the same since coming down with a nagging shoulder issue last year. The Yankees scored another run in the second on a double (Didi Gregorius) and a single (Aaron Hicks), though they had runners at second and third with one out and couldn't cash in any more. That was annoying, temporarily.
In the third, Holliday added his second home run of the night and Chase Headley plated two with a two-out single to right to increase the lead to 5-0. Judge singled and Hicks drew a walk to set that run up. Headley's single ended Tillman's evening. The Yankees punished him for five runs on seven hits (three homers!) and two walks in 2.2 innings. He struck out one. We've seen a lot of Tillman over the years. This isn't the same guy. Shoulder injuries suck.
But wait! The Yankees did not stop there. In came long reliever Logan Verrett, and out went Gardner's second home run of the night. It was his second leadoff homer of the game. He started the first inning and fourth innings with home runs. Gardner now has three multi-homer games this season. He hit seven homers total last season. The lead swelled to 8-0 in the fourth inning on Judge's rocket double to right, which scored two. He flicked his wrists and it banged off the wall. That man is amazing.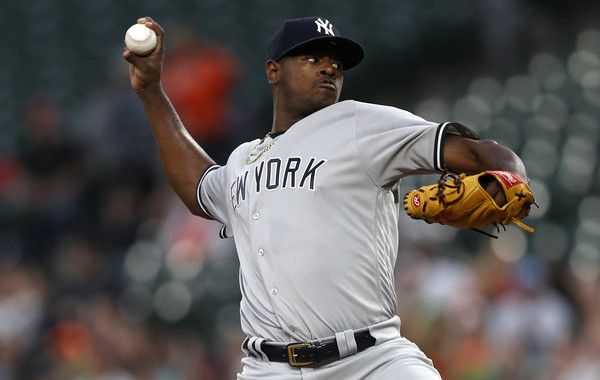 The Kid On The Mound Is Pretty Good Too
Another excellent outing for Luis Severino, who has now allowed no more than one run in three straight starts, four of his last five starts, and five of his last seven starts. He's down to a 2.93 ERA (3.04 FIP) on the season. As great as Judge has been and as awesome as Gary Sanchez can be, I feel it's important to mention Severino is the youngest player on the active roster right now. He turned 23 in February. Pretty cool.
Severino faced two jams Tuesday night and both were stupid. The first jam, in the second inning, was the result of two ground ball singles and an infield single. Severino struck out J.J. Hardy to strand the bases loaded. In the sixth, a walk and three infield singles (three!) gave the Orioles their lone run against Severino. It was so dumb. One weak grounder for a hit after another. Thankfully Severino struck out Joey Rickard to strand the bases loaded to avoid letting it snowball.
All told, Severino allowed just that one run in 6.1 innings on one walk and seven hits, all singles, four of which did not leave the infield. I'm having a hard time remembering a hard-hit ball. I'm sure there was one at some point, but nothing is coming to mind. Severino was pretty dominant. Eight strikeouts, seven ground ball outs, four fly ball outs, 73 strikes and 17 swings and misses out of exactly 100 pitches. Outstanding work by Severino. He was awesome in this game and has been awesome pretty much all season.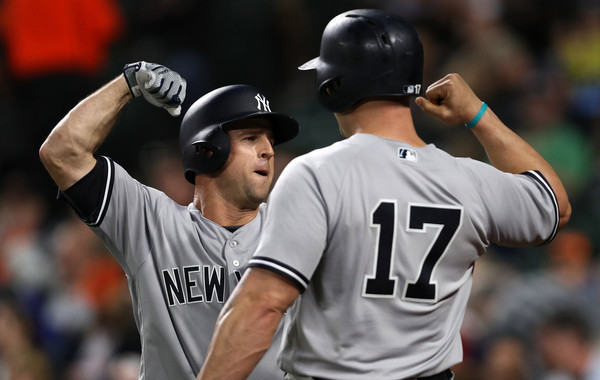 Leftovers
Up seven runs after six innings? Somehow the Yankees still wound up using four relievers, including Tyler Clippard for four outs. Dellin Betances even warmed up. Sigh. Joe Girardi can get real panicky at times. Bryan Mitchell was the biggest bullpen culprit, allowing two runs on two singles, one walk, and his own error in the eighth. (Mitchell threw away a comebacker.) Tommy Layne and Adam Warren each got one out.
The Yankees had 14 hits total and only three starters did not have multiple hits: Sanchez (one hit), Gregorius (one hit), and Rob Refsnyder (no hits). Everyone else had two hits, including Gardner and Holliday, who had two homers apiece. The Aarons each had two hits and a walk. Judge is hitting .323/.423/.689 (197 wRC+). Hicks is hitting .302/.432/.552 (168 wRC+). Amazing.
And finally, Gregorius took a pitch to the hand in the ninth inning. He remained in the game after being looked at by trainer Steve Donohue, though Didi was in obvious pain. Postgame x-rays came back negative. Exhale. Another injury to Gregorius is the last thing the Yankees need.
Box Score, WPA Graph & Standings
Head over to ESPN for the box score and updated standings, and MLB.com for the video highlights. Also, check out our Bullpen Workload page too. Here's the win probability graph:

Source: FanGraphs
Up Next
The rubber game as the Yankees try to clinch their first series win at Camden Yards since 2014. Just keep winning series, baby. Masahiro Tanaka and Kevin Gausman will be on the mound in Wednesday night's series finale. That will be a meeting of Opening Day starters.