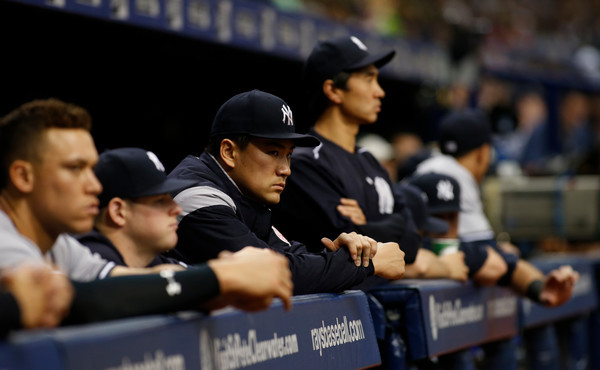 All things considered, it's pretty incredible the Yankees are where they are even though Masahiro Tanaka has legitimately been one of the worst pitchers in baseball so far this season. Among the 94 pitchers with enough innings to qualify for the batting title, Tanaka ranks 91st in both ERA (6.56) and FIP (6.07). Yankees starters have a 4.61 ERA (4.51 FIP) this year. Yankees starters other than Tanaka have a 4.10 ERA (4.00 FIP). Yeesh.
Tanaka hasn't looked right pretty much all season, at least aside from the shutout in Boston, but things have been especially bad the last two times out. Especially bad as in 14 runs on 16 hits, including seven home runs, in 4.2 innings. This goes beyond the usual "he had a few bad starts" stuff. We are officially in Big Problem territory here. Something is not right with Tanaka. The question is what? No one seems to know.
Here's the weird part: Tanaka's contact allowed is nearly identical to last season. I mean, it's clearly not identical given the results, but look at the batted ball data:
| | LD% | GB% | FB% | Soft% | Hard% | Avg. Exit Velo |
| --- | --- | --- | --- | --- | --- | --- |
| 2016 | 20.7% | 48.2% | 31.0% | 18.5% | 32.4% | 88.2 |
| 2017 | 17.4% | 49.7% | 32.9% | 18.5% | 32.7% | 89.4 |
A quick glance at that tells you everything is fine, no need to worry, Tanaka will be back to normal in no time. La la la, I can't hear your screams.
In all seriousness, the biggest difference between 2016 Tanaka and 2017 Tanaka is this right here: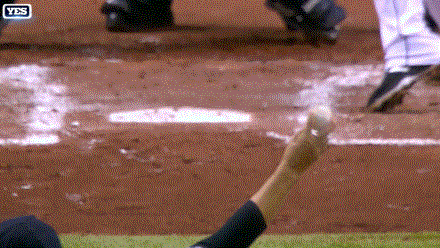 That's the splitter Tanaka threw light hitting Jesus Sucre in the second inning Saturday, the splitter Sucre smashed back up the middle for a two-run double. That pitch is flat as a table. It spins and spins and spins, and does nothing. It stayed up and Sucre hammered it. We've seen plenty Tanaka splitters over the years. The pitch should dive down into the dirt. That one did nothing.
"When Spring Training ended he looked like he was back to before the injury. Now he doesn't look the same," said a scout to George King over the weekend. "He isn't finishing his pitches, and he's making mistakes with the fastball."
For whatever reason Tanaka's pitches have been much flatter this year, and it's not just the splitter. We've seen him thrown some junky sliders too. Tanaka is not a blow-you-away pitcher. He succeeds by tricking hitters and keeping them off balance, and he can't do that when his splitter and slider aren't behaving. His fastball isn't good enough to make up for the shortcomings of the secondary pitches. Never has been even though his velocity is fine. Everyone keeps saying Tanaka's velocity hasn't been the same since his 2014 elbow injury, but:
2014: 92.8 mph average (96.6 mph max through May)
2015: 92.8 mph average (96.2 mph max through May)
2016: 92.1 mph average (95.5 mph max through May)
2017: 92.9 mph average (95.8 mph max through May)
Tanaka's velocity and overall pitch selection this season have been right in line with previous years. Much like the batted ball data, nothing has changed, and yet something has very clearly changed. The overall numbers say one thing. The individual pitches tell you another. Tanaka had no trouble getting ahead Saturday — he threw a first pitch strike to 13 of 21 batters, and went 0-2 on nine batters — but the finish pitch wasn't there, and hasn't been for much of the season.
With Tanaka, a bad start or string of bad starts are never just bad starts. They're an indication of injury, right? The partially torn elbow ligament is in the back of everyone's mind, and whenever he has a bad start or even just throws a bad pitch, it's because of the elbow. That seems to be the most common reaction. Tanaka did something bad? Blame the elbow. Everyone insists Tanaka is healthy though. Tanaka, Joe Girardi, Larry Rothschild, everyone. "There's no indication of (injury)," said Rothschild to Bryan Hoch over the weekend.
Having watched every one of his starts this season, Tanaka doesn't look injured to me. Remember Aroldis Chapman's last few appearances? That's an injured pitcher. A dude laboring and putting everything he has into each pitch just to get to his normal velocity. Tanaka is still throwing free and easy. His location sucks and he's throwing more cement mixers, and I suppose that could be injury related, but I feel like there would be more red flags in that case. A dude pouring sweat on the mound (like Chapman) and throwing max effort. Tanaka hasn't done that.
The way I see it, the Yankees have two realistic options with Tanaka right now:
1. Put him on the disabled list. The Yankees could stick Tanaka in an MRI tube and inevitably find something that would justify a trip to the disabled list. Every 28-year-old pitcher with nearly 2,000 career innings is bound to have something that doesn't look right in his arm. The disabled list stint would be a time out, effectively. Tanaka could figure things out on the side while one of the club's depth starters (Chad Green, Bryan Mitchell, Luis Cessa, etc.) steps into the rotation for the time being. Perhaps he'd figure things out quickly and return after missing only one start. It is a ten-day disabled list now, after all.
2. Keep running him out there. This is what the Yankees are going to do, for now. Girardi confirmed yesterday that Tanaka will make his next start Thursday, as scheduled. Tanaka needs to pitch to get things straightened out. He can't go sit on the couch for a week and expect everything to go back to normal. He needs to pitch to right the ship, and the Yankees are going to let him to continue to work on things in the MLB rotation. And who's to say Tanaka won't figure it out during his between-starts bullpen session this week and then dominate Thursday?
"We have to get him right … We need to continue to work at it. He's not making the pitches he was last year," said Girardi to Hoch. Rothschild told Brendan Kuty, "I think we need to go back to the basics. He likes to change some things occasionally, but I think it's easier when things are going well to make some adjustments than it is when things are going bad and you try to make too many adjustments."
Tanaka shifted from the first base side of the pitching rubber to the third base side Saturday, an adjustment he's made in the past, but obviously it didn't help. He's trying though. Tanaka said all thoughout Spring Training his mechanics weren't where they need to be, and we all kinda laughed him off because he was dominating. Maybe we should have paid more attention? If he's not hurt, this has to be something mechanical. What else would it be?
As long as he's not injured, I think Tanaka will get things straightened out because he's too good and too smart a pitcher not too. We've seen him go through rough patches in the past — nothing like this, but one or two rough starts in a row, that sort of thing — and he always bounced back well. The Yankees and Tanaka need to figure out exactly what is wrong first, and so far that's proving to be quite the challenge. No one has an answer yet, and that's the scariest part.