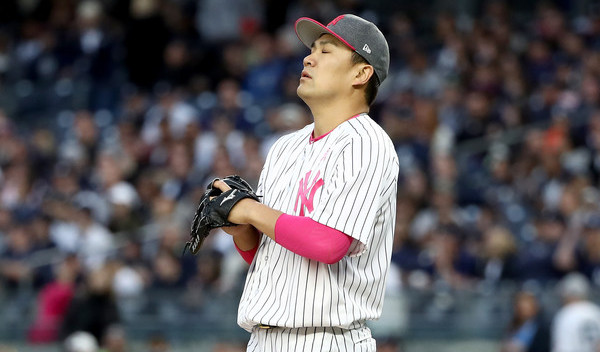 Two days ago the Yankees managed to split a doubleheader with the Astros even though their starting pitchers threw four innings total. Luis Severino and Masahiro Tanaka combined for the following line: 4 IP, 13 H, 11 R, 11 ER, 4 BB, 5 K. Goodness. The Astros did most of that damage against Tanaka in the night game, but Severino didn't pitch well in the afternoon game either.
Those two duds, combined with CC Sabathia's recent crash, have left the Yankees with a 4.62 ERA (4.30 FIP) overall from their starting pitchers. They are averaging a healthy 5.72 innings per start — the AL average is 5.65 innings per start — which surprised me. We saw a lot of short starts early in the season and over the weekend. Overall though, the results haven't been great. The rotation has been shaky, especially of late.
Coming into the season the rotation stood out as potential weakness, mostly because the back of the rotation was unsettled. The Yankees held a Spring Training competition for the fourth and fifth starter's spots, plus CC Sabathia (age) and Michael Pineda (inconsistency) remained rolls of the dice. An abundance of options mitigated the risk somewhat, but still. There was a lot of uncertainty.
The one saving grace was supposed to be Tanaka, who was splendid last season and very nearly won the AL ERA title. He was supposed to be the ace. The rock. The guy Joe Girardi could send out there every fifth day and know he'd get a quality outing. That hasn't been the case so far. Aside from the complete game shutout against the Red Sox, Tanaka has been mediocre at best and flat out bad at worst.
"I have to kind of look at some stuff and sort of analyze what I did," said Tanaka to Brendan Kuty following Sunday's disaster start. "There's times like this during the season and you just have to battle through it. But they took some really good swings on some of my pitches and they were flat … I think the mechanical flaw we've been talking about earlier in this season, I think that has been fixed. I think it's something different."
Weirdly enough, when you look at the numbers, it's difficult to pinpoint exactly what's wrong with Tanaka. His underlying performance looks awfully similar to last year in the super early going. Look:
| | K% | BB% | LD% | GB% | FB% | Soft% | Hard% | Chase Rate% |
| --- | --- | --- | --- | --- | --- | --- | --- | --- |
| 2015 | 20.5% | 4.5% | 20.7% | 48.2% | 31.0% | 18.5% | 32.4% | 37.6% |
| 2016 | 17.7% | 6.1% | 17.0% | 51.0% | 32.0% | 18.2% | 31.1% | 35.8% |
The strikeout rate is down and the walk rate is up, but not so much so that it leads you to believe there's something more than general early season randomness at play here. The batted ball data is nearly identical. Lots of grounders, lots of soft contact, a league average amount of hard contact. And Tanaka is again among the league leaders in chase rate. He's had no problem getting hitters to go after pitches out of the zone. The velocity is fine too. From Brooks Baseball: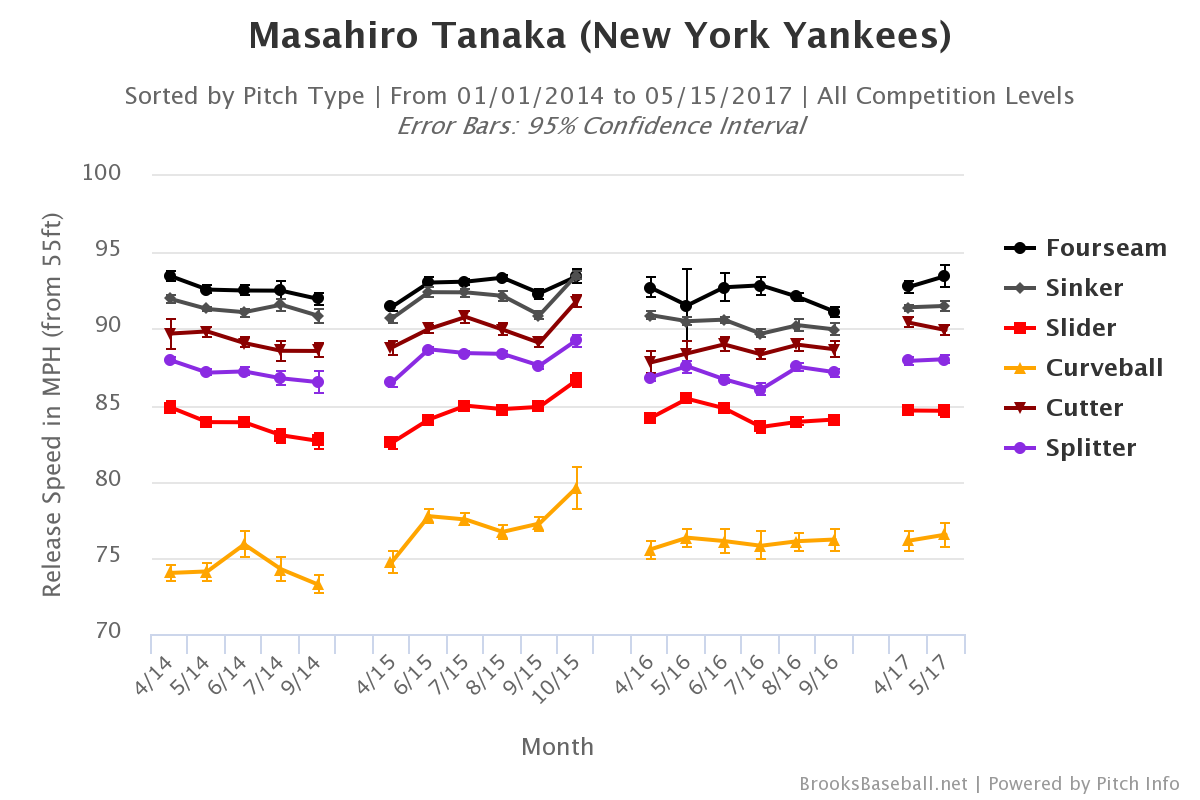 And yet, Tanaka is very clearly not performing like he did last season. He may be getting the same kind of contact and a lot of swings on pitches out of the zone, but the results are very different. Anecdotally, it seems Tanaka's location hasn't been nearly as good as it has been in the past, and when he makes a mistake, he pays for it dearly. It's not often he makes a mistake pitch and gets away with it these days.
Whatever it is, Tanaka is not pitching up to expectations, and that is absolutely not part of the plan. The Yankees came into the season expecting him to be their ace, their one reliable starter. Everyone else figured to be hit-or-miss for whatever reason. Age, young pitcher jitters, Pineda-ism, whatever. Instead, Pineda has been New York's most reliable starter so far this season, and Tanaka has been arguably the worst. Who saw that coming?
As long as he's not hurt, I do think Tanaka will get himself back on track, hopefully sooner rather than later. That doesn't excuse his performance to date though. It's happened and it's hurt the Yankees. It's actually sort of remarkable he's exited all but two of his starts (Opening Day and Sunday) with a lead despite a 5.80 ERA (5.34 FIP). He can thank the offense for that, of course.
The Yankees are fortunate Severino seems to be figuring some things out, Sunday's start notwithstanding, and that Jordan Montgomery has been able to step right into the rotation and produce. They've helped prop up the rotation as Sabathia has struggled and Tanaka has gone through his worst stretch with the Yankees. The rotation right now has become a liability. That Tanaka is the biggest reason is the most surprising part.